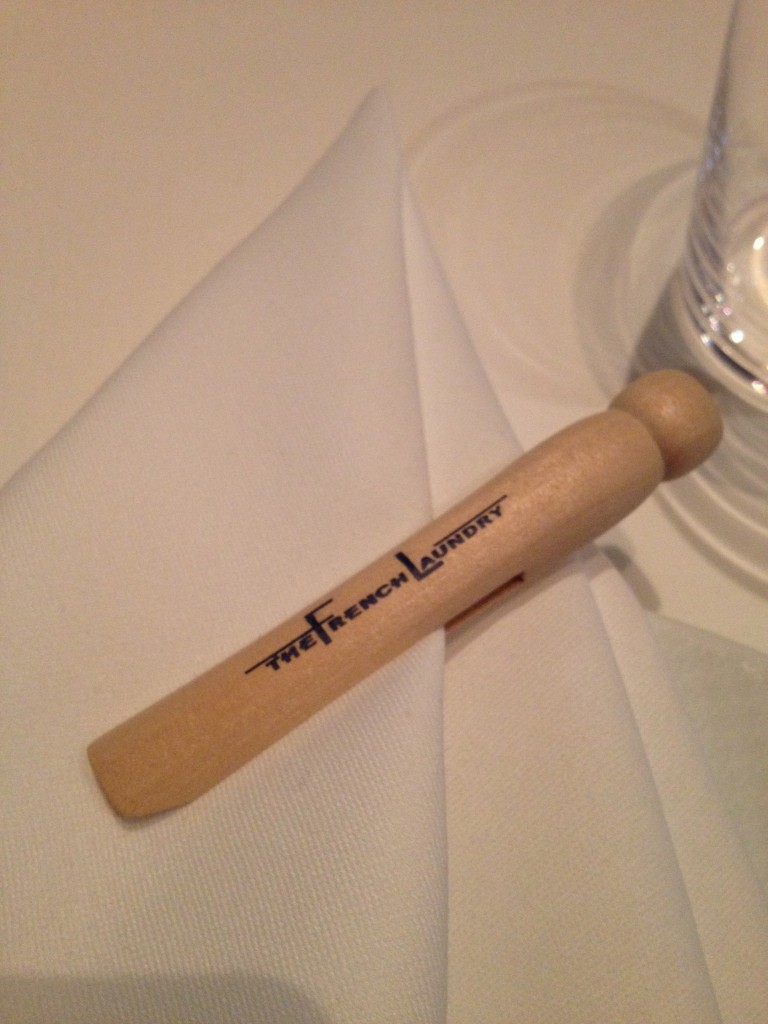 Although I have been active on my Foodielady Facebook Page, it's been over 6 months since I don't post on this platform. Life has been… complicated. However, I have some recipes lined up to publish in the near future, but first, to commemorate the upcoming 20th anniversary of The French Laundry under Chef Thomas Keller's tutelage, I want to share with you my experience when I visited the renowned restaurant a little over a year ago.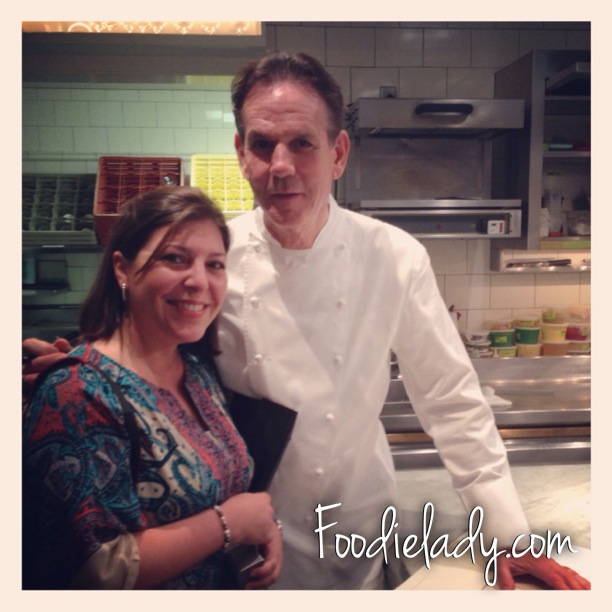 Many will agree that I am a pretty flexible and laid back person when it comes to my daily chores, my little routines. However, when it comes to traveling, especially if it is in a group and to a far away location, call me unadventurous or a travel nerd, but I don't like to take many chances. I research the destination in detail.  Attractions, geography, history, weather, culture, traditions, people, night scene, language, gastronomy, museum exhibits, festivals, its primary economy, you name it!  Also, I like to make as many of the reservations ahead of time and create a written document (this time was an EXCEL table), that serves as a blueprint of how our days will flow and the basic information we will need during our stay.  Of course, it is not written in stone, simply serves as a guideline that we can work around.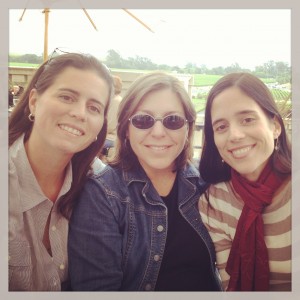 Since 2008, almost every year, my close friends from high school and I have chosen a weekend to celebrate our birthdays, all together, sans children.  The first time was a weekend in Vieques, the second year was in Culebra, both smaller islands east of Puerto Rico. In 2013, for our fortieth birthday celebration we decided to take a trip where most of us had never been before and Napa Valley was the unanimously agreed destination. We knew this would entail a bigger commitment from all of us, because it required more time and money than previous getaways. By the time we had set up a date, half of the group had opted out due to conflicting schedules with other family/work related matters and only 3 couples were on board.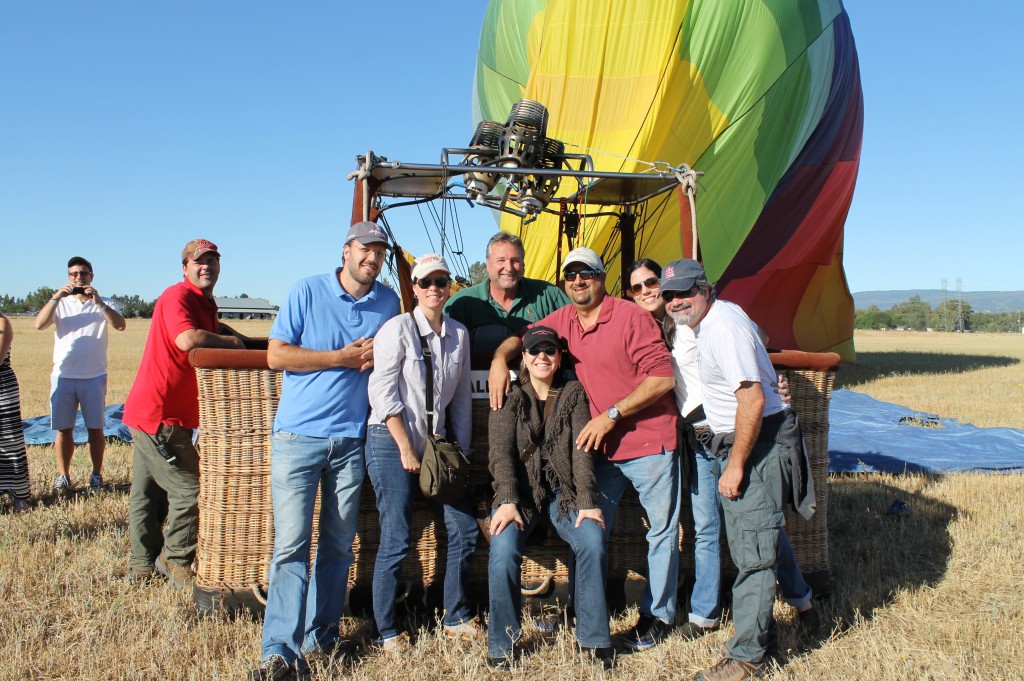 We -the ladies- agreed to gather all the information about what we wanted to do during our stay and then meet on a future date to choose the options we would include in our itinerary and finalize all the details.  Of course, the #1 item on my list was to have dinner at The French Laundry. I am sure there are many great restaurants in the Napa Valley, and we visited some of them, but none as reputable as TFL.  I had read about it so many times throughout the years that I felt that if I was going to do a pilgrimage to one of the meccas of the global foodie community, Napa Valley, I might as well go all out.  I consulted with Maryse and Cristina and they told me (without consulting their husbands) they were in!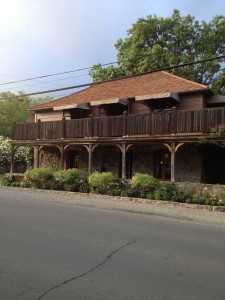 At first, people called me crazy, hopeful, even pretentious and most conversations about my desire to get a reservation at the famed locale ended with a condescending, "good luck with that…" .  You see, meticulous planning and dedication is required- but will not assure you a positive result- to achieve such a challenging feat.  First of all, reservations are accepted exactly two months prior to the calendar date you wish to attend.  I checked my agenda and my "reservation day" landed on a Saturday. I marked my calendar and made sure the kids were taken care of so I could concentrate on my goal.
The first hour and a half that I attempted to make the call, the phone was always busy.  I couldn't try on Open Table because they only have available through that service two tables for four and we were a group of six. During the wait time, I was picking my brain and scrolling my mobile phone's contacts to see who might be able to pull some strings for me. Then, I guess by pure benevolence of the heavens above, someone answered my call at 1:30 pm eastern time. The original date we wanted was blocked for a private event, but the night before had a table for six available at 7:30pm.  Just like that, I was a little closer to what I call "Chef Thomas Keller's Shrine of Culinary Delicacies". After listening to all the rules and regulations and giving the lady my credit card information, I closed the call and a sense of accomplishment sank into me. Needless to say, we planned the rest of the trip around this.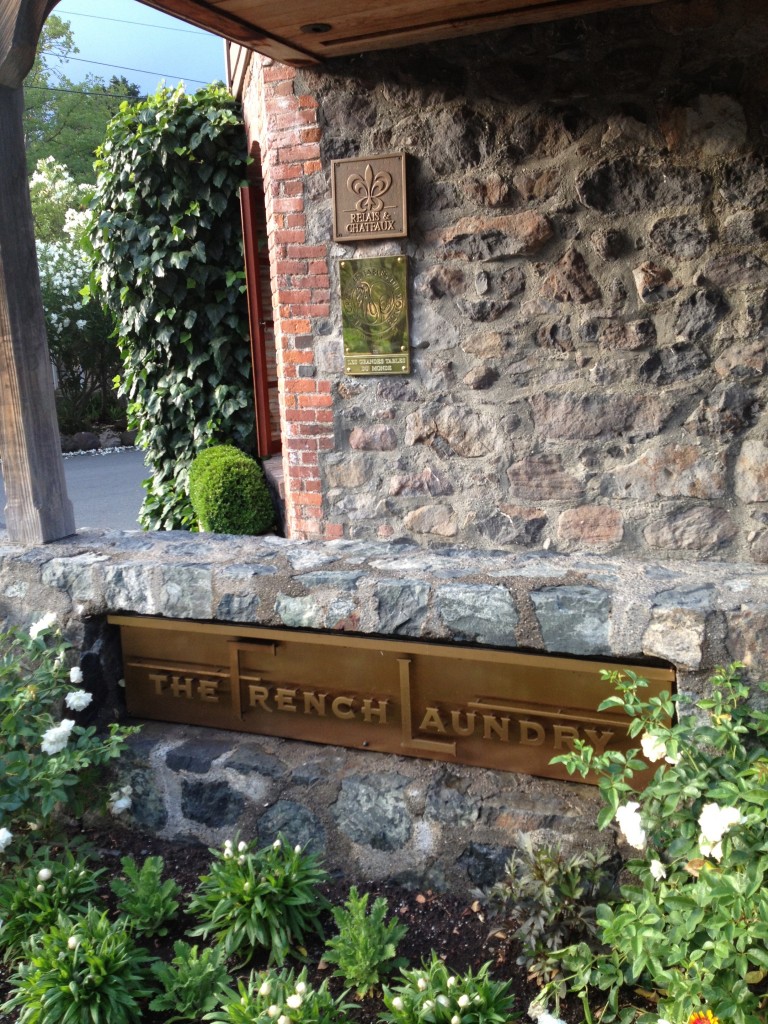 Just to give you a little bit of perspective (as well as some humor), during our wine tasting tour at the spectacular Far Niente Winery in Napa Valley, our hilarious host Zach, at a certain point and probably just to make conversation, asked where we had dinner the night before.  Without hesitation, someone from our group replied, "…at The French Laundry".  Amazed, he asked who made the reservation to which I responded affirmatively. He proceeded to look at me in the eye and say,  "let me tell you something, if you got a reservation at The French Laundry, you should put that on your resumé."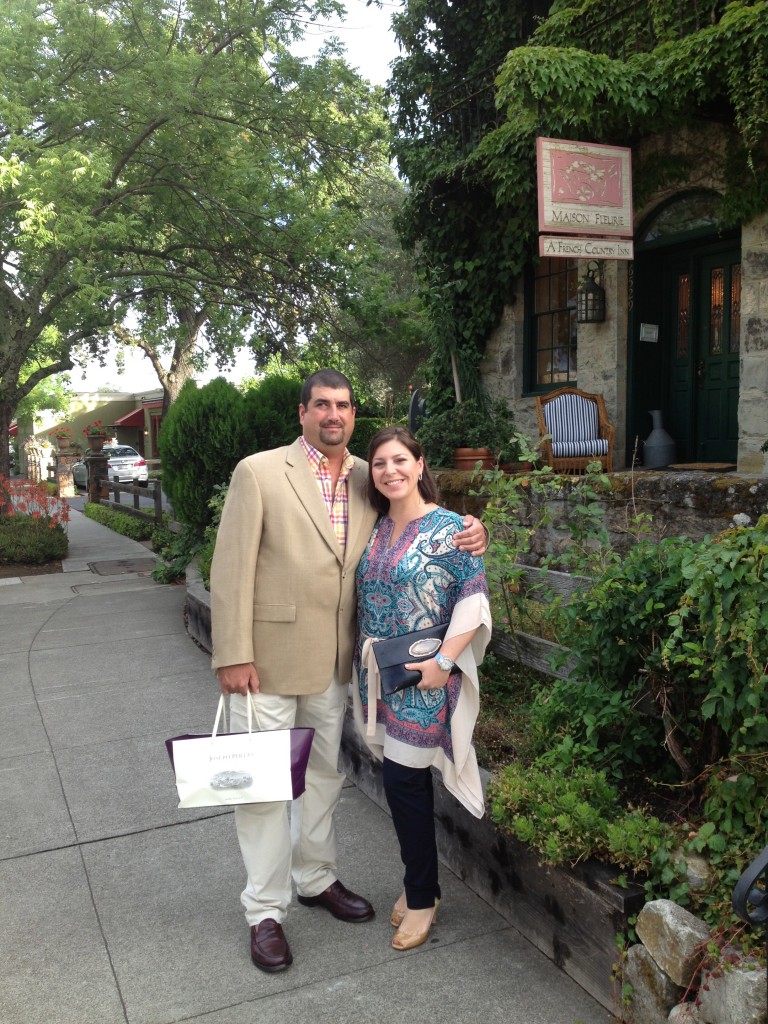 The French Laundry was a short distance from our quaint and conveniently located bed and breakfast in Yountville, Maison Fleurie, so we decide to walk.  It was a foggy day a little over a year ago.  The flowers were in full bloom and you could smell the citrus, lavender and rosemary in the air. As we approached the property, you could appreciate the beautiful edible garden and greenhouse across the street from which the restaurant gathers their edible flowers, vegetables and herbs.  Later on, we were told by our captain or head waiter Milton, that there is a shift of kitchen helpers that come in at 5am to harvest and to hand pick the micro greens that will be served that day in the one of a kind 9 course menu.  This place is a labour of love!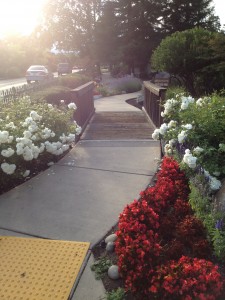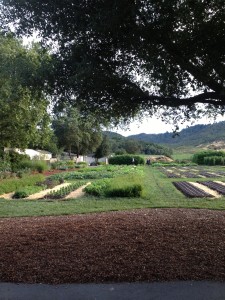 We arrived right on time.  I concede I was giggling nervously, feeling a little foolish like a teenager going on a first date and I made an effort to act maturely and compose myself.  Immediately, our pleasant and bubbly host, proceeded to guide us to a round table in the corner of the second floor where Milton, in the company of Juan, our assistant waiter, graciously awaited for us. As I scanned the dim lit salon, I started to imagine the lives of the people sitting around us.  Where they here for a honeymoon, birthday celebration, business dinner?  How far had they travelled to get here?  Where they French Laundry virgins like us?
A few minutes after sitting down and settling in, it was starting to get a little hot, maybe because of all the excitement, but eventually we noticed the air conditioning wasn't on, so we opened the french window to let the cool breeze in and the few rays of sun that were left before sunset.  That's the moment I noticed that our menu had been printed with Cristina and Maryse's names (but not mine!) and a congratulatory note for the birthday celebration.  The day of the reservation, two months before, I remember I had told the lady over the phone that we were ALL celebrating our 40th birthday. We couldn't believe they left me out of it!!! Well, nobody said life was fair… Really! No big deal, no harm done.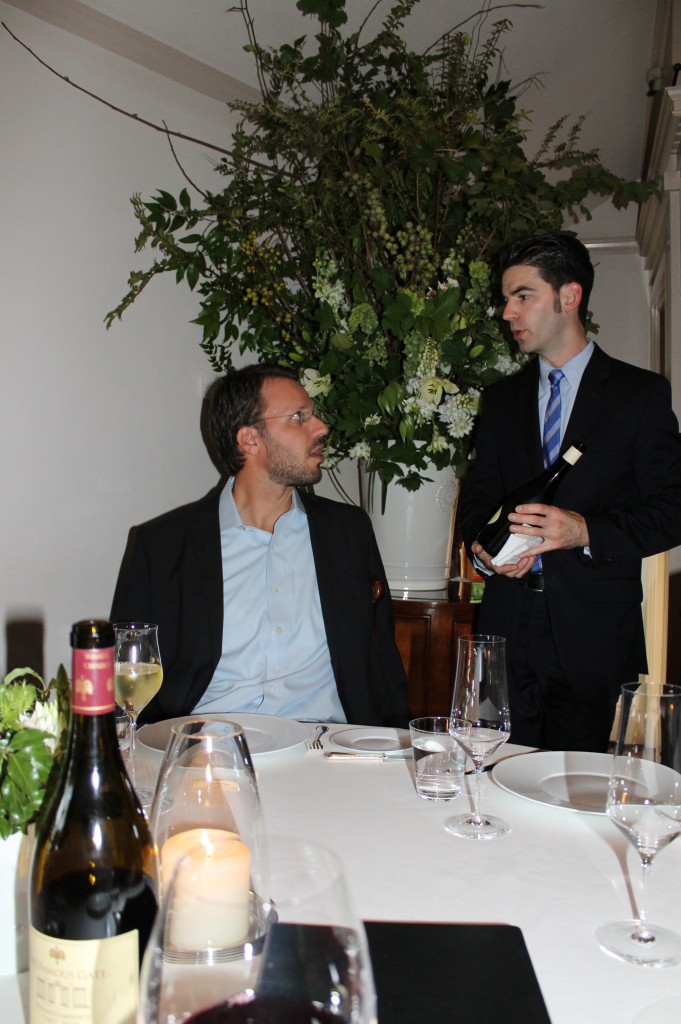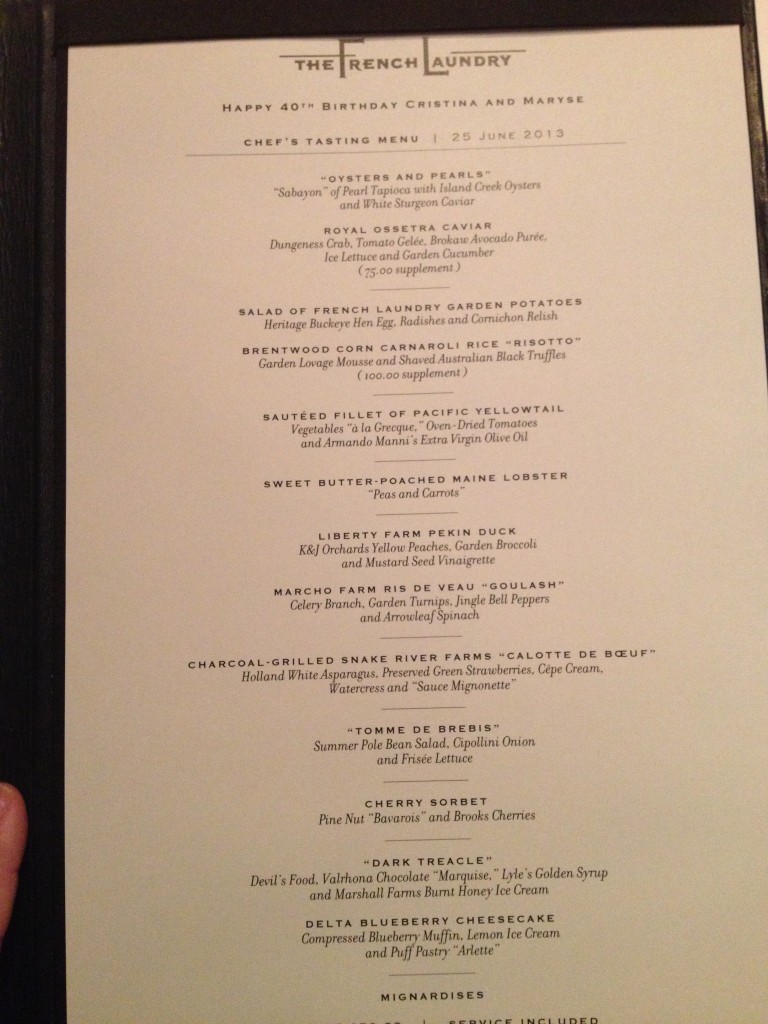 In our group, we had all kinds of characters and personalities that somehow, when blended together, become a happy, interesting and funny crowd.  For sure, we were the loudest in the room. We could just blame it on the puerto rican thing, but there was a german in our group. Anyway, most of us were eager to try anything and everything that the chefs would send our way, that is except Ed.  Since the beginning of the trip he made it clear he was not very happy to be at a fancy restaurant wearing a jacket.  This was something he was doing exclusively to please his loving wife, Cristina. So to make a statement, he ordered a cold beer to accompany what he considered at the time, to be a ridiculously expensive and overstated meal.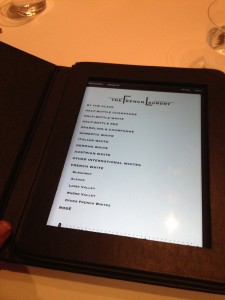 We brought with us three bottles form our visit to Joseph Phelps Winery earlier that day and The Famous Gate from Domaine Carneros. To everyone's surprise, we drank only two of the bottles in a time lapse of three and a half hours.  It is advised that you review TFL's wine list and website beforehand to avoid any shockers.  There is seldom a bottle that is sold for less than $200, but they welcome if you want to bring your own bottles of wine as long as they don't have it in their loooong list. The wine list is so long, it is presented to you on an iPad.  At that moment (late June 2013), there was a corkage fee of $75 (I believe it is now double that!), which at the moment, made sense to us moneywise. Keep in mind, if you decide to bring the wine, only one 750ml bottle of wine is allowed for every two guests.
At TFL you can choose form two 9 course Chef Tasting Menus, one is vegetarian, that change everyday according to what is freshly available and they never repeat an ingredient twice in the meal.  The prix fixe was a steep $270 per person including tips. Now it costs more probably due to the 20th anniversary celebration. Order the "Truffled anything" item on the menu and $100 extra are immediately added to the check.  As a curious note,  TFL takes pride in that they have a robust corporate culture, staff loyalty, provide training, pay good salaries to their employees and offer good benefits so that patrons don't have to include tips in their bills.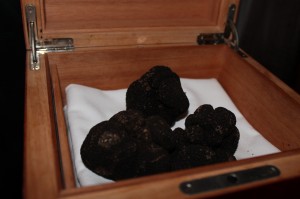 Milton asked us about food preference and allergies which he dutifully wrote on his note pad. At The French Laundry, they are very accommodating to your food preferences and astonishingly can personalize the menu on demand.  One in our group was adverse to eggs, another not very fond of salmon, no raw cheese for another and one didn't eat a lot of beef (me!). Finally, we all placed our orders which were in the most part very similar, except Ed's, who suddenly became the adventurous one in the crowd by choosing the Ris de veau or sweetbreads (thymus of the calf) for one of his courses.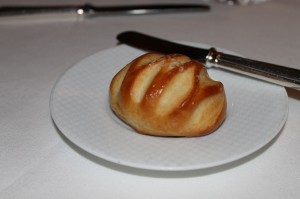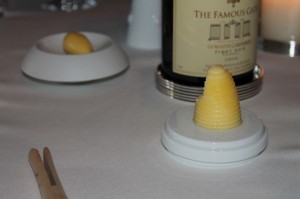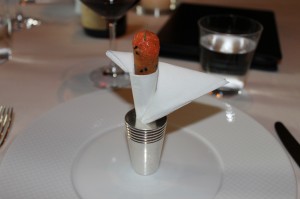 My bread was a brioche and the great tasting butter from a small creamery called Animal Farm Dairy in Vermont, who supplies TFL and Perse in New York with all their butter.  The first amuse bouche came in the form of a crisp buttery sesame seed encrusted tuile shaped into a delicate cone filled with salmon tartare. For the ones that did not like salmon, an avocado version was presented.  Both were delicious!  In addition, we were offered savory and fluffy gruyére gougéres.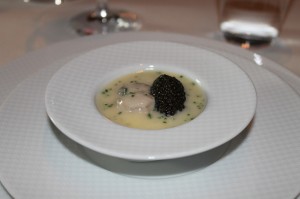 Then came our first course, Chef Thomas Keller's trademark dish in both of his upscale restaurants called Oysters and Pearls.  It is described as "a sabayon of tapioca pearls with Island Creek Oysters and White Sturgeon Caviar."  So far, so good…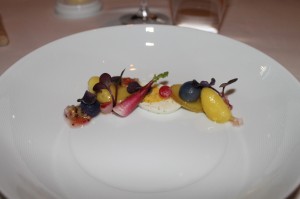 The second course, we all chose by default, since we didn't want to spend $100 more per person on the truffle risotto alternative. However, I can say that the potato salad had a beautiful presentation and a refreshing taste where the eggs, radishes and potatoes harmoniously came together with the tart and sweet cornichon relish.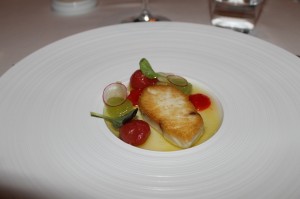 The third course was the Sautéed Fillet of Pacific Yellowtail seared to perfection, garnished with radishes, spinach, oven dried tomatoes and drizzled with premium quality extra virgin olive oil .  In addition to great tasting food, I loved how the servings were delightfully presented on exquisite dinnerware designs, exclusively made for Chef Thomas Keller by Raynaud.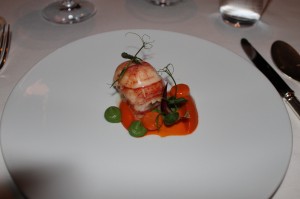 The fourth course was my favorite of the Chef's Tasting Menu, the Sweet Butter-Poached Maine Lobster withPeas and Carrots purée.  Wow!  The lobster was perfectly cooked, so tender and infused with flavor.  The Peas and Carrots purée- I know, I know, we were in California not Europe- but I admit I swept every single streak of vegetable purée with my bread. I hope my mother will forgive me for that. Ja!  At this point is when I think we lost Cristina and she went all the way to Cloud 9.  When we glanced at her, she was savoring her meal with her eyes closed… and that's all I have to say about that.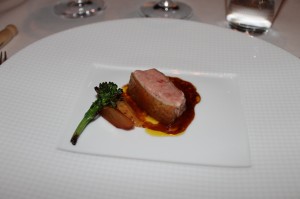 The fifth course was when everybody, but Ed, ordered the Pekin Duck. It was so tender, makes me think it was probably cooked sous vide. However, let me pause and explain something here.
Service at TFL is almost flawless.  The captain and waiter, whom are exclusive to you during the whole culinary experience, along with the complementary staff for bread and beverage, elegantly anticipate each and every one of your needs.  We never felt rushed or intimidated, glasses of wine and water were always full and all of our questions, and trust me there were many, were amiably answered. It showed how these professionals are thoroughly trained, knowledgeable and well groomed regarding each and every aspect of the restaurant. They could describe all the ingredients that made up a dish and how each meal was prepared and the techniques used. We were pleasantly surprised when at the moment each course was going to be served, a battalion of graceful and impeccably dressed waiters stood behind us to serve each dinner guest, all at the same time.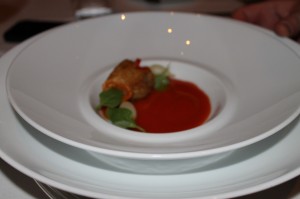 That being said, during the fifth course, Milton noticed that Ed's sweetbreads had not been served. Ooops… Immediately, to compensate for the faux pas, when the sweetbreads finally came out a few minutes later, we were all served an additional surprise 10th dish of truffled gnocchi so we shouldn't have to wait and watch him eat his delayed dish by himself.  This was all orchestrated without much fuss or stress and we were all pleased with the outcome.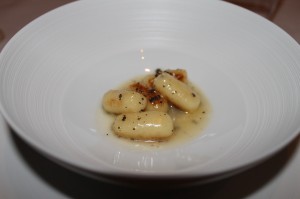 During the sixth course, I was the one that ordered the different dish because I didn't want the Charcoal Grilled "Calotte du Boeuf" (beef), so I got the Eggplant Agnolotti from the Vegetarian Chef's Tasting Menu.  Both of them, again, succulent and we were pleased with the portion size of every course. Not too big, not too small.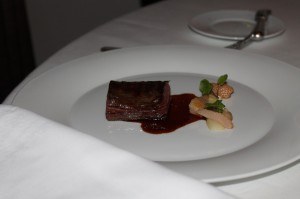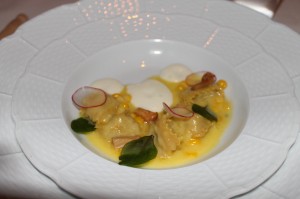 By the time we got to the seventh course, my stomach was getting full but that's when the light, refreshing salads came out of the kitchen.  Beautifully presented, bright in color, earthy, simple but at the same time full of complexity in its flavors.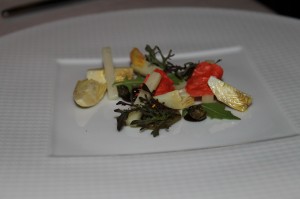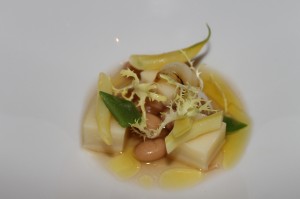 The eighth course was a cherry sorbet that paved the way for us to start sampling the sweet side of The French Laundry.  Believe me, I would have never thought we would experience such a pleasurable encounter with desserts  as well as the Mignardises, small sweet bites at the end of a meal. All of them superb!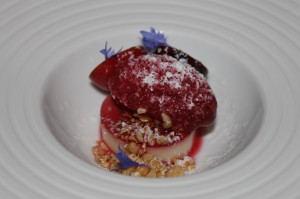 I picked for the ninth course the Blueberry Cheesecake while others chose the "Dark Treacle" made of Valrhona Chocolate "Marquise " and burnt honey ice cream.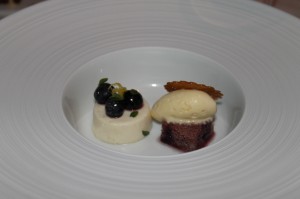 As if that wasn't enough, a parade of delectable Mignardises were offered to us starting with a selection of house made chocolates and truffles from which I chose the salted caramel version.  Also, a surprise birthday cake was brought for each girl.  Moreover, their famed coffee and doughnuts dessert was brought along which included fresh donut holes tossed in cinnamon sugar and a coffee semifreddo served in a demitasse. I can only describe this dessert as comforting and heavenly.  Homemade caramels and shortbread cookies packed in cute French Laundry tin boxes were also part of the sweet smorgasbord.  No joke! We were eating desserts and sweets for over 30 minutes. Yum.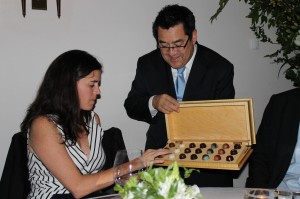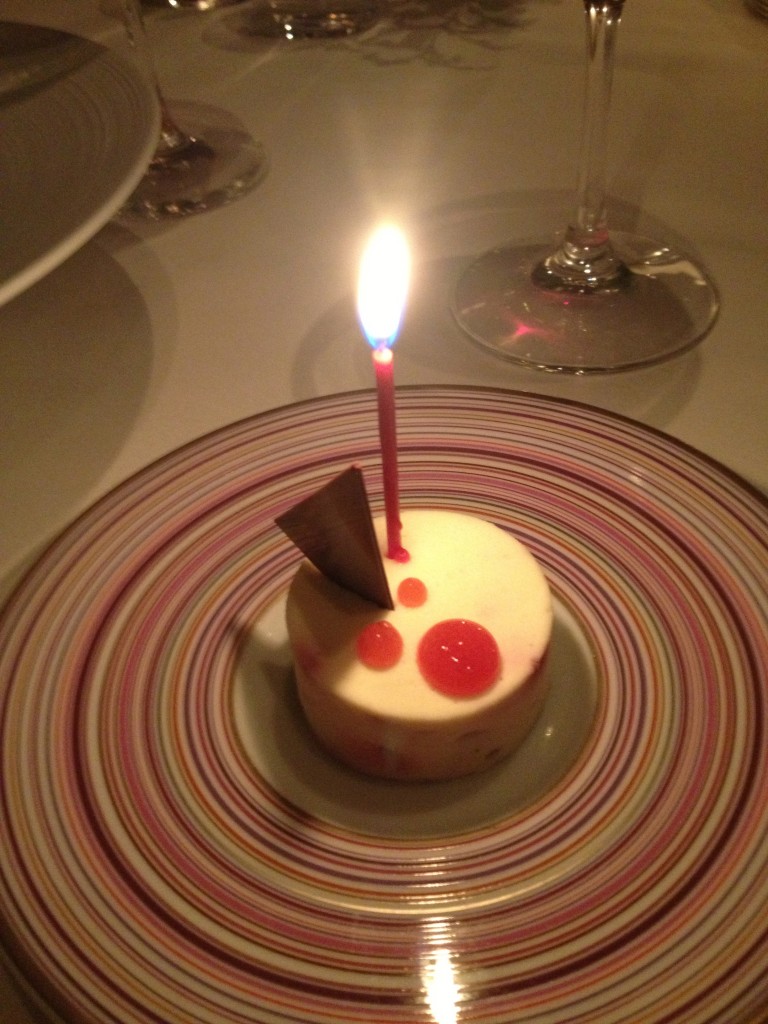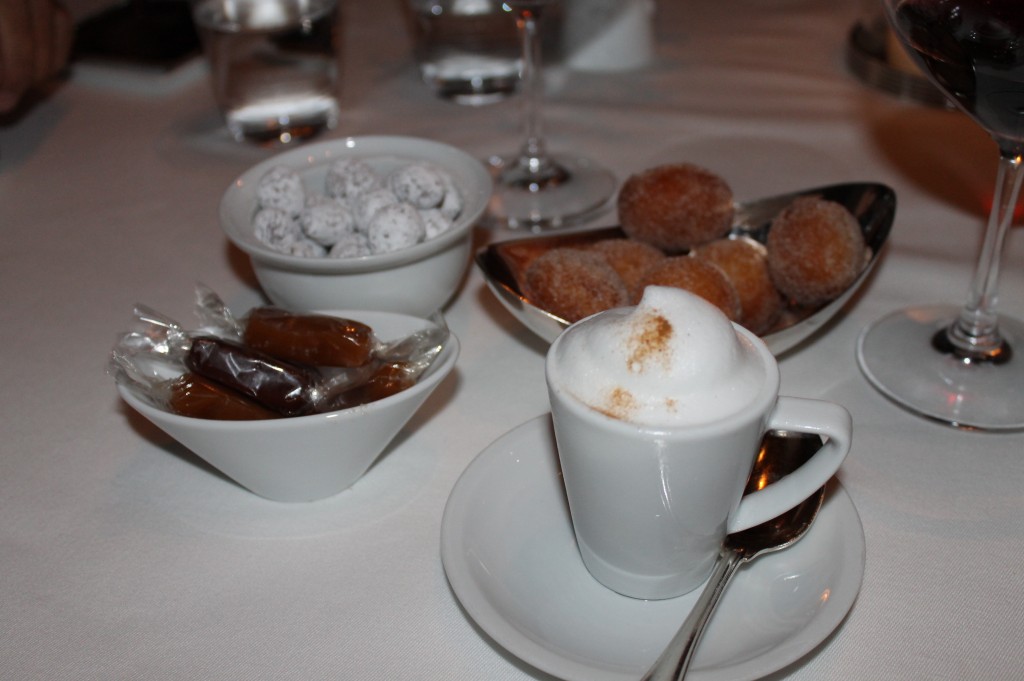 At some point during our meal, Emilio overheard a couple that finished dinner earlier than us asking their waiter to tour the kitchen.  On our way out, Emilio asked Milton if we could also take a look around to which he kindly agreed.  As our group started to sashay through a hallway on the first floor that led to the kitchen and while encountering what seemed like legions of busy staff going about their business, I noticed at the corner of my left eye a slender, tall figure of a man in whites standing taking notes behind what to me resembled an old phone booth.  Maryse and I glanced at each other with starstruck eyes, because we couldn't believe Chef Thomas Keller was standing a couple of feet from us. Discretely, I asked Milton if we could talk to him and nonchalantly he responded, "of course".  I approached Mr. Keller and told him we came all the way from Puerto Rico, our birthday celebration and commented about how much we enjoyed our dinner. He advanced towards the kitchen and continued to personally give us a tour of the small kitchen, showed us the live feed TV in one of the kitchen walls where he monitors Perse in New York City while he is in Napa, and vice versa. He spoke softly and had an approachable demeanor.   Before we left, he asked for our menus to sign them. Milton suggested we take a picture and unabashedly, the Chef posed for the camera and stayed to chat a bit longer. Shortly thereafter, we said our goodbyes, signed the restaurant's guest book and Milton gave us some French Laundry goodie bags.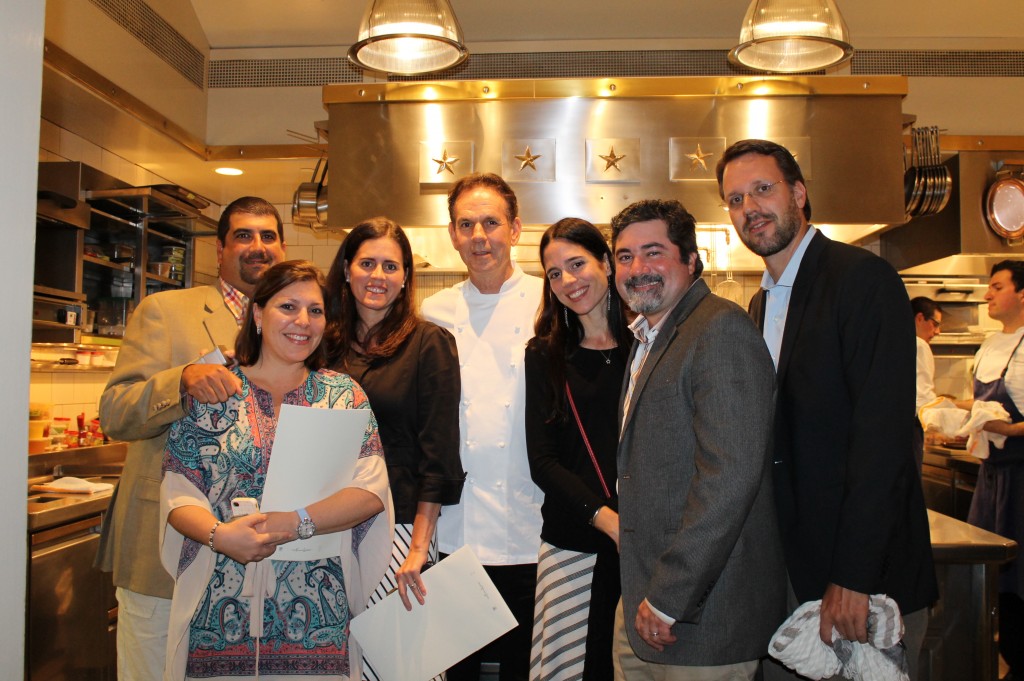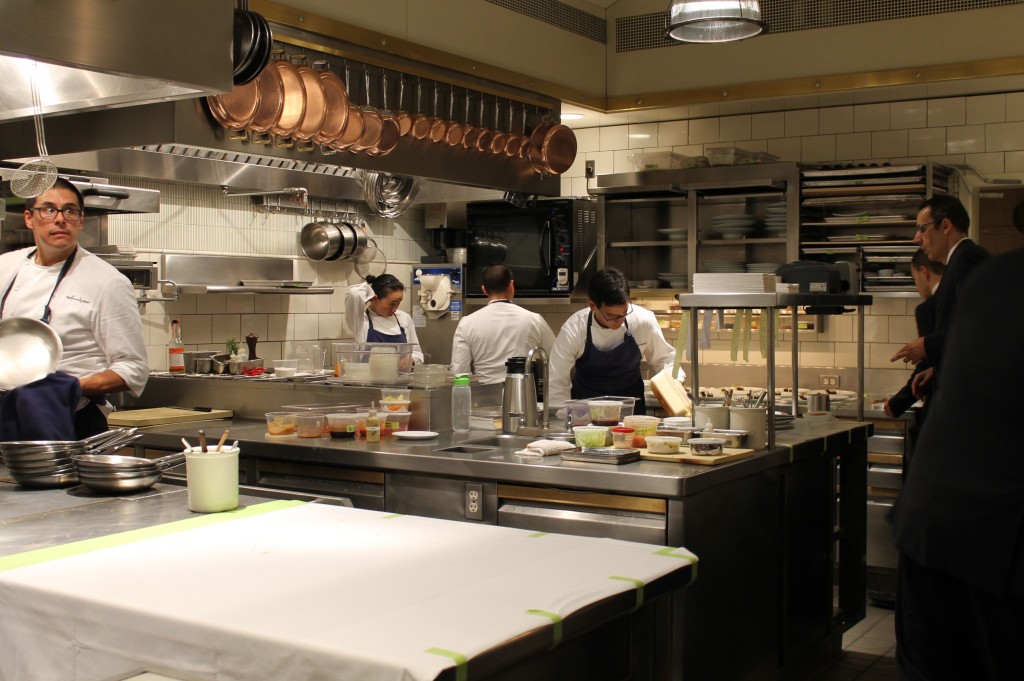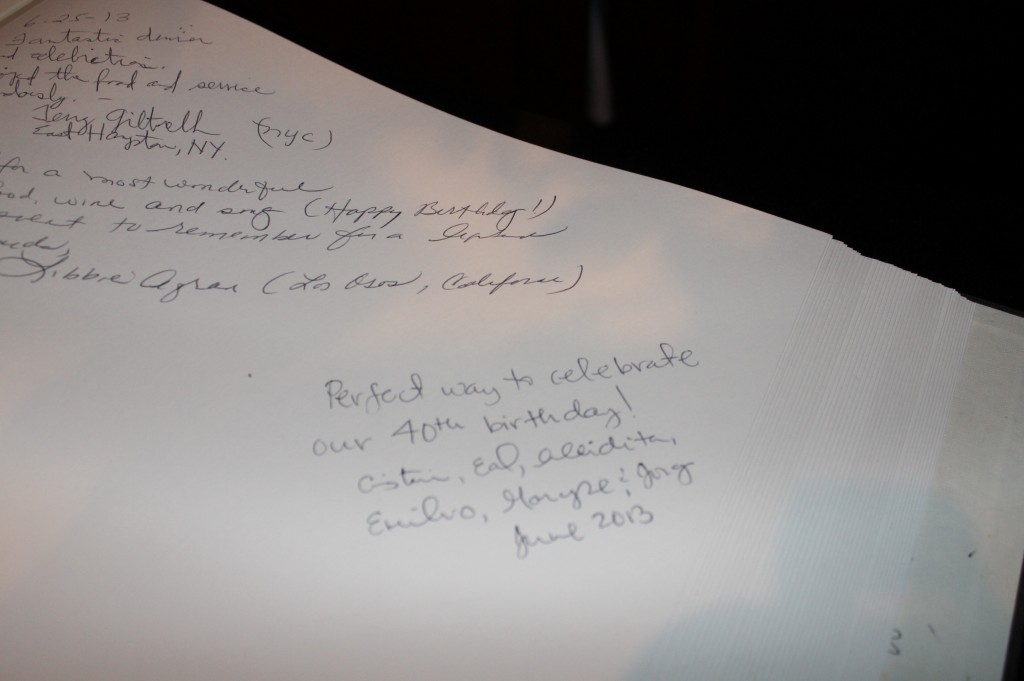 We didn't say much on our stroll back to Maison Fleurie.  Elated, satisfied and internalizing the magnitude of the exquisite banquet we were so lucky to have enjoyed.  I felt as if Claude Debussy's "Claire de Lune" was playing in the background and I simply…smiled. We all said good night and went straight to bed.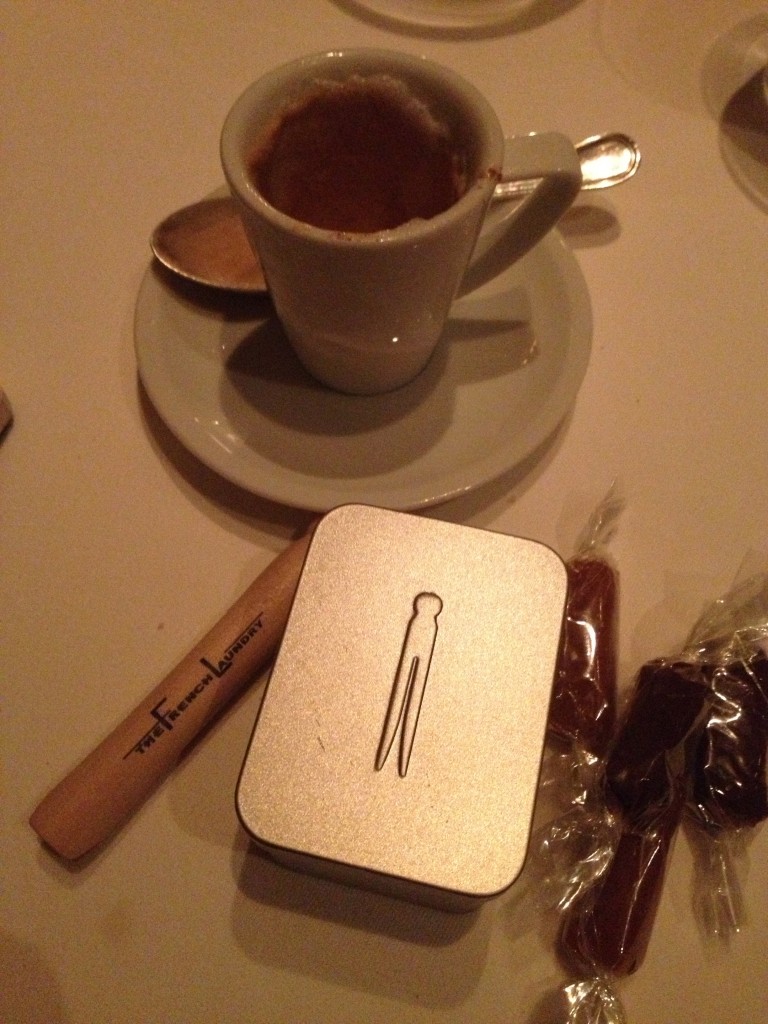 The next morning after breakfast, we hoped on our rental SUV and headed to a wine tasting at the Robert Mondavi Winery.  On our way, Ed,  the aforementioned skeptic of the group, got a call from his parents and during their conversation they asked if visiting The French Laundry was really worth it to which he replied as a true foodie convert …"every single penny."
I'm grateful we made this phenomenal trip in such great company- which included many other adventures like riding a hot air ballon and discovering sassy San Francisco- and while at it, The French Laundry experience.  On a personal note, as all the characters involved in this story have learned during the past year, life can be unpredictable, so it's all about taking chances, loving intensely and as I like to say, living foodieventurously with the ones you love.
Happy 20th anniversary to The French Laundry!