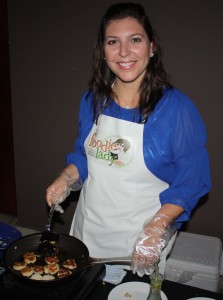 Hi! My name is Aleida Arbona and welcome to my recipe/cooking journal Foodie Lady.  This is a blog where home cooks and foodies (people that are passionate about food), as well as people who want to start to cook, can find easy, creative and flavorful ways to prepare meals for their families and guests.  Here I keep weekly journal of the recipes I like and frequently share with my friends and family.  Some are family recipes, others are from friends as well as from magazines and cookbooks. Some are recipes I have improved or created trying to include as many natural and fresh ingredients as possible.  In this blog, you will find weekly recipe posts and cooking tips to help you with new cooking ideas and to try new flavors and techniques.  In addition, I welcome your comments and questions whenever you try any of my recipes.
Enjoy!  and don't forget to be foodieventurous in the kitchen!
If you wish to contact me you may write to aleiditaarbona@gmail.com or send me a message on my  Foodielady Facebook page.