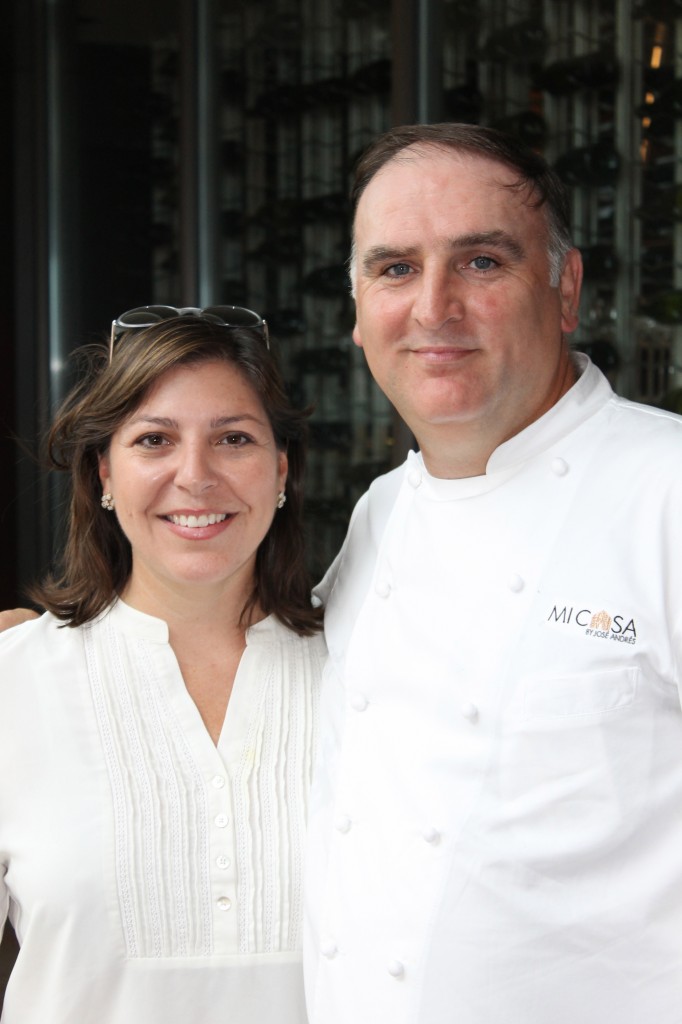 Last month, Spanish Chef José Andrés paid us a visit to promote his restaurant Mi Casa at the Ritz Carlton Reserve in Dorado, Puerto Rico.  I was one of the fortunate guests who had the chance to watch his cooking demonstrations and sample some of his trademark dishes as well as unique creations concocted specially for this fairly new high end restaurant on the island.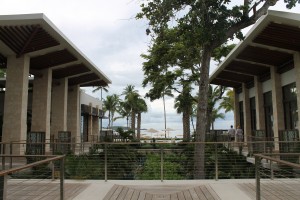 Many of you know I have a tendency to arrive "fashionably late" to events due to my hectic and constantly over scheduled agenda juggling between parenting, work and other (mostly self imposed) commitments.  At the moment I received the invitation, I had already scheduled during that morning a course to renew my CPR/first aid certification (something I recommend each and everyone of you to do) in order to be able to take my Girl Scout troop camping to El Yunque Rainforest.  I have been renewing this certification since I was a teenager  (techniques have changed over the years) and this knowledge has come in handy several times throughout my existence by helping to save the lives of 4 persons (3 of them choking with food) along the way. Anyway, as I finished my certification process at noon, I rushed to the city of Dorado.  Feelings of excitement and anticipation started to escalate as I got closer to my destination and taste whatever the chef and his staff had in store for all of us. I admit this little foodie felt butterflies in her stomach.  It is not everyday that you meet someone with the recognition and distinguished accolades that have been conferred to Chef José Andrés in the international culinary arena.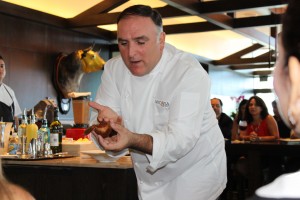 At the moment I rushed into the room, the Croquetas had already been devoured and the chef was in the process of demonstrating how to make his version of Gazpacho Andaluz with Crabmeat. I was ushered to a seat on the left side of the open area in the restaurant that was prepared for the cooking demonstration.  A waiter greeted me with a glass of white Sangría which helped me relax, reduce my anxiety and get into the Spanish theme.  I noticed José  Andrés was carefully using a small spoon to pull out of a small tomato the seeds in one whole piece which he then delicately placed in a white shallow soup plate.  To me, it kind of resembled a halved strawberry.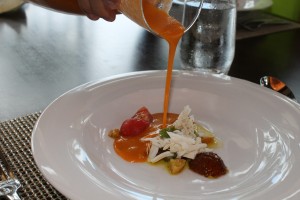 Afterwards, he proceeded to add some fresh crabmeat, micro cilantro, cherry tomatoes and pieces of day old bread that had been toasted in a pan with generous amounts of good quality extra virgin olive oil. I must tell you, those pieces of "pan tostado" tasted like a little piece of heaven in every bite, in contrast with the smooth strained gazpacho soup that was poured in the plate by the waiter.  By the way, if you must know, he used ripe roma tomatoes for the gazpacho.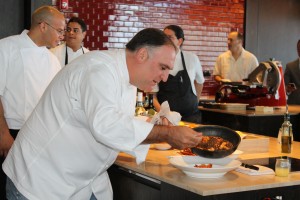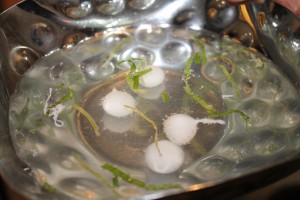 As José Andrés and his staff were getting ready to prepare the next dish of Gambas al Ajillo, a group of waiters started to walk amongst the guests holding stainless steel bowls and long silver spoons.  I became curious and diverted my attention from the demonstration to take peek into the bowl.  When I asked the waiter what those little white balls in the water where, he responded "coquitos"  (small coconuts).  As I kept examining the specimen, the waiter urged me to scoop one of them and give it a try.  Right after the coquito ball exploded in my mouth with coconut water, I was surprised to see how Chef José Andrés had intertwined into this traditional Spanish and Puerto Rican influenced meal a sample of his molecular gastronomy background from the years spent working for his mentor, none other than Chef Ferrán Adriá.  He started his career at El Bulli, the famed restaurant located in Cataluña, Spain, considered for many years the #1 in the world and well known for its contributions to molecular gastronomy.  They've kept a close relationship throughout the years, reuniting in 2010 to offer a culinary physics course at Harvard University.  Since I've been a good girl this year, this inspired me to ask Santa Clause for a Modernist Pantry Molecular Gastronomy Introductory kit!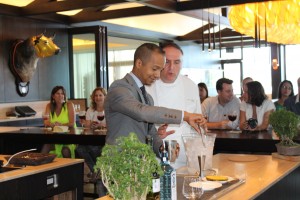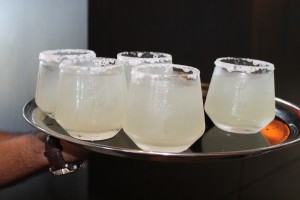 The Gambas al Ajillo where delicious although distancing from the traditional Gambas al Ajillo recipes by adding tomato sauce, cilantro, rum and one whole spicy chile. Straightaway, José Andrés asked Mr. Juan Coronado to join him to prepare a variation of the Tom Collins drink which they called the Spanish Collins.  Mr. Coronado is the head bartender at Barmini, the chef's trendy bar in Washington DC.  Once again, while the demonstration took place, waiters passed the Spanish Collins around and it was simply perfect for my taste.  An excellent apéritif! Here, once again, chemical reactions took place by utilizing a mixture of baking soda, granulated sugar and citric acid which became attached to the rim of the glass that had been rubbed with a pineapple slice.  When baking soda and citric acid come in contact with liquid, a chemical reaction occurs that releases carbon dioxide and causes a fizzing effect, hence the slightly bitter bubbles on the rim of the glass that complemented the drink.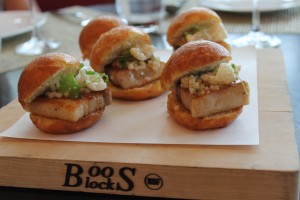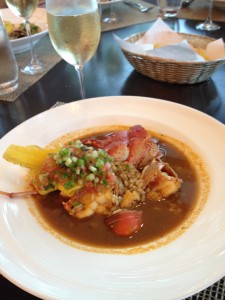 Afterwards, I sat down with a group of fun foodie friends to experience the formal sit down dinner that included the aforementioned dishes as well as Pork chop sliders, Lobster Asopao, Chocolate Mousse and coffee with condensed milk spiked with brandy.  My favorite where the Gambas al Ajillo, the sliders and the chocolate mousse as well as the Spanish Collins, recipe Mr. Coronado shared with me and now I share with you in this post.  Our table had a serene ocean view and the restaurant's decoration and ambiance is warm, elegant, with modern hints and truly inviting.  It felt like I was having dinner at someone's big beach house.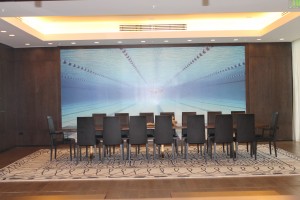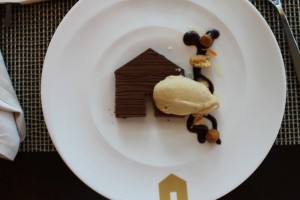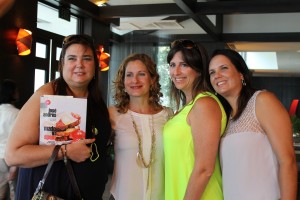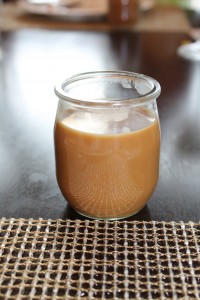 Several times during our meal, Chef José Andrés dropped by our table and answered our questions and engaged in entertaining conversation about Washington, DC where I lived during my college years, Zaytinya his greek/turkish/mediterranean restaurant, Barmini and even about his upcoming US Citizenship ceremony at the end of the year. Of course, I told him about my blog and congratulated him on including local ingredients like our caribbean lobster in the menu. He struck me as a very passionate man with an ebullient personality who seemed to enjoy sharing his culinary and historical knowledge with the world.  At the end I was pleasantly surprised by Marili de la Puebla, part of the resort's PR team, with a signed copy of one of his books, Made in Spain. This was pure joy for me since you know my addiction to cooking books….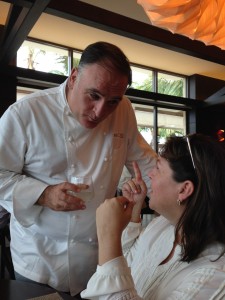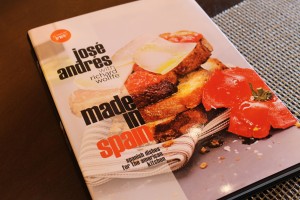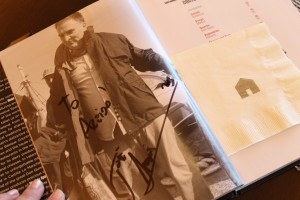 I've always wondered how these celebrity chefs do it and can keep up with having so many successful restaurants and business ventures across the globe.  Truly, there is not one recipe for success, but from my perspective and having had the privilege to talk to many local and international chefs, the common factors are charisma, talent, determination, entrepreneurship, a good business partner, a mentor and finding a niche sprinkled with a bit of timing and luck.  José Andrés was full of energy and very accessible by answering even the simplest questions. Talking about trends, ingredients, techniques and culinary traditions. He seemed to be motivational to his staff by calling them by their first names always making them feel part of his success.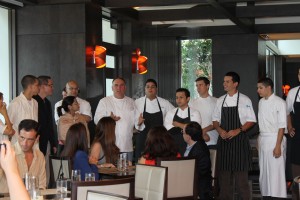 Making the Spanish Collins mix at home turned out to be easy but finding the powder citric acid at a local store to create the bubbly rim, a bit of a hassle.  I could only find liquid citric acid so I ordered the powder in Amazon.com which arrived promptly.  This drink is dry, smooth and an excellent way to greet your guest to open up their appetite. So go ahead, dare to try something different and serve it at your next dinner party!
¡SALUD!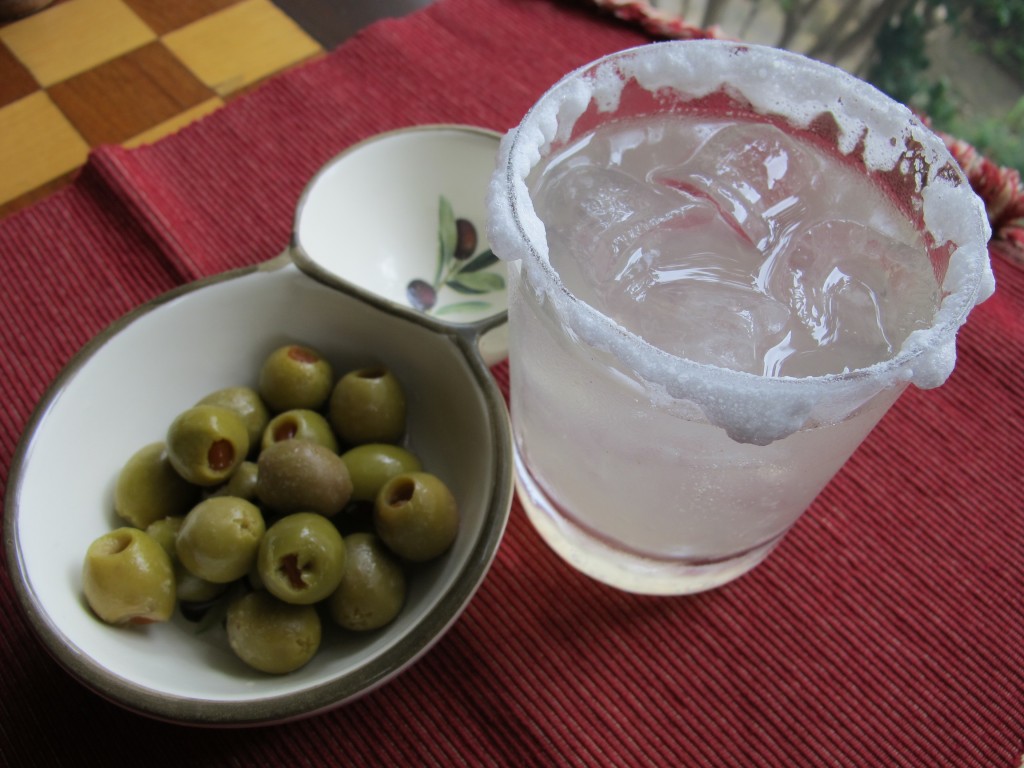 José Andrés' Spanish Collins
Ingredients
1 oz gin (he used Bombay Saphire but I had Hendricks at home so I used it)
1 ounce of Tio Pepe sherry wine (jerez)
1 ounce of club soda
1 ounce of freshly squeezed lemon juice
1 ounce of simple syrup (dissolve 1 cup of sugar with one cup of water, heat a little)
1 slice of pineapple
powder mix (2 parts baking soda and powder citric acid, one part granulated sugar)
Procedure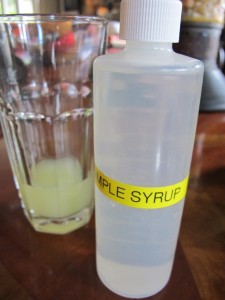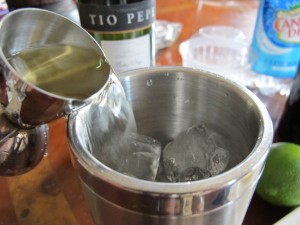 1.  Make simple syrup.  Then in a tall glass or shaker, vigorously mix sherry wine, gin, club soda, lemon juice and simple syrup with some ice)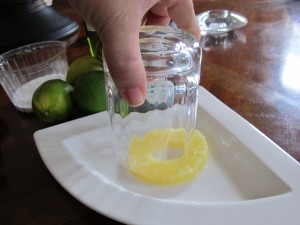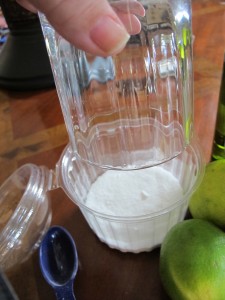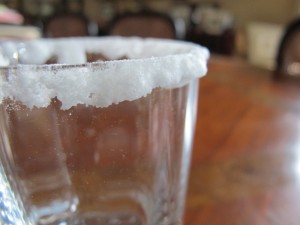 2.  Rub the rim of the glass where you are going to serve drink with pineapple wedge.  Dip into shallow plate with the powder baking soda/citric acid mixture.  Watch the bubbles fizz.
3.  Put ice in glass and carefully pour drink mixture.  Serve immediately.  ¡Salud!