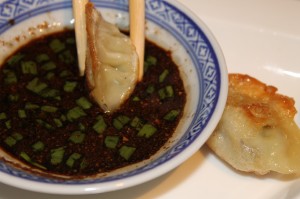 Pot stickers (how they are called when pan fried) and Chinese dumplings (when they are steamed) are huge crowd pleasers. Bottles, a local restaurant, serves dumplings by the truck load, for they are a favorite among regulars. Usually, they serve them with a side of peanut sauce similar to my recipe for Chicken Satay, bean sprouts and amarillitos (fried ripe plantains).  Also, I love to dip them in a light soy sauce mixture like the one I share with you in this post.  My edible garden includes scallions/green onions, so I always have some fresh in my own back yard. For those of you with a green thumb, here is a link to how I grew mine from the roots of grocery store bought green onions.  Maybe I'll share with you some pictures of my herb and vegetable garden in the near future.
In China, they are called Jiaozi where they are a favorite for the Chinese New Year's Eve.  Dumplings may be served any time of day as an appetizer or as a meal itself.  I buy frozen dumplings, pan fry them or steam them (you can also boil them or use them in soup) and serve with this sauce. I've never gotten nowhere near making home made pot stickers, but it's in my to-do list. Hopefully, I'll get to that soon…
Pot Stickers Dipping Sauce
Ingredients
2 tbsp light soy sauce
1 tsp rice vinegar
1/2 tsp sesame oil
1/4 tsp grated ginger
1 tbsp scallions/green onions, chopped
a little sriracha or chili sauce, optional
Procedure
1.  In a small bowl whisk together soy sauce, sesame oil, grated ginger and rice vinegar.   Add green onions and serve.