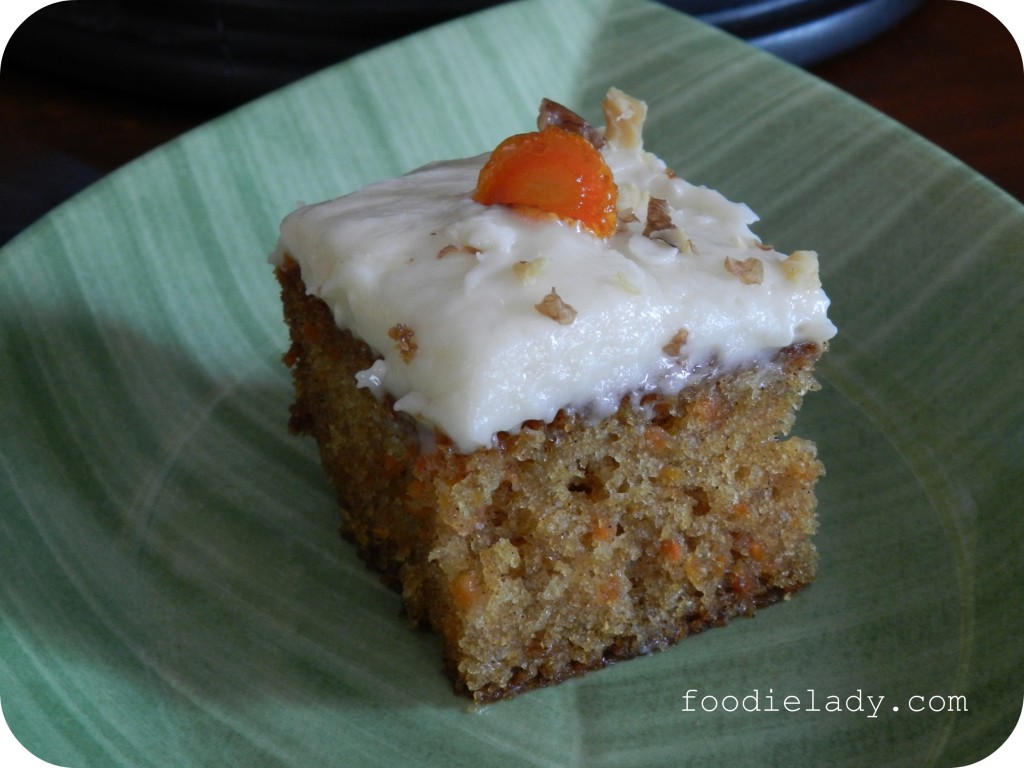 My friend Linda is one of the most organized and practical people I know.  She is also fun and smart, a great friend, mother and wife who splits her time between family life and as an active member of the Board of Directors of Fundación Pro-Ayuda de Puerto Rico. A few months ago while we were anchored in Las Pelás Sound in the island of Culebra (off the east coast of Puerto Rico), she and her husband Joe, came over to our boat for dinner.  At the end of the informal bbq, she brings out a tub of vanilla ice cream and what I thought was a freshly baked carrot cake to offer us for dessert.  It was so moist and truly delicious!   I dare say, the best I've tried so far!
As many of you know, boat kitchens are small and storage space is limited. Even if your boat happens to have an oven, its hard to prep and bake while you are out at sea, unless you have a mega yacht with private chef. Ja! Not our case… When she told me that she made the cake at home and froze it, I couldn't believe it!  She just let it thaw on the galley's counter and voila!
A few days after I got home, Linda kindly sent me an email with the recipe.
As I prepared the menu for our next boat trip I included this carrot cake recipe along with my recipe for Cream Cheese Frosting. I froze one of the  two cakes (the other one "disappeared" that same day!!!) and thawed it one week later on the boat while we were on Scrub Island.  It turned out superb!  I couldn't believe how the cake with the Cream Cheese frosting freezes so great!
Thanks Linda for sharing your recipe and practical tips with me and now with the rest of the world!
Linda's Carrot Cake
Ingredients
3 cups of shredded carrots (I use my food processor with the shredding attachment, or you can use a manual coarse grater)
4 eggs
1 1/2 cups vegetable or canola oil
2 cups unbleached all-purpose flour
2 cups of sugar
2 1/2 tsp baking powder
2 tsp baking soda
2 tsp ground cinnamon
1 tsp salt
some butter at room temperature to grease molds
Procedure
1.  Pre-heat oven 325ºF.
2.  In a bowl, mix all dry ingredients, except shredded carrots.
3.  In bowl of your mixer, mix eggs and oil.  Add dry-ingredients mixture in three batches, low speed.  Then add shredded carrots and mix until just combined.  Do not over beat since you don't want a lot of air to get into mixture.
4.  Pour batter into two 8×8 inch buttered crystal molds (I have two square Pyrex pans with lid) and bake at 325ºF for 45 minutes. I do it at the same time in middle rack of oven.
5.  Meanwhile make my recipe for Cream Cheese Frosting. Set aside.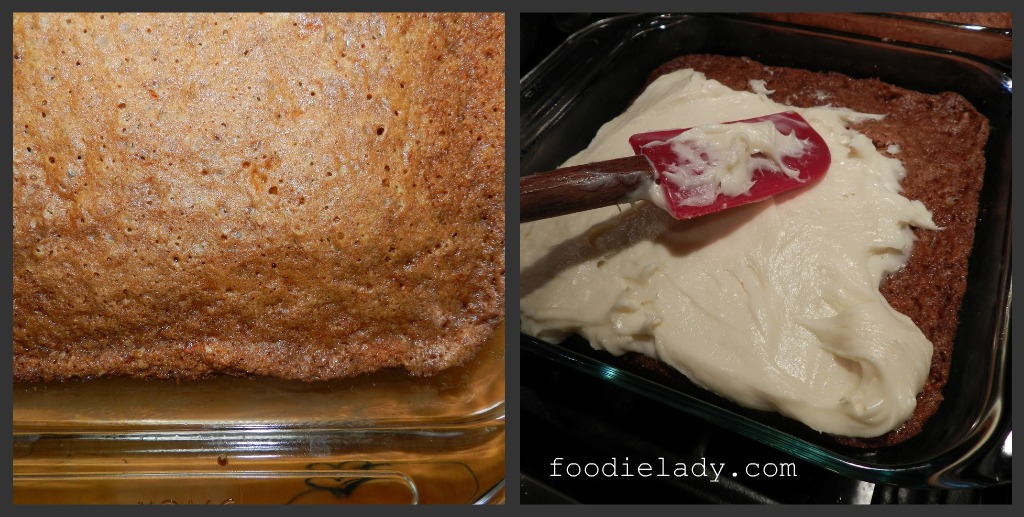 6.  Once cakes are baked, let cool.  Divide frosting into two and generously spread over cakes. If desired, you can cover with lid, foil paper and plastic wrap and freeze.  As another alternative, you can divide cake batter into three 8×8 inch square pans and make a 3-layer cake (if so bake for 35 minutes).
Note:  to serve individual pieces, you may crush some walnuts to sprinkle over. For the last touch, slice carrots very thinly, briefly dip them in some Grand Marnier, take out, dust with sugar and broil to caramelize.