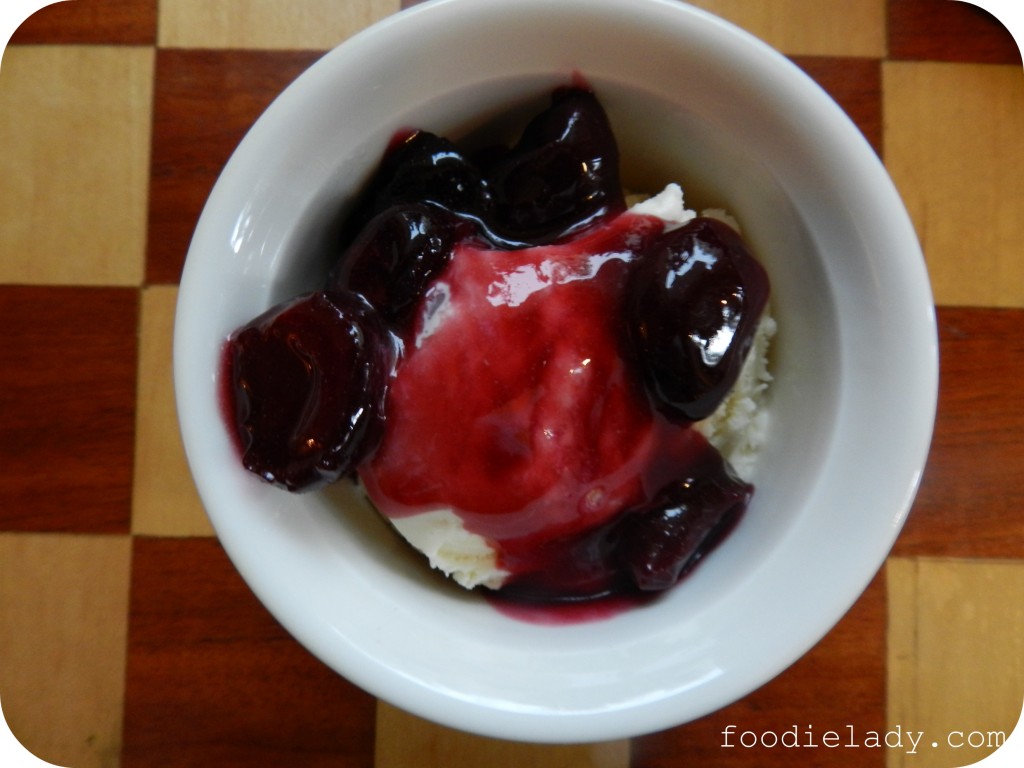 When it comes to ice cream, I tend to be a vanilla-flavor kind of gal.  Nevertheless, I love to dress it up with fruit toppings, hot fudge, nutella, caramel or some sprinkles. During last week, we had our niece and nephew stay with us for a few days.  I had fresh cherries and fresh blueberries in the fridge, so one night we made this sauce with cherries and another night with blueberries to pour over a scoop of Haagen-Dazs vanilla ice cream as dessert. WOHHHHH!!! Amazing and sooooo easy to make!  My daughter even ate the left over sauce by itself.  Once you make this dessert sauce, you will be very grateful and pleased you gave it a try.  Its a wonderful way to dress a simple vanilla ice cream and a nice homemade twist for impromptu dinner guests.  Make some of this sauce before your blueberries or cherries go bad and keep in an airtight container in the fridge. You may use it to dress waffles, to top a cheesecake, a slice of pound cake, "queso del país", bleu cheese, even spread over toast or crackers with some mascarpone cheese. Trust me, it will become one of your favorite treats!!!
Cherry or Blueberry Topping
Ingredients
1 cup of fresh blueberries or fresh halved-pitted cherries
1/4 cup water
1/4 cup of granulated sugar
1/4 tsp vanilla extract
1/4 tsp almond extract
1 tbsp butter
1 tsp corn starch
Procedure
1.   Place all ingredients in a small non-reactive saucepan and let simmer in low heat, covered for about 15 minutes.  Stir occasionally with spatula or wooden spoon. Sauce will be ready once the fruit is soft and you have reached a "soupy" consistency.  Let cool a little and serve over vanilla ice cream, cheesecake, pound cake, etc.  Store in the fridge for future use.