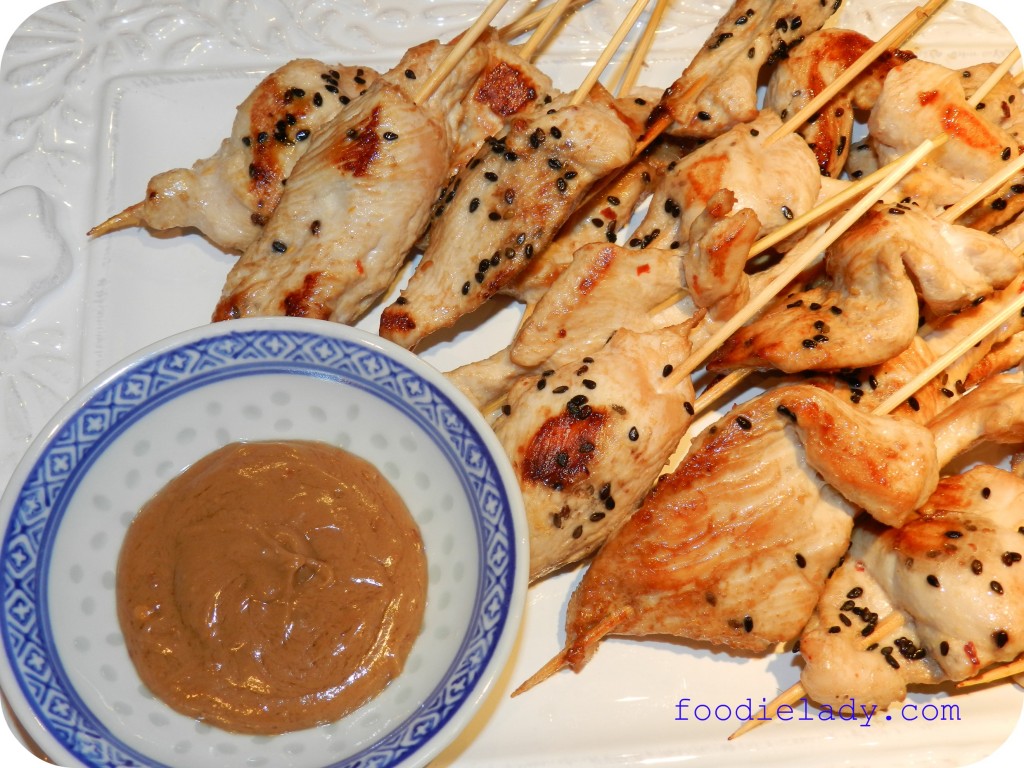 I have tried this dish several times at restaurants and private parties.  One thing is for sure,  I always love it!
Satay refers to marinated pieces of meat that are grilled or barbecued and served with a spicy peanut sauce as a side.  Its origins are found in Indonesia and is also a delicacy in South East Asia, where you can buy from street vendors or at local food establishments. You can make the Spicy Peanut Sauce ahead of time, and of course, the longer you marinade the chicken the better.  Its easy, exotic and exquisite!
I make it as a light meal with salad, which my family loves, or as an appetizer. Be careful the heat is not too high when cooking on a bbq grill since these chicken strips are delicate and you don't want to burn them. If you wish to be safe, you can cook them on a stove top skillet over med-hi heat.  I have a stove top griddle which I prefer and set up at 350ºF.
Try bringing these to your next pot luck dinner at the neighbors' or as an appetizer to a friend's gathering and I assure you they will be pleasantly surprised!
Enjoy!
Chicken Satay with Spicy Peanut Sauce
Ingredients
3 large chicken breasts, butterflied and cut into tenders
salt
Chicken Marinade
2 tbsp fresh lime juice
2 tbsp canola oil
2 tsp fish sauce
2 tsp lite soy sauce
1/2 tsp grated ginger
1/4 tsp red pepper flakes
black sesame seeds
Spicy Peanut Sauce
2 tbsp peanut butter
2 tbsp coconut milk
1 tbsp lime juice
2 tsp low sodium soy sauce
2 tsp brown sugar
1/4 tsp of crushed red pepper flakes
1/4 tsp grated ginger
Procedure
1.  Prepare chicken tenders by butterflying chicken breasts and cutting them into tenders  (strips).  Season with salt.
2. In a small bowl, prepare chicken marinade by stirring all ingredients together, except black sesame seeds.  Add chicken cutlets and let marinade for at least 30 minutes in refrigerator.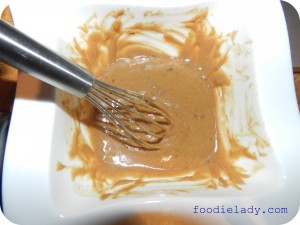 3.  Prepare Spicy Peanut Sauce by whisking all ingredients together in a small bowl.  Set aside. You may do this the day before and refrigerate, just make sure you take it out of fridge about 30 minutes before consuming.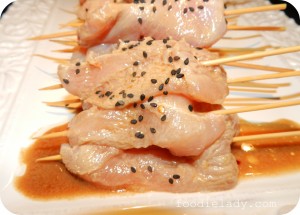 4.  Place marinated chicken strips on small bbq skewers and sprinkle with black sesame seeds. TIP: Submerge the skewers in water for about 30 minutes before so that the wooden sticks don't burn while they cook.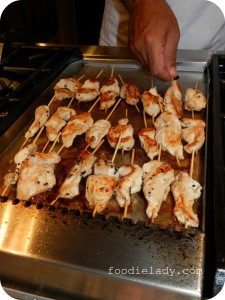 5.  Heat skillet, griddle or grill with some stir fry oil.  Just before it starts to smoke, at about 350ºF, place chicken skewers.  Do not turn until chicken is golden on one side, about 7-8 minutes. Turn and finish cooking.
6.  Serve with Spicy Peanut Sauce as dipping sauce or baste with it just before serving.  This dish can be served as an appetizer or a meal with a side of rice or salad.  Makes about 21-24 skewers.