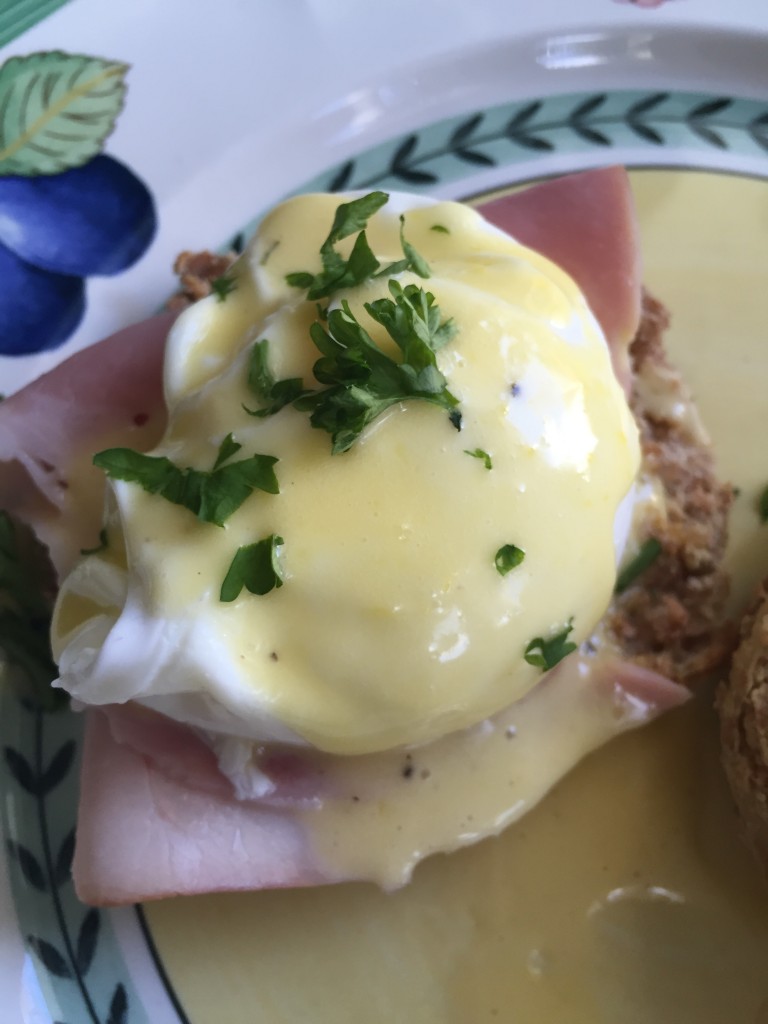 The first day I met my brother-in-law Mandy, he effortlessly whipped a perfect Hollandaise Sauce to pour over blanched bright green asparagus as a side dish.  I don't remember if Filet Mignon was also served, but I vividly remember the asparagus with Hollandaise! Sauce Bearnaise, a derivative sauce of Hollandaise, had been close to my heart prior to that day, but from that moment on, Hollandaise became my favorite. The only problem was, until recently, my apprehension to get it done in MY kitchen.
The years passed and every time I read an article or stumbled upon a recipe that included Hollandaise Sauce, I said, "NOW I'm going to do it!", but I never executed the mission.  First, I admit, because of fear of failure. Eggs are delicate and a courageous attempt to create a rich, silky sauce can be turned into scrambled eggs very easily! Second, if you allow yourself to wallow deep into Julia Child's Mastering the Art of French Cooking, you will not "think", you will "be convinced", it is time consuming and complicated.  But… Oh boy, was I mistaken!
A few months ago, my friend Alexandra recommended we watch as a family a cooking show called Master Chef Junior.  I confess I seldom watch TV shows or have the discipline to set aside a certain day and time exclusively to watch a show (since LOST!). On-demand TV is more convenient for me, but after watching Master Chef Junior once, my children and I were instantly hooked! It created a great dynamic and fluid commentary every Tuesday night in my family room in which they inquired about cooking techniques, ingredients, we even had discussions about passion, dedication and how no dream is too big or small to pursue. You know, life's little pleasurable moments with your children in which they (or us- the parents) are not hypnotized  by a portable electronic device, distracted by phone calls  and actually carrying a conversation with each other.  Anyway, at the end of each show, I simply was not able to digest (pun intended) how 8-12 year olds were so skilled in making banana cream macarons, savory and sweet tarts, salmon en croute and of course, the sultry Hollandaise Sauce! It was then that I came to the realization that if tweens could do it, why shouldn't I?
Hollandaise Sauce is typically made with egg yolks, melted butter (preferably clarified butter ), lemon juice, salt and fresh pepper (some people like cayenne) to taste.  It is one of the Mother Sauces of French Cuisine and goes well with fish, vegetables and over poached eggs, like in the popular Eggs Benedict.  An emulsion of egg yolks and a stream of melted butter prepared in a heat proof bowl over simmering water, yields a rich, soft and delicate sauce with a "tang" at the post gusto provoked by the acid in the lemon that takes any dish to another level.
After researching different recipes, from easy to complex, I share with you my results.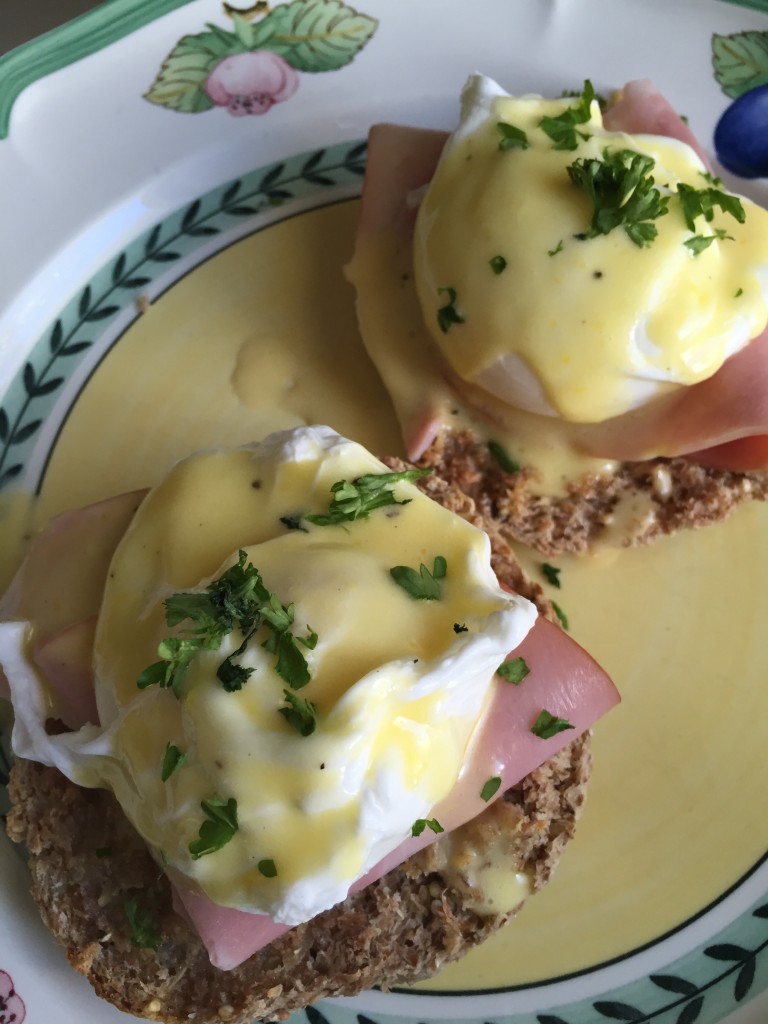 Hollandaise Sauce
Ingredients
for about 4 Eggs Benedict or 4 servings
2 egg yolks
approximately 1/4 cup of clarified butter or more if necessary (room temperature)
fresh juice of half a lemon (about 2 tsp)
salt
fresh pepper to taste
splash of white wine or white cooking wine (optional if you like the sauce to be thiner)
Procedure
1.  In a small saucepan, bring water to a slow simmer.  Meanwhile, in a heat proof bowl, I use a metal bowl, whisk egg yolks with lemon juice until a bit fluffy and then continue stirring over the steam of simmering water.
2.  Whisk continuously while you remove to and from the heat until the eggs are lighter in color and creamy.  About 2 minutes. The eggs will become silky smooth while you whisk vigorously over the steam.  NOTE: Do not leave bowl over heat for a prolonged period of time or let the bowl touch boiling water for the eggs will curdle.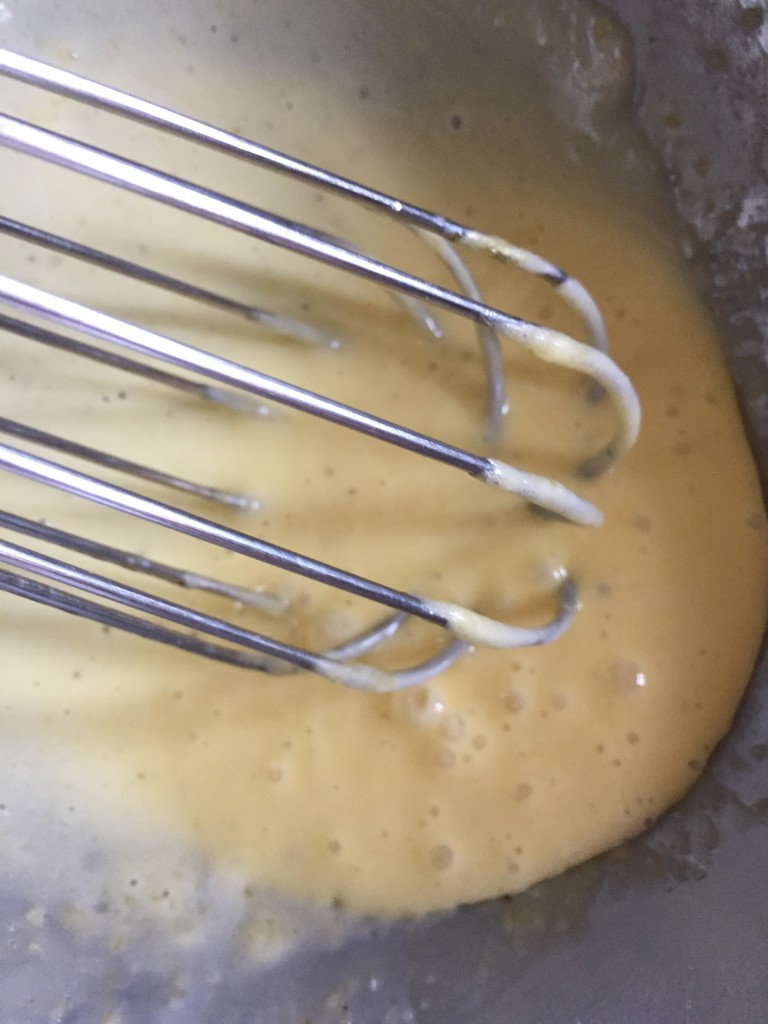 3.  Proceed to start drizzling clarified butter into egg-lemon emulsion and continue to whisk.  Repeat movements and simultaneously pour a steady stream of the melted clarified butter until desired consistency is reached.  Add salt and pepper to taste.  At this point, if the sauce is too thick, I add a little white wine and whisk a little longer over heat.
4.  Use the same day.  If you decide to make it ahead or have leftovers and the sauce becomes solid, I put it in the microwave in defrost for a few seconds and stir and works great.  Serve poured over vegetables, fish or eggs.