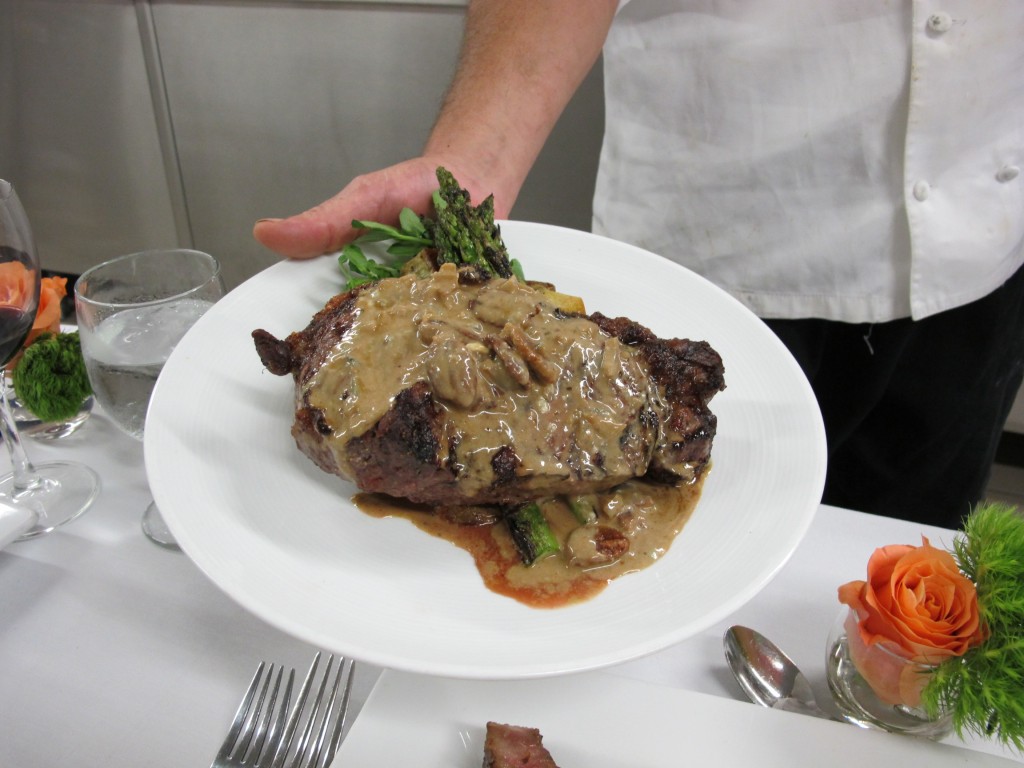 "Will you give cooking lessons anytime soon?" people often ask.  I concede I enjoy the whole process of creating in the kitchen, entertaining dinner guests, talking about ingredients and sharing my passion about cooking at HOME.  Offering hands-on cooking classes and/or demos is something I have given serious consideration and I definitely see myself doing it in the future for home cooks, enthusiasts and beginners to experiment in the kitchen, spice up their weekly menu and have some fun in the process.  However, taking a cooking class with someone who actually cooks for a living in a commercial kitchen of a high volume restaurant/catering is a whole different ball game.  Usually, in these rare intimate cooking demonstrations, more than learning new recipes you learn about technique, attention to detail, presentation and how to give a twist to what are sometimes boring and traditional dishes.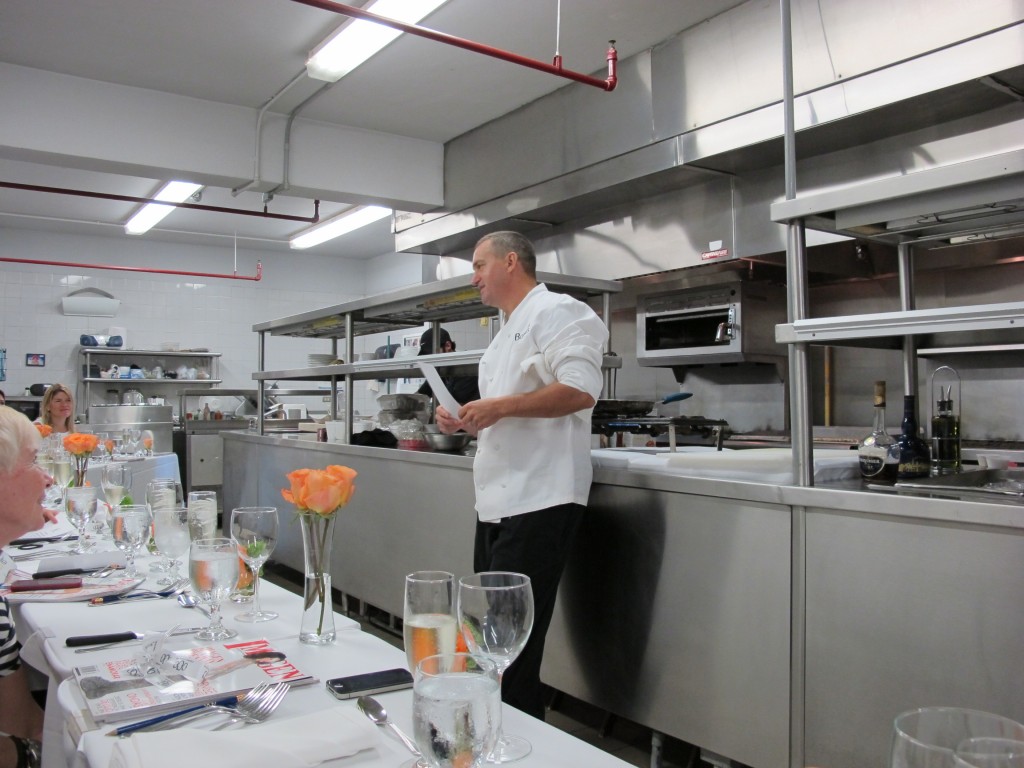 In my blog I try to be as thorough and detailed in the recipes with the descriptions and the step by step pictures I post, but it does not compare to a live demonstration or a hands on tutorial.  That is why whenever I get the chance to experience cooking demonstration by a REAL chef (by this I mean, someone who makes a living cooking at a restaurant or a catering business), I jump right in without thinking twice! If you are like me, this undertaking will ignite your creativity and nourish with an infinite number of alternatives your recipe repertoire.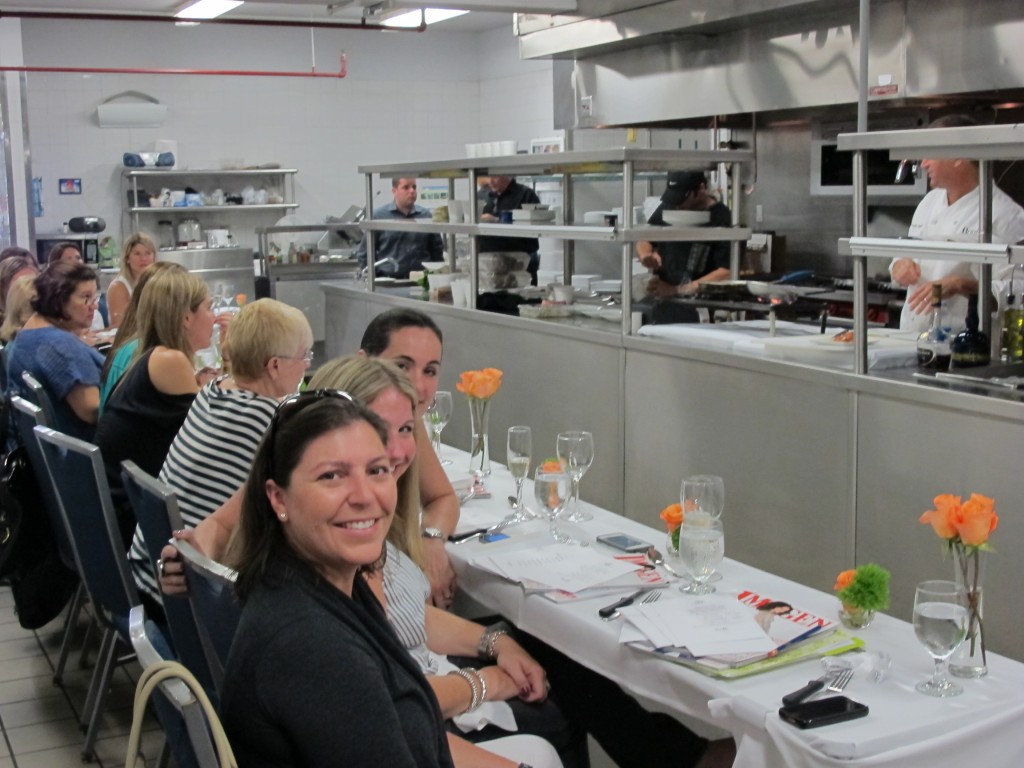 A couple of years ago, I went to a cooking demonstration by Chef Trent Eichler, Executive Chef at Bottles, a popular restaurant in Puerto Rico. To give you some background, Bottles was not conceived as a full service restaurant like it is now.  I remember when it opened about 16 years ago and going with my husband as newlyweds to the weekly wine tastings or to pick up some take out sandwiches from the deli at a smaller 4,000 square feet locale in the San Patricio Village area a couple of hundred feet away from where it is located now. I've seen, periodically, how it has been transformed from a wine/ gourmet shop, to a small "food hall", to the current, unique winning formula, a 7,000 square feet full service restaurant, wine and specialty food store.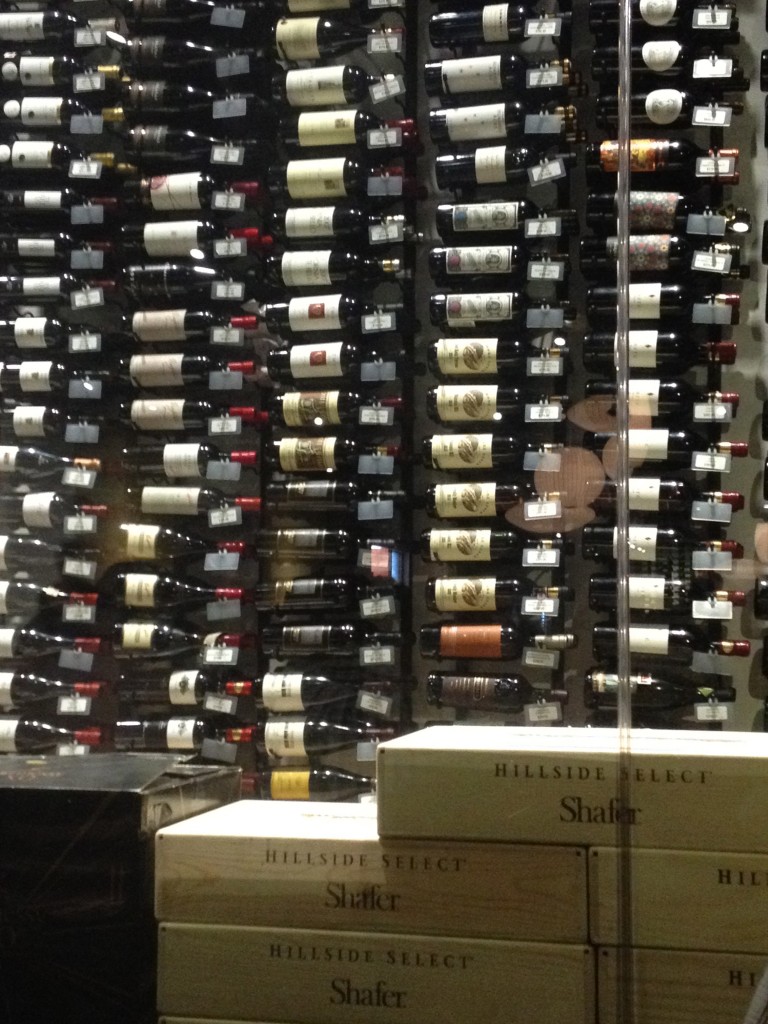 A few years after it opened, the restaurant started to fill a niche in the affluent city of Guaynabo, where executives, socialites, professionals and entrepreneurs alike could have a casual, wholesome, gratifying, dining experience complemented by a selection of great wines.  Of course, the prices were high (and still are!) and the parking was a challenge (like everywhere in Puerto Rico), but the owners of Bottles have made great use of their generous portions, privileged location, have added valet parking and continue to lure their insatiable audience.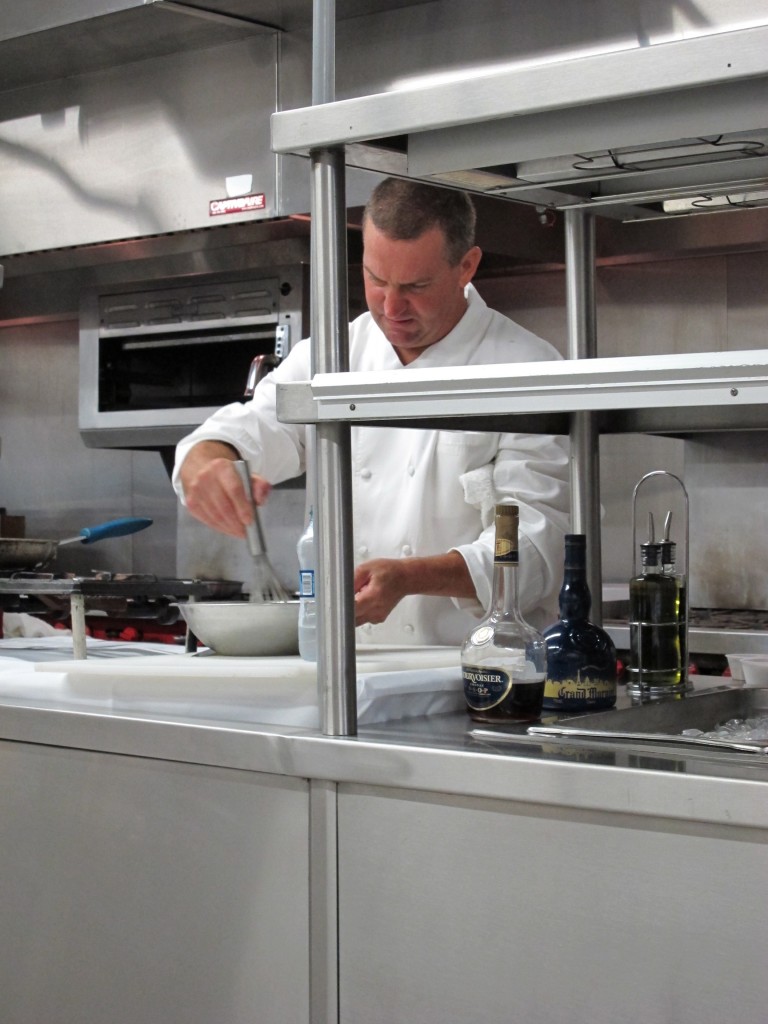 Bottles has been able to create and elevate their brand to a status symbol, a destination, where patrons take their top clients, celebrate special occasions and, sorry to sound superficial, where people got to see and be seen.  I commend them for being able to change with the times, stick to the elements that work and maintaing a consistent quality of food and a great selection of wines which, at the end of the day, is why people keep coming back.  Last but not least, and this holds true to the service industry in general, the presence of an owner or of someone who represents management, that comes to your table and/or knows your name, makes a huge difference in client retention.  Although I am not a frequent visitor, only on occasion, there has not been a time that I have dined at the restaurant that Mr. Richard Gonzalves, one of the partners and the face of the restaurant, hasn't been there. Oftentimes, he's casually dressed in his trademark Hawaiian style shirt, bermudas, flip flops and until recent years, accompanied by his faithful bulldog Jerry, welcoming you to his "home".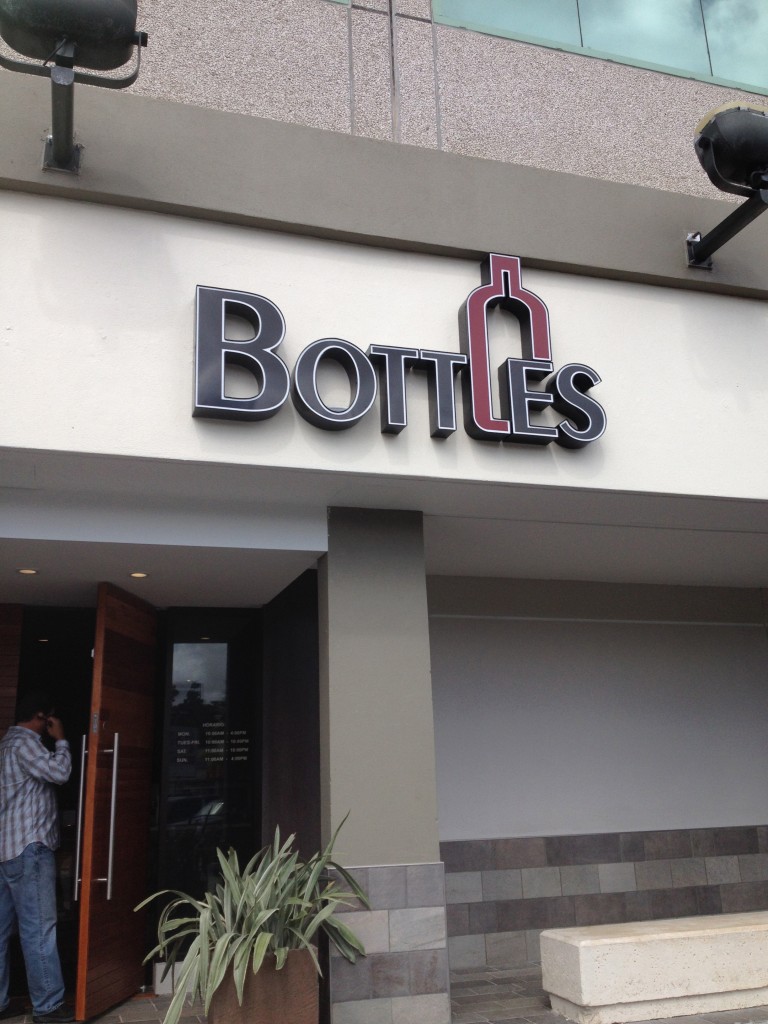 Mr. Gonzalves and Chef Eichler, both from the US mainland, met while working at El Hotel San Juan in Isla Verde, PR and decided to start the original wine tasting/cellar/deli concept.  During the cooking demo, that was organized by Frances Duprey at Caparra Country Club, Eichler told us he was born and raised in the Napa Valley, CA while the popularity of the region started to increase worldwide.  Therefore, he always felt a connection with cooking and wines. Eventually, he started to work in the hospitality industry and traveled vastly with his trade to places like Germany and eventually, Puerto Rico.  I must mention that although he didn't strike me as a very charismatic person, he was very approachable, talkative, "simpatico" and with a relaxed, laid back demeanor. He answered our questions about the emblematic dishes of the restaurant without hesitation.  All of the recipes he confectioned during that Thursday morning to an all women audience, could be replicable at home, but I would not recommend them for a weeknight meal, only for a special occasion because of preparation time and complexity of ingredients and/or techniques.  Like in the restaurant, the dishes prepared brought together many worldly flavors with a hint of local flare. My favorites were the selection of canapés, the Bananas Foster and the Demi-glace Gorgonzola-Cognac Steak sauce, which I will share with you in this post (at least what I could pick up from the demonstration with some changes here and there).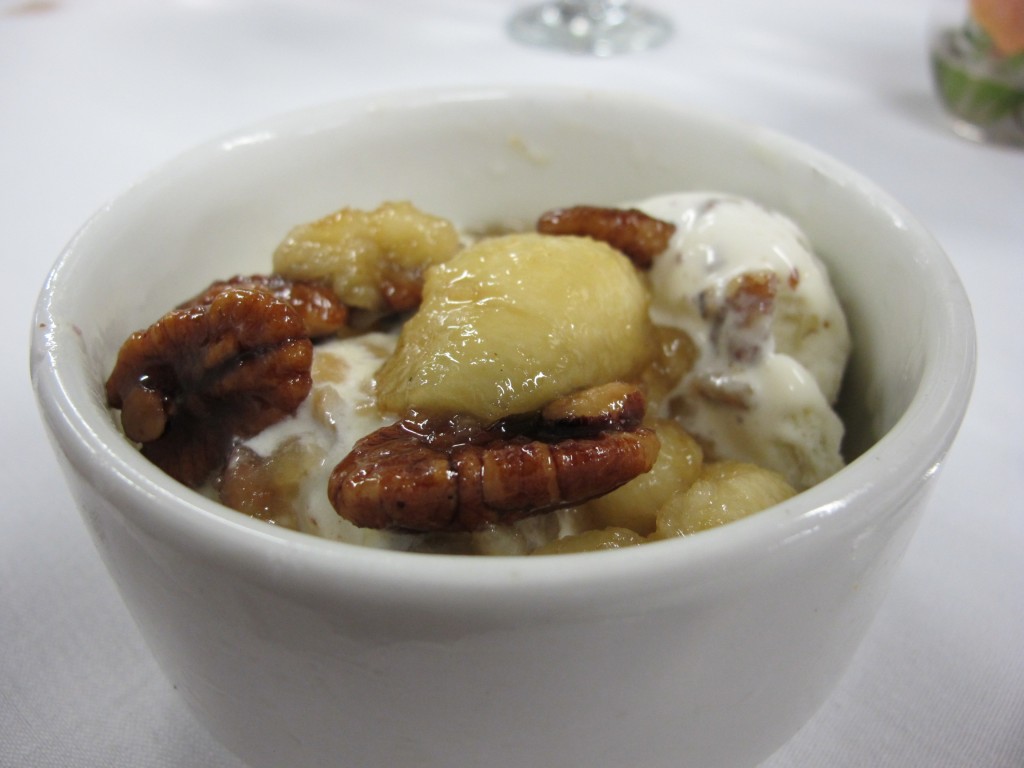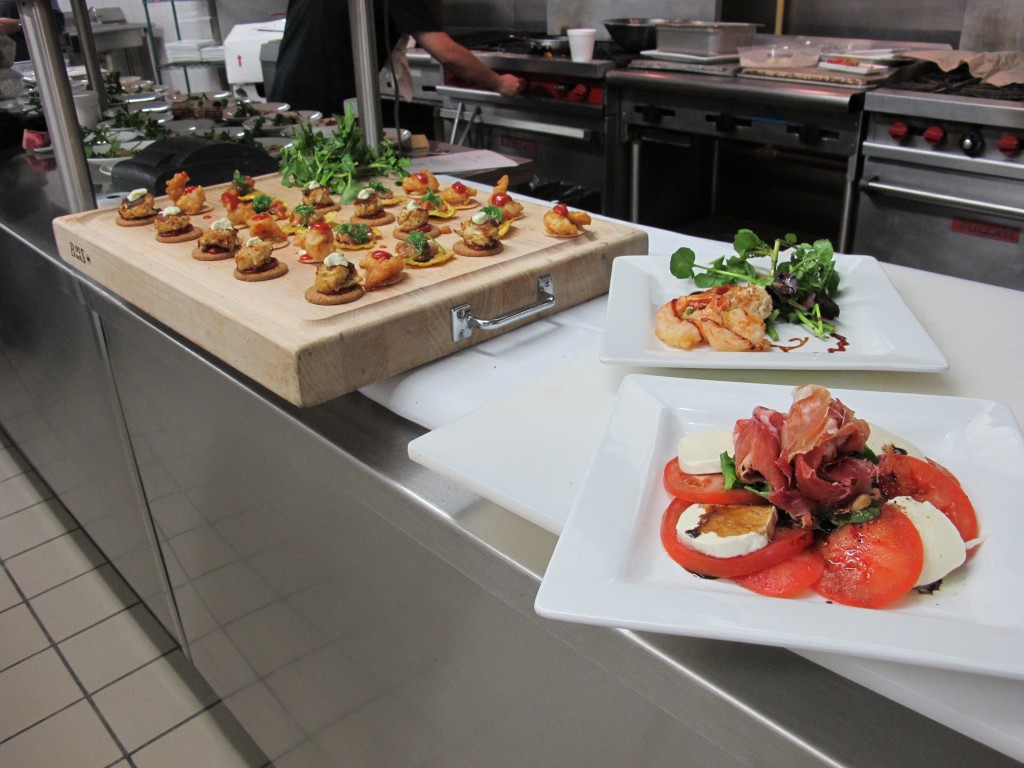 Although I am not big on eating beef, the sauce he made for the New York Steak caught my attention when its aroma perfumed our surroundings .  I admit I wouldn't have ordered it at the restaurant if I saw it on the menu because of my food preferences, but when I saw how it was prepared and eventually tasted it, I decided to give it a try at home.  Since then, I have made the sauce countless times.  It has a bold taste and silky texture which complements the beef and adds variety to any menu.  One time, I made the sauce for a dinner of 20 guests in Miami to celebrate our nephew's high school graduation and it was a big hit!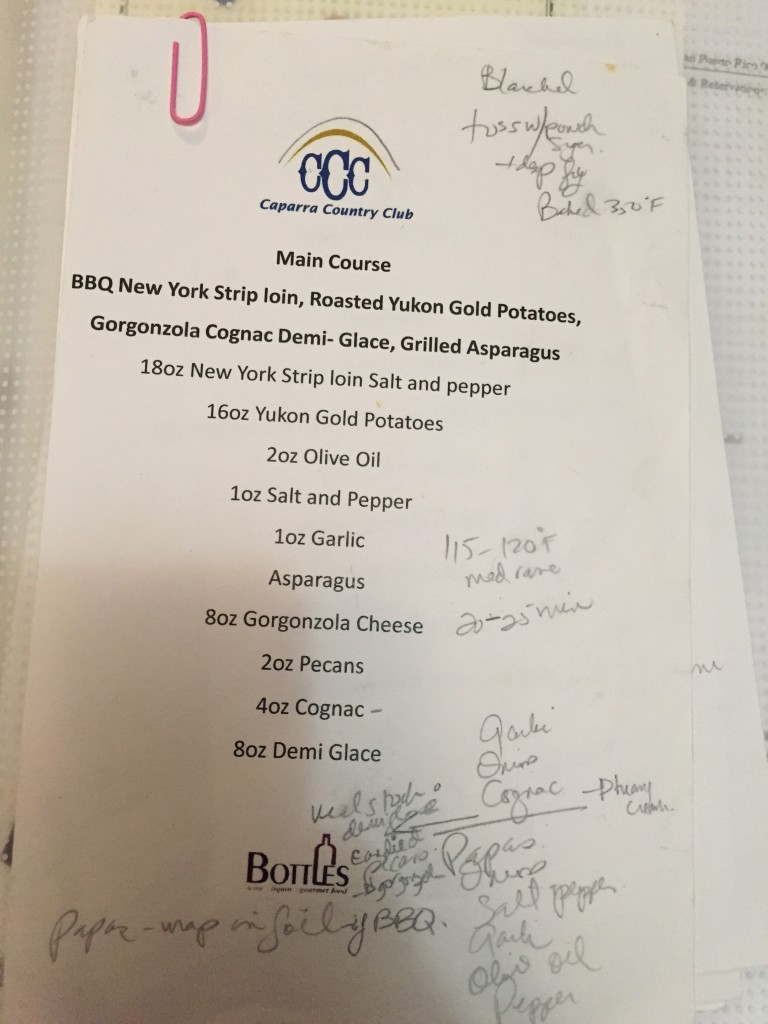 Without further ado…  here is my version of Gorgonzola-Cognac-Candied Pecan Steak Sauce.
Enjoy!
Gorgonzola-Cognac-Candied Pecan Steak Sauce 
Ingredients
Candied Pecans
3/4 cup of pecans
2 tbsp butter
4 tbsp brown sugar
1 tbsp water
1 tsp vanilla extract
wax paper
Sauce
2 tbsp olive oil
1 tbsp butter
1/2 cup finely chopped white or yellow onion
3 cloves of garlic, crushed
1/2 cup (about 4 ounces) crumbled Gorgonzola Cheese
1/4 cup Cognac
1.5 onces demi-glace concentrate  (diluted 1n 2 cups veal stock and 2 cups of water)
3 sprigs of fresh thyme
1/4 cup heavy cream
2 tsp of sea salt
pepper to taste
Procedure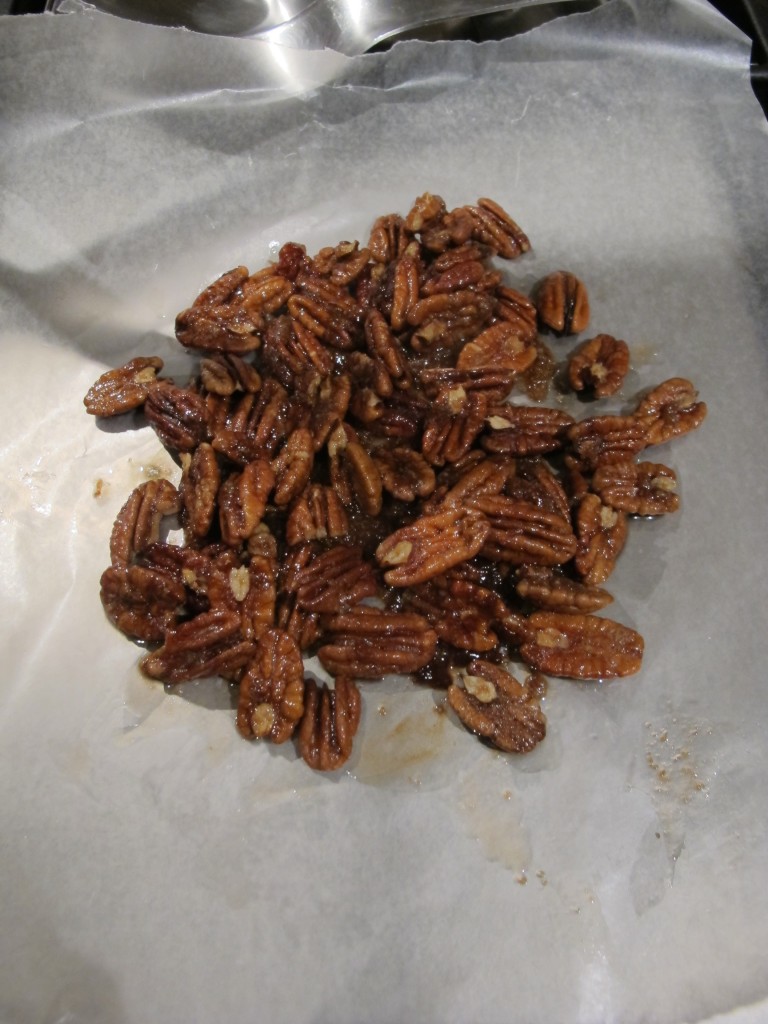 1.  To make the candied pecans, heat sugar, water, vanilla and butter mixture over low-med heat until sugar is disolved.  Add pecans and stir until coated and the caramel thickens. Set aside spread over the wax paper and let cool.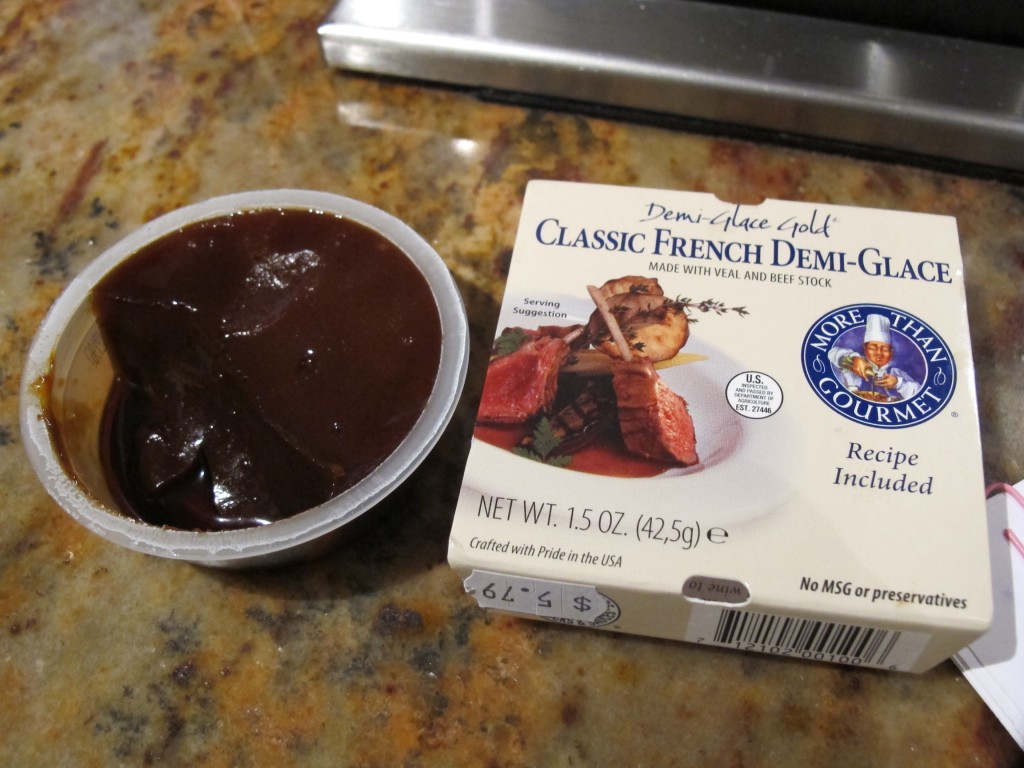 2. Prepare the demi glace mixture. In a small sauce pan, heat the veal broth and water and add 1.5 ounces of  demi glade concentrate.  Let it reduce for about 15 minutes over med-high heat. If you cannot find the demi glace concentrate, use about 1 1/2 tbsp of concentrated beef bouillon paste they sell in the supermarket (to yield about 4 cups).   If you use the latter option, the sauce might take a little longer to thicken or you might have to add a slurry (mix of water and cornstarch) as a thickening agent later in the process when you are making the sauce.  Set aside.
3.  In a large skillet, heat olive oil and butter.  Add onions and garlic and cook over medium heat until translucent.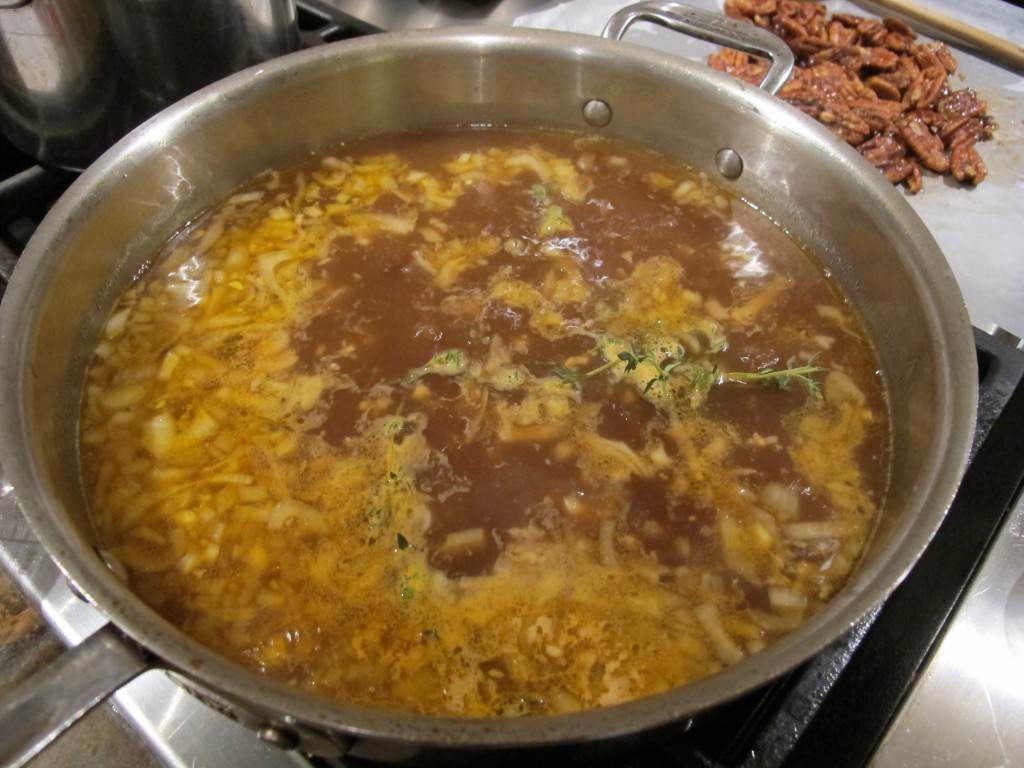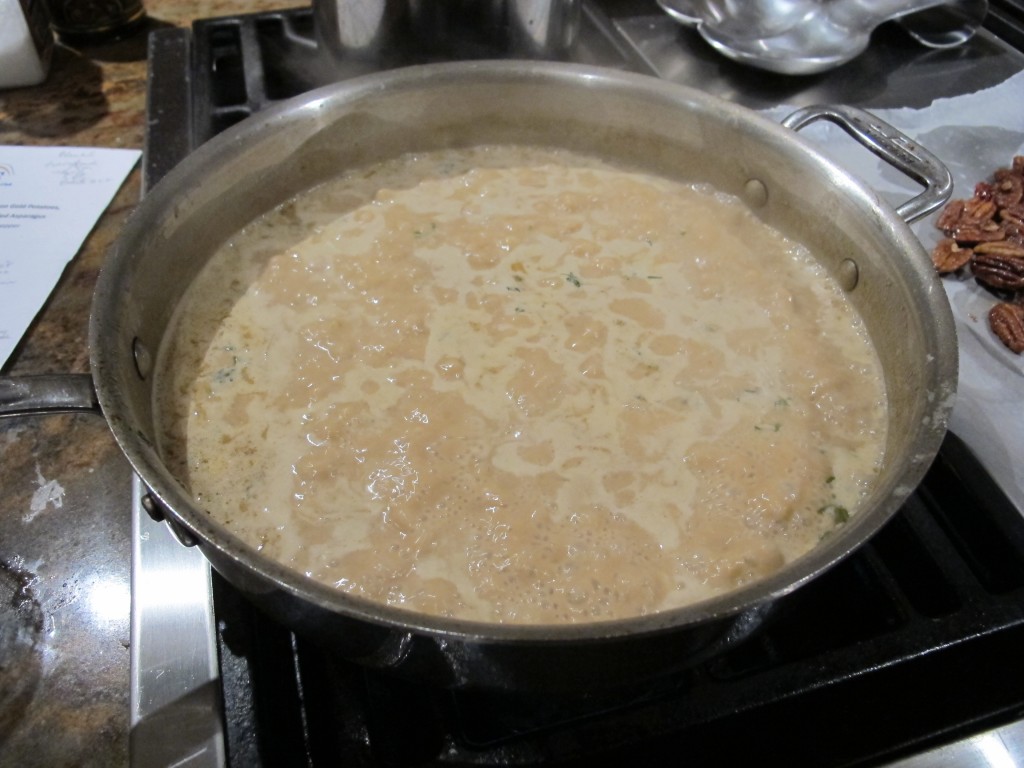 4.  Add to the skillet the demi-glace mixture, gorgonzola cheese, cognac, thyme, salt, pepper and heavy cream and let simmer over medium heat until the sauce thickens a little.  Stir occasionally.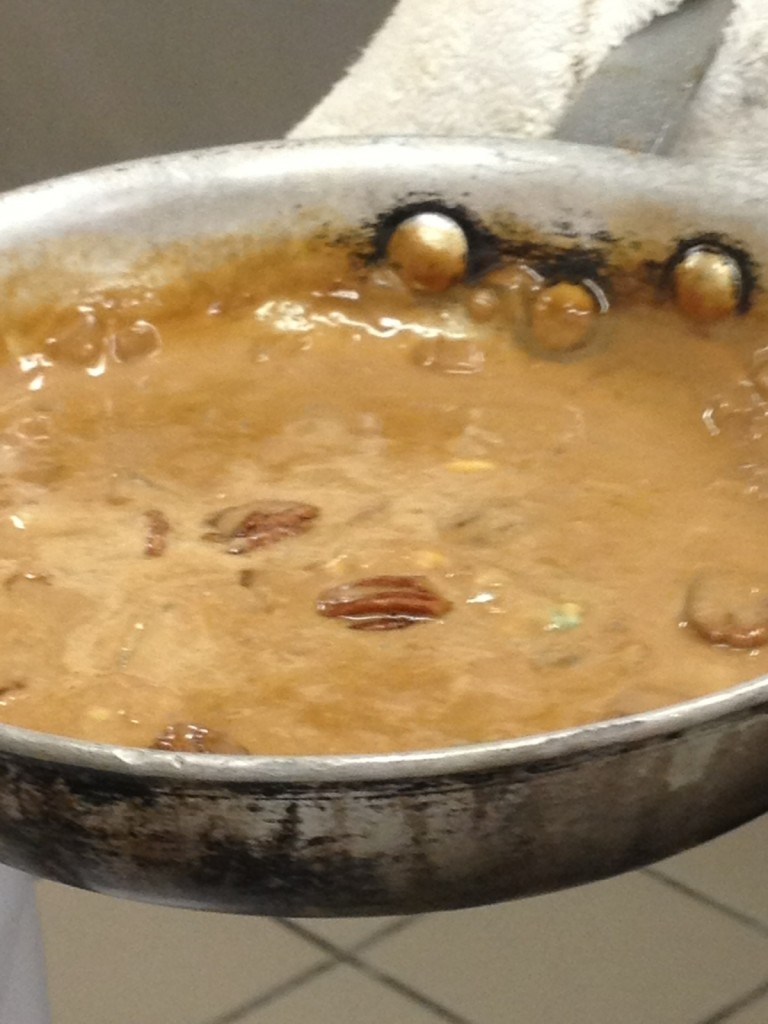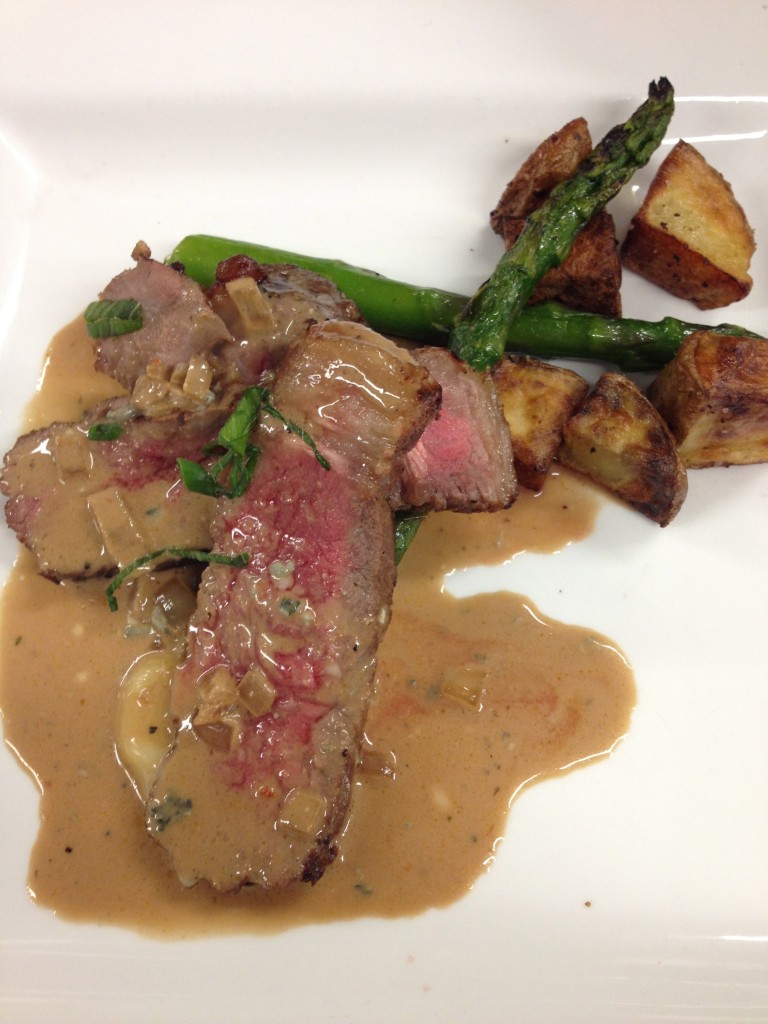 5.  Once the sauce has thickened, take out the thyme sprigs without the tiny leaves. Then add the candied pecans, stir and pour over your choice of New York steak or filet mignon.
Note: Since I don't eat a lot of beef, but my family does, when I make it, I pour some over my portion of grilled Portobello mushroom.