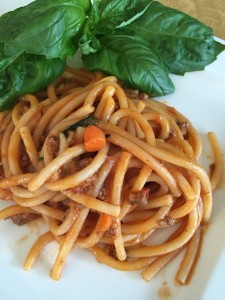 We've all been there! Trying to say a compliment to someone and ending up being disrespectful or insulting. This time it was my dear brother who put his foot in his mouth and told my sister in law, that the way she prepared bistec encebollado was very good but… it didn't taste like the one mom makes.  Yikes! Unwillingly, he belittled her efforts to please him and sincerely, it is the kind of comment that you should avoid, unless you are willing to step up to the stove burner and prepare it yourself!  That day, I sided with my sister in law, but in his defense, there is truth in that we all have those singular dishes that mom, dad or grandma makes that NEVER tastes the same when someone else prepares it.  It could be a secret ingredients, the quantities or simply that you are mentally and emotionally biased, but it just isn't the same.  I have mentioned before, that while I have learned to cook certain recipes hands on with my grandmothers and great aunts, the results can be similar, but never the same. C'est la vie!
My mother's menu was never quite ample. Quality over quantity I guess. The entrées that she prepared at home during the years that we were growing up, mostly adhered to delicious puerto rican staple foods like arroz con hablichuelas, arroz con pollo, tostones, asopao, carne mechada, pudín de pasas, carne guisada, chuletas a la jardinera or a meansautéed chicken with vegetables in salsa criolla that we all love.  Her most exotic pursuit in the kitchen was preparing Coquille St. Jacques (scallops in cream sauce), a dish that was exclusively prepared for special guests as an appetizer.  She even has her own set of scallop shells that no one but her can touch. However, there is another one pot meal that she has prepared for many years which has always impressed my friends (and still does); her Espaguetis con Carne Molida or Spaghetti Bolognese.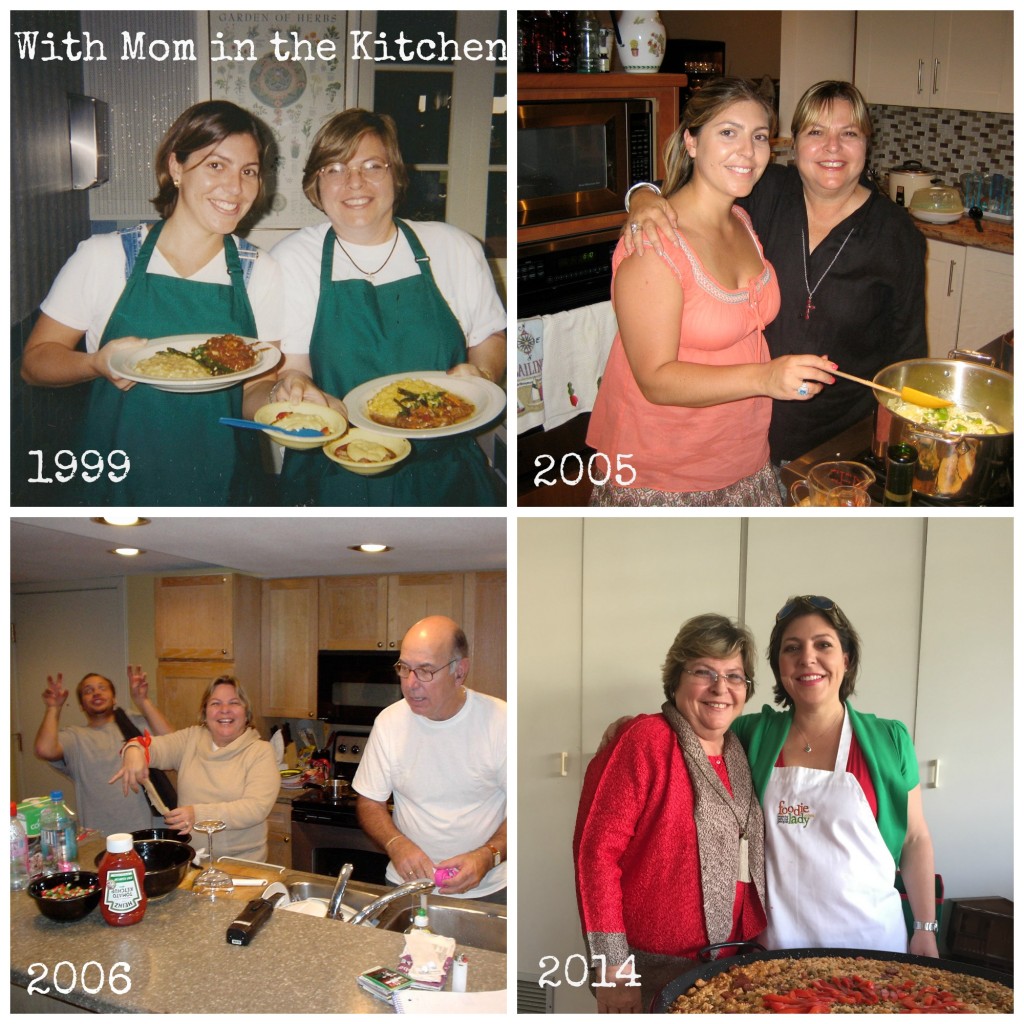 During my childhood and adolescence, our home was like a "country club", always full of people, parties, get togethers, family reunions, holiday celebrations, girl scouts, study groups, my friend's meeting place before heading our for the night, etc.,  and as a consequence, there were always many mouths to feed. Even though my parents had strict rules we had to follow in our formative years, I'm grateful to them that they were always welcoming of my friends and their friends and supported us having gatherings at home.  We even had family members stay with us for prolonged periods of time, like when my uncle Jose boarded at our house while he was attending the University of PR or when my cousin Brenda, who is from Ponce, lived with us for some time when she got a job in Bayamón.  My maternal grandparents, who live in the south of the island, also stayed with us for weeks at a time.  So it was pretty often that my mom would prepare her famous one pot spaghetti (sometimes two!) to feed the crowds.
I'm sorry to say this dish doesn't look very appetizing.  The appearance is unremarkable and simple, but the taste is wholesome and comforting.  What's her trick?  Simple. Cooking the pasta IN the sauce. That's it!  The only ingredient that I add at the end which she does not, is abundant fresh basil since I usually have some in my edible garden.  It is also a great alternative for an easy weeknight meal with a side salad.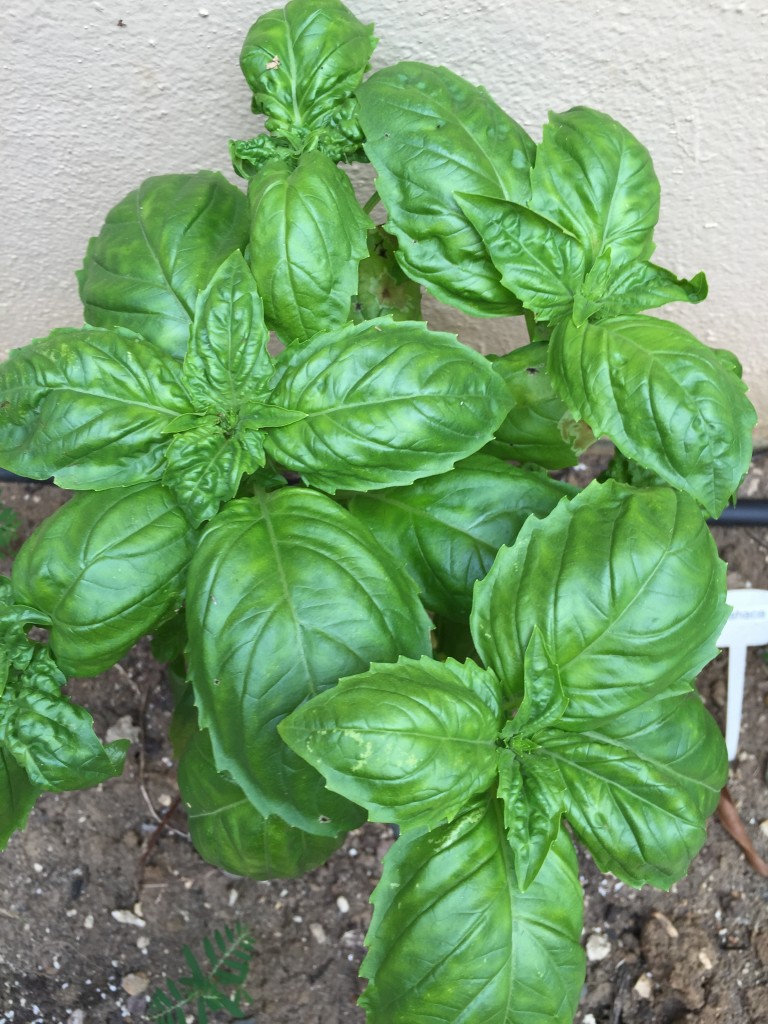 My mother uses regular spaghetti, but I like to use bucatini which is a thicker spaghetti with a whole in the middle.  It takes a bit longer to cook but it's worth it for when you bite into the pasta, the sauce that is caught in the middle of the bucatini explodes in your mouth. Boom!
Bucatini Bolognese della Mamma
Ingredients
3 tbsp extra virgin olive oil
3 garlic cloves, minced
1/4 cup finely chopped yellow onion
2 tbsp finely chopped green pepper
1/4 cup chopped carrots
1 1/2 pounds of ground beef
3 tsp salt
pepper to taste
2 tsp dried oregano
1 tsp dried thyme
24 oz pureed San Marzano tomatoes
1 tsp sugar
48 oz water
1 pound bucatini
fresh basil, coarsely chopped, about one hand full
Procedure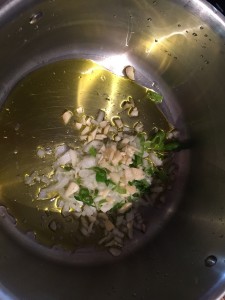 1.  In a large pot, heat olive oil in medium and sauté the onions, carrots, peppers and garlic until translucent.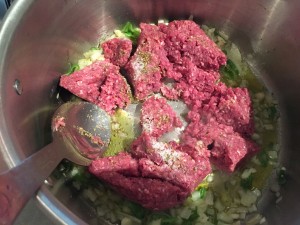 2.  Add the ground beef, dried oregano, dried thyme, salt and pepper and mix with a cooking spoon.  Let cook for  about 5 minutes stirring occasionally.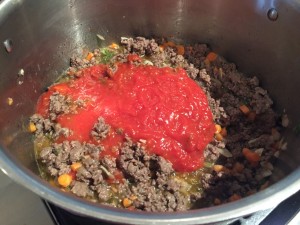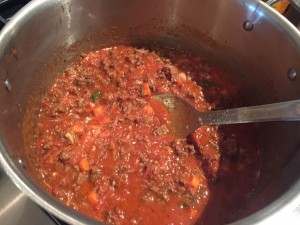 3.  Add the pureed San Marzano tomatoes, stir to incorporate all ingredients evenly and cook in med-low heat for about 5 minutes.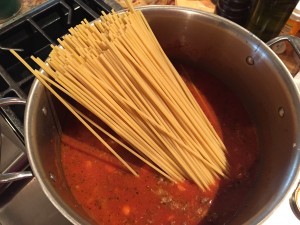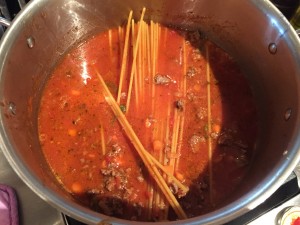 4.  Pour in the water and bring sauce to a boil.  Add the bucatini and make sure they are covered by liquid.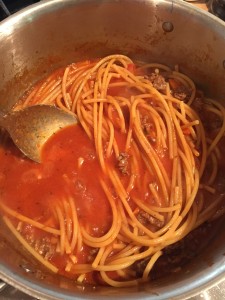 5.  Stir occasionally so that pasta doesn't stick to the bottom while cooking.  Verify often if you need more water to finish cooking the pasta.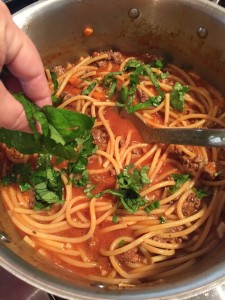 6.  Once the pasta is cooked and sauce is thick and scant, turn off heat, add the fresh basil, stir and let rest for a few minutes before serving.