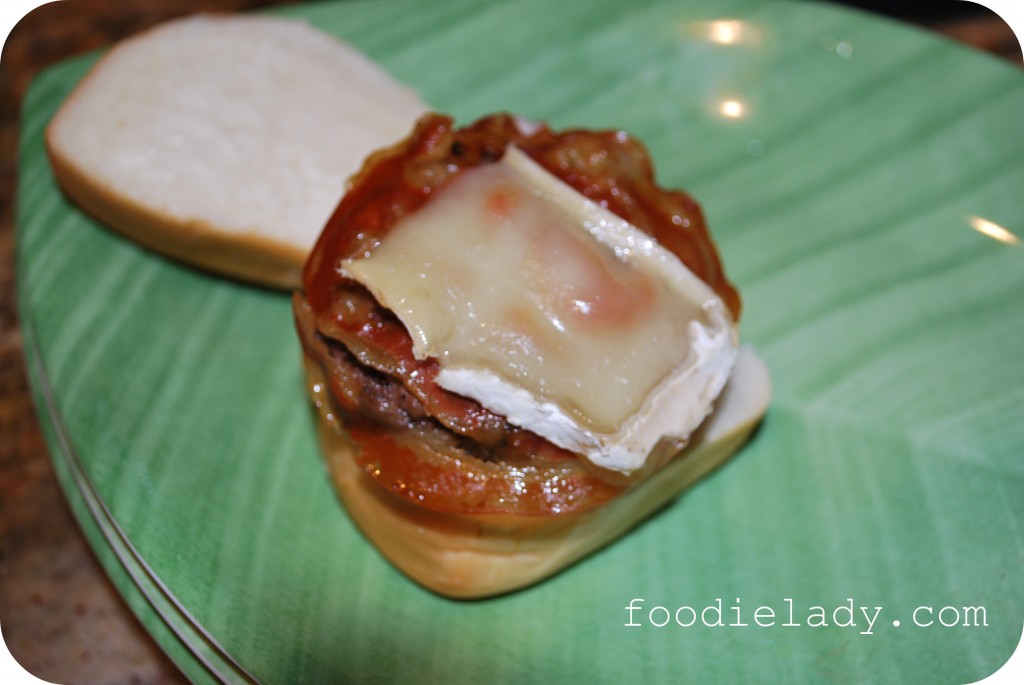 A couple of weeks ago, I attended the 10th annual South Beach Wine and Food Festival in Miami, Florida. You see, last October (2010), my cousin Priscilla, who lives in this city, sent me an e-mail with information about the festival in which her public relations company, Acqua Communications, would be producing multiple events for some of the sponsors.  I got really excited about attending and blocked the dates of Feb. 24-27, 2011 to experience this acclaimed culinary event presented by Food and Wine Magazine and the Food Network.
It was on a Thursday afternoon that we hopped on a plane in San Juan, PR and headed to Miami to start our gastronomic journey.  Once we landed, we got ready to attend the Burger Bash in front of the Ritz Carlton in South Beach.  I have always liked the vibe you get while you walk down the streets of SOBE wether it is during day or night.  On trips to Miami during my twenties, I would go to South Beach at night to have dinner at the "flavor of the month" restaurant and then go party hard dancing 'till the wee ours. Most of the time, we ended up having a slice of pizza on the sidewalk of a Washington Ave. establishment at 4 am in efforts to prevent a bad hangover.
Today, I still enjoy the sense of freedom you get when you stroll down Lincoln Road, Ocean Drive or Collins Avenue. Sometimes, as we "grow up" and start raising families, our lives become rigid and square, and visiting places like SOBE with its Art-Deco architecture, beautiful people, drag queens, laid back atmosphere, and fun shops take us out of the ordinary. As you glance at the mélange of semi-nude tourists and perfectly tanned locals walking down the streets, you enter, at least for a few hours, a decadent surreal world full of liberty and "sabor" which SOBE can only offer.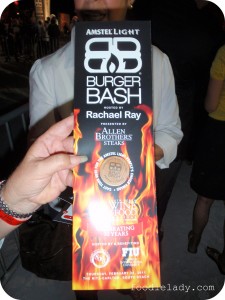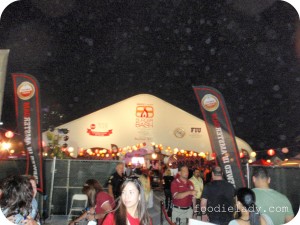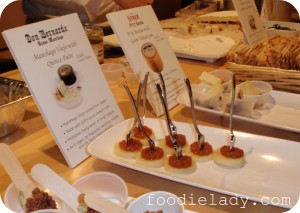 As we started to exit the streets of SOBE and get our feet into the sand, we approached a HUGE tent where the Burger Bash hosted by Rachel Ray was held. I truly felt like an 8 year old at the entrance of Disney World!  About three thousand people checked-in in an orderly fashion.  Each of us were given a bracelet and a menu/map with a casino-like coin stuck in its cover, with the sole purpose of giving you a chance of voting for your choice of the best burger served that night.  At the entrance, Havaianas Brazilian flip-flops were handed out and a selection of cheeses and desserts presented.  My favorite hor d'oeuvre was manchego cheese with quince paste. What a heavenly combination!  We proceeded to the drink stations where you had a choice of Amstel Light or Loire Valley Wines from which I chose the Rosé since, you can imagine, it was very hot that night walking on the beach amid 26 hot grills.  Thankfully there were also self-service Fiji water stations all around us as well as Pepsi coolers and recycling bins.  I noticed the sponsors were very clever in presenting their products to the visiting public. For example, the table centerpieces were made of Heinz Ketchup bottles. Allen Brothers Steaks had a huge cut-out cow in the middle of the tent with information about their cuts of beef.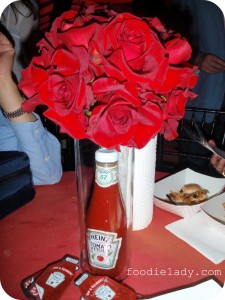 There was not only food for your tummy, but also a feast for the eyes in people watching.  I was a bit starstruck when I noticed, that right behind us on the entrance queue was Dancing with the Stars runner-up and American football player Jason Taylor and next to our table was baseball player Mike Lowell (both very attractive men).  Chefs Anne Burrell, Robert Treviño, Rachel Ray and Guy Fieri where hanging out at the Burger Bash although I didn't get a chance to meet them. I was really impressed to find that the guy serving my hamburger at Bobby's Burger Palace station was none other that renowned Iron Chef Bobby Flay.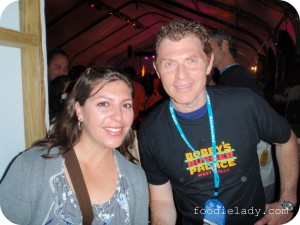 Other memorable burgers were from Shake Shack, QSine, El Mago de las Fritas and Town Kitchen and Bar. However, my favorite was Bulldog Burger's Black Truffle Burger with Brie Cheese and Crispy Pancetta topped with Golden Tots stuffed with cheddar cheese.  This restaurant is owned by Howie "Bulldog" Kleinberg a self-taught chef who participated in Bravo's Top Chef Season 3. He was also there preparing and serving guests his black truffle infused burger.  By now you already know about my "love affair" with truffles…. so I voted for him.  Second runner up for me would have been the Shake Shack's All-American Shake Burger.  I also have to mention, that the live band music was amazing, playing classic and modern rock covers and creating a lively ambiance.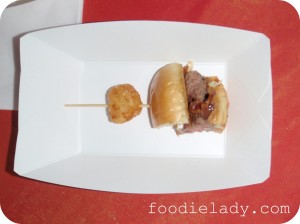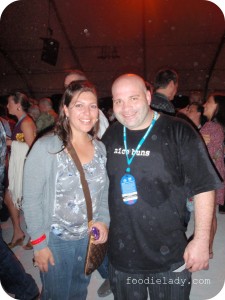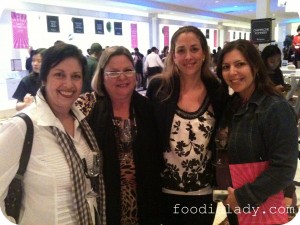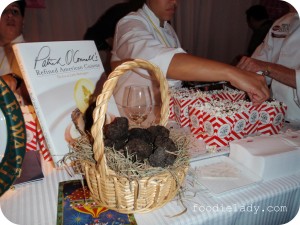 On Friday night, we attended Wine Spectator's Best of the Best showcase at the recently remodeled Fontainebleau Hotel.  At this point, Oh! how I wished I had 4 digestive compartments like cows do!  There you could find the best wines and chefs in the country presenting their restaurant's trademark specialties.  From asian style lobster prepared by a german chef (Bjoern Weissgerber) to black truffle popcorn (Patrick O'Connell from The Inn at Little Washington, Virginia) to the best chocolate balls filled with raspberry coulis and eclairs (Yannis Janssen's executive pastry chef of Fontainebleau Resort). We also tried a delicious white bean soup from Paul Bartolotta's Ristorate di Mare at Wynn Las Vegas, who had worked before as chef and managing partner at Spiaggia Restaurant which we always visit when we are in Chicago.  Sadly, I never got to try Michy's (Michelle Bernstein) station since by 10pm it ran out of food.  My favorite wine that night was from Charles Krug Winery, a Peter Mondavi Family from Napa Valley, Cabernet Sauvignon, Generations 2007.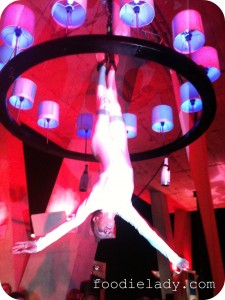 At 11pm, we headed across town to the rooftop of 1111 Lincoln Road parking lot where Martha Stewart and Emeril Lagasse hosted "Let them eat Cake" along with Lee Schrager, founder of the event, who has raised more than 12 million dollars to benefit Florida International University's Tourism and Hospitality Program at the Festival.  This was a lot of fun!  Live Batucada music accompanied by flamboyant samba dancers. A photo booth sponsored by Bing search engine, Moët Hennessy Champagne served by acrobats hanging from chandeliers, amazing views of the city and a wide selection of cakes to sample.   My favorites were Edda's Guava Petit Fours and Rum Cake Balls (en vogue among baking afficionados at the moment) with whom I had a chance to talk to for a while. At around 12:30 am, the Shake Shack started to hand out hamburgers and shakes to all the guests.  A food extravaganza!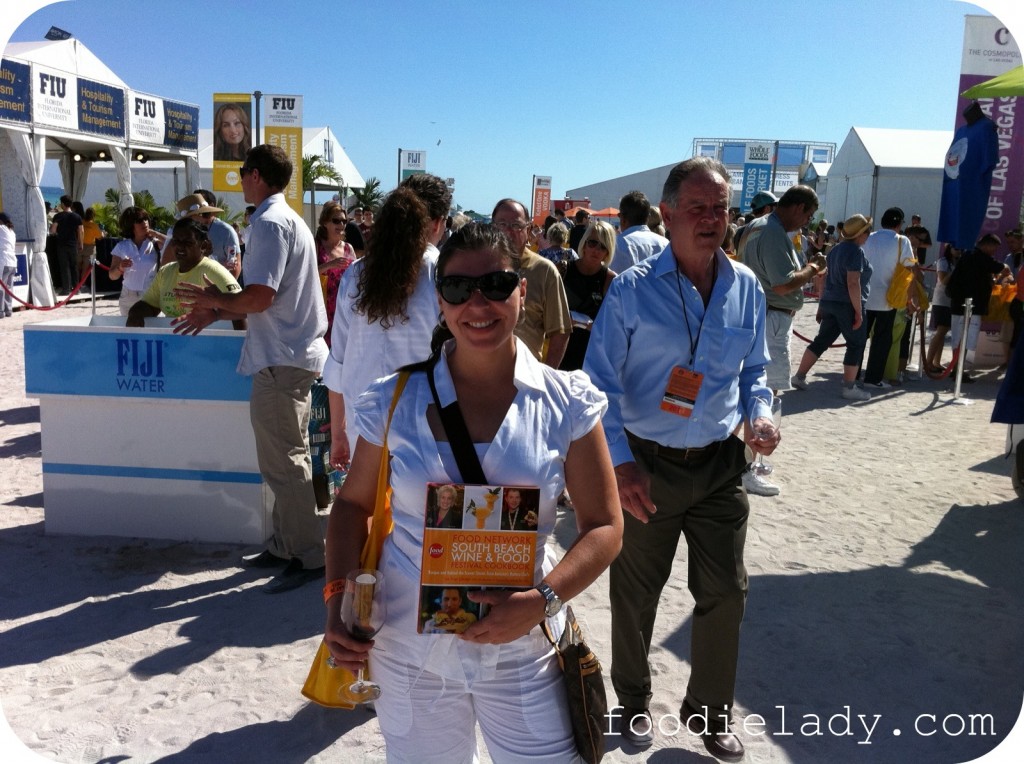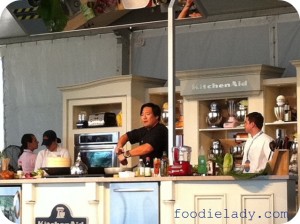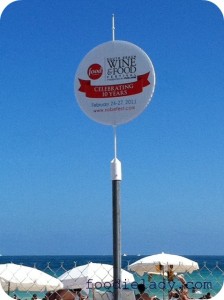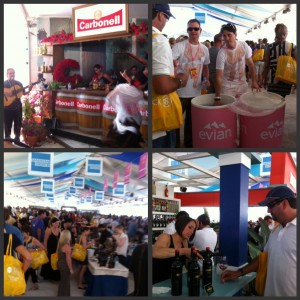 On Saturday afternoon we headed down to the beach once more to the Whole Foods Grand Tasting Village.  I couldn't believe how many food enthusiasts came out to this event and how much of the finest food and beverage was being showcased! Considering each person had paid at least $230 to attend (about 30,000 persons were expected during the weekend) this was an outstanding turnout.  Cruzan Rum had a steel band, Carbonell Olive Oil had Flamenco Dancers, Evian launched their new "baby" add campaing.  Among the personalities I had the chance to talk to was Dana Cowin editor-in-chief of Food and Wine Magazine and witnessed a book signing with Rachel Ray.  Also, watched cooking demonstrations by Chef Ming Tsai (whom I found to be very enthusiastic and funny) and Chef Emeril Lagasse (more monotone and less engaging, but still very approachable), all packed with foodies and cooking fanatics.  I also bumped into my friend Patricia de la Torre, Editor of Caras Magazine, who was covering the event.  The wine I liked the most that day was an Amarone 2001 from Bertani, from the Veneto region in Italy.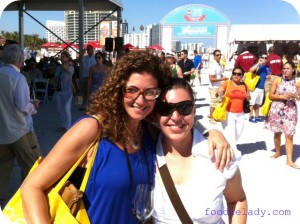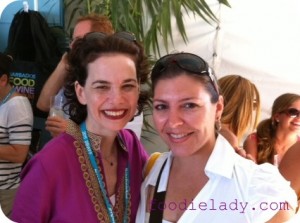 As a final note, I got a complimentary copy of SOBE Wine and Food Festival Cookbook with my American Express Grand Tasting Ticket full of recipes and anecdotes of their ten year run. Beyond doubt, this experience is another check on my bucket list!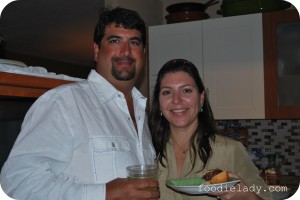 My husband recently turned 40 and, although he was vehement about not having a birthday celebration, I still invited over our immediate family for an informal gathering on a Sunday afternoon.  He is a "burger guy", so I surprised him with my version of Black Truffle Burger Sliders with Brie Cheese and Crisp Pancetta for him and everyone to enjoy.  It was a big hit amongst our guests along with the always popular Natural Fries with White Truffle Oil.
Enjoy!
Black Truffle Burger with Brie Cheese and Crisp Pancetta
Ingredients
1 pound organic ground beef
1 ounce black truffle butter (found at specialty food shops) at room temperature
1 tsp Homemade Adobo, or a mix of salt, ground garlic and cumin
brie cheese, cut into slices
thinly sliced pancetta
mayonnaise
dinner rolls for sliders or regular hamburger bread for quarter pounders
Procedure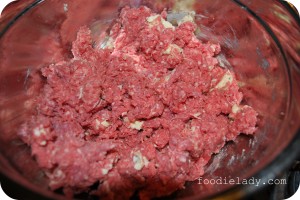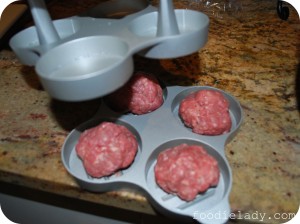 1.  In a small bowl, mix black truffle butter with ground beef and adobo until combined.  You will see the small pieces of butter spread uniformly around the ground beef. Shape the burgers with your hands or hamburger press.  Set aside.
2.  Meanwhile pre-heat grill on high.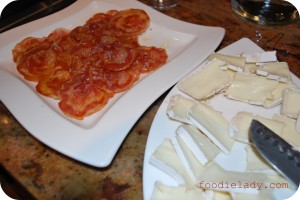 3.  In a large skillet, cook the whole round slice of pancetta over medium heat.  You don't want to burn it.  Once its golden take out and place on a plate.  It will become crisp once it cools.  Cut brie cheese into slices.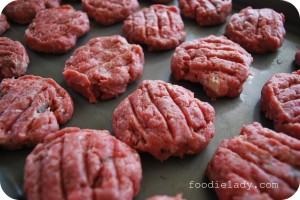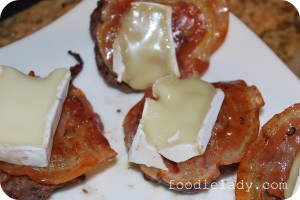 4.  Bring grill to 350ºF and cook burgers.  Place pancetta and brie on top of burger once they're almost cooked and serve over dinner rolls (for sliders) or hamburger buns spread with a little mayonnaise.  Serve with home made potato or sweet potato fries.