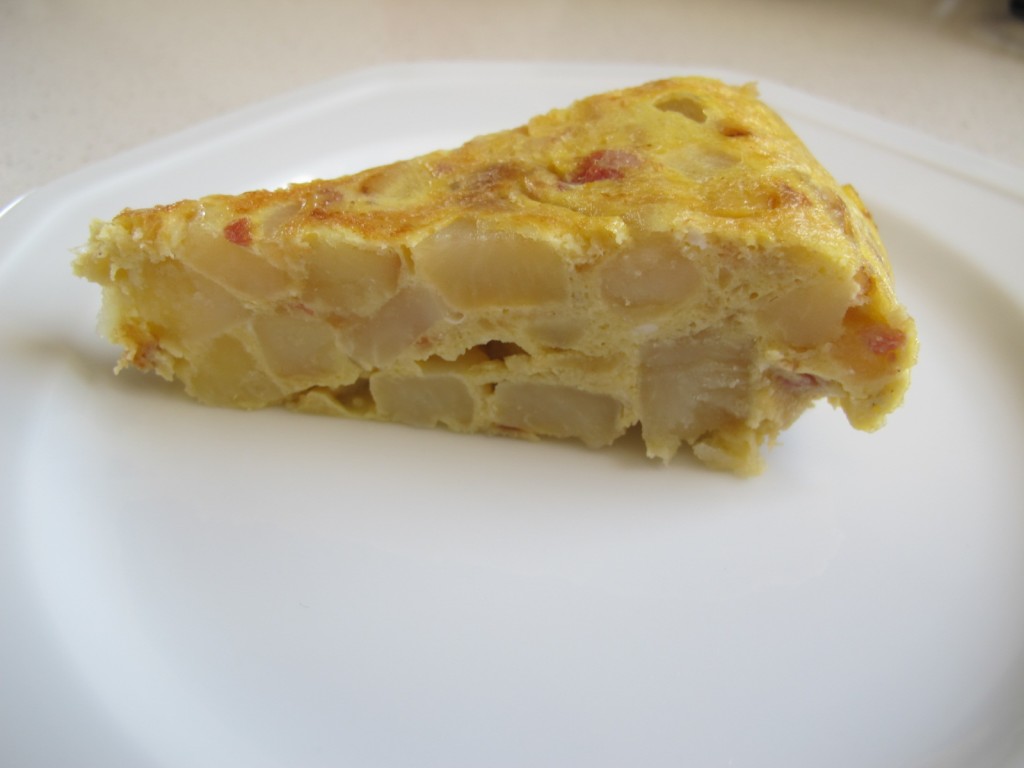 Tortilla Española or Tortilla de Patatas is one of the most common dishes served all over Spain as well as in many of the former Spanish Colonies in America.  The basic Tortilla Española, an open faced omelette similar to a quiche without a crust, includes eggs, potatoes and onions, but there are many variations. In comparison to the Italian frittata, they differ in that the frittata is usually baked in the oven (instead of turned) to cook the top and oftentimes includes many other vegetables, meats and herbs (also delicious!).
Tortilla Española was one of my grandmother Mami Chelo's trademarks in the kitchen.  Mami Chelo, who passed away a couple of years ago at age 94,  was from Villa García de Arousa a small fishing town in the Galician region in the north of Spain.  As a young girl in the early 80's during our travels to Spain to visit my great grandmother Blanca, we took daily strolls through the fisherman and farmer's market and then, once we got home, made Tortilla Española almost daily. I can still recall the raging buzz of the salespeople in the plaza and a melange of aromas of the fresh caught fish, produce and chorizos.  Mami Chelo's Caldo Gallego and Empanada Gallega were also favorites of our family and friends.   A few years ago, she taught me how to make her version of Tortilla Española, although I admit I have not been able to resemble hers which was so comforting and tasty. I think only my uncle Tio Guille has been able to make the most accurate copy up to date.
I remember one Christmas I gave Mami Chelo a set of pans from Williams-Sonoma which claimed to be the best frittata/omelette pans available in the market.  Its advertisement highlighted its attributes: Non-stick and easy to turn over (the tricky part of making Tortilla Española), but failed to mention how heavy they were!  Let me tell you, it was a total failure for her AND for me, although my husband Emilio still loves them (he is a big strong man, ja!).  Truly, the problem was the set of pans was too heavy for us ladies to handle.  So, we stuck with the old custom of turning our Tortillas with a large plate.  As a curious anecdote, I actually know people that have a special plate in their cupboards used ONLY for turning their Tortilla Española.  There are certain characteristics that you need to consider for your tortilla plate (not to be confused with mexican tortillas which is something else). First, it has to be shallow or as flat as possible and second, it has to be larger that your skillet.  Please, no flimsy, paper or plastic plates.  I prefer ceramic, terra-cotta or glass plates.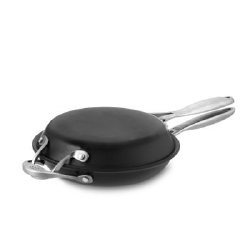 Many versions abound of how to make Tortilla Española. Don Tony, my father in law, was an expert tortilla maker who preferred deep frying the potatoes.  Others, like to soften the potatoes in the microwave and then make the Tortilla Española.  Emilio (he is the Tortilla Española maker par excellence in our house) and I prefer to sauté the potatoes in abundant olive oil until softened, but not browned, remove them form the pan, toss into the beaten eggs mixture and THEN start the tortilla making process.  At this point, you have to make sure the heat is med-low or low (depends on the stove top) or else the tortilla will not cook evenly and a crust will form at the bottom.  Believe me, you will have many failed attempts, but keep at it, its worth it!  I recommend you make your first Tortilla turn near the sink.
We love making Tortilla Española on Sundays for a late breakfast or brunch during vacation.  I dare say, most of you have the ingredients in your fridge or pantry right now. However, even though it might seem as a simple feat, making this dish takes time, patience and dedication.  It's a great alternative to recover from hangovers (Ja!), reason why I have chosen this recipe as my last post of 2012.  I know many will party hard until 2013 and receive the New Year with a pounding in the head that only large amounts of water and a dose of carbs and fat will be able to tackle. NOTE: Please don't drink and drive… pass the key to your designated driver to avoid accidents.
New Year's is always a nostalgic as well as melancholic time of year for me filled with contradicted emotions.  A time in which I reminisce about what was and what could have been, what I gained and what I lost and about failed attempts and achieved goals.  The year 2012 was a challenging one for me and my immediate family, but it is in hardships that we strenghten our bonds and realize what our character is truly made of. For my part, I receive 2013 with an open heart, filled with humble intentions and affirmative mind. This year, like every other year, I will strive to be the best I can with the resources I have.  Set aside the negative and focus on the positive. During 2013, I will be leaving my thirties behind and embark on a new adventure in a new decade with a sense of gratitude of the opportunities I've been given, the lessons I've learned and experiences I've lived.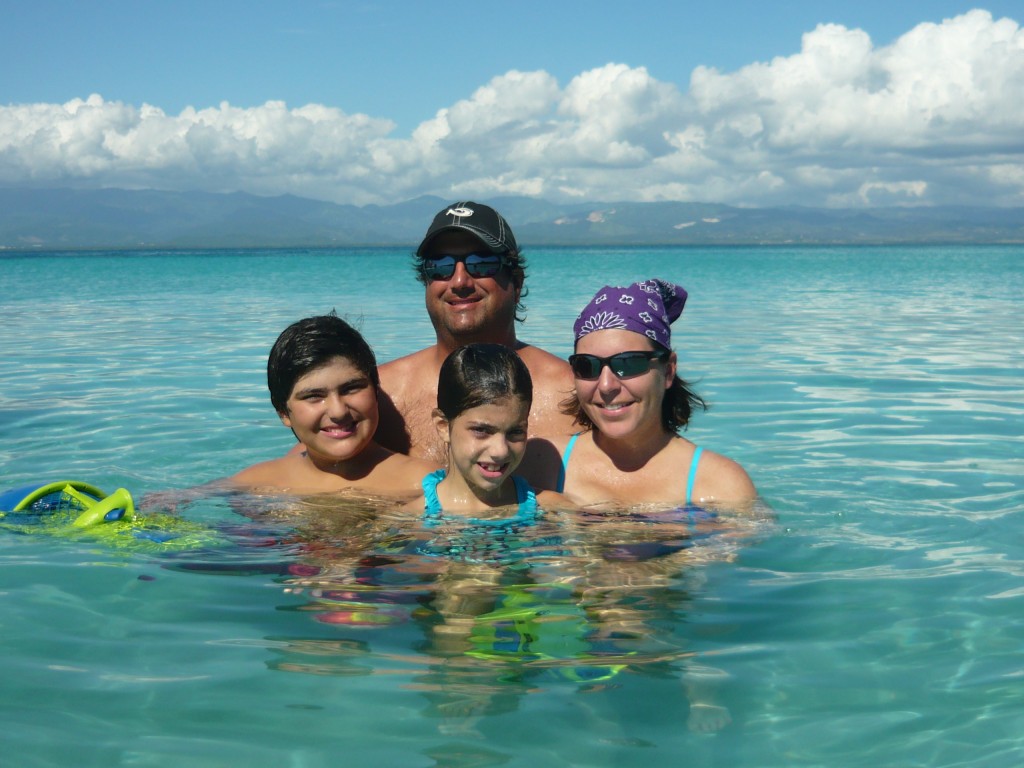 As I navigate the waters around Culebra Island, my only wish is that the New Year brings you closer to your true self and leads you to be at peace with your surroundings.  Cheers!  To good health and prosperity or as my friend Carmen R. would say… Sauchi to one and all!
Tortilla Española (Spanish Potato Omelette)
Ingredients
4 med sized potatoes sliced in half crosswise and cut into 1/4 inch thick pieces or in same sized cubes (I like golden or russet)
1/2 small yellow onion (about 1/3 cup), finely chopped about
1 1/2 cups of olive oil for frying
1 tsp fine sea salt
pepper to taste
6 large eggs, beaten
Optional:  Add some cured Spanish Chorizo to the mix to kick it up a notch.
Procedure
1.  Peel potatoes cut them in half (crosswise). Proceed to cut into 1/4 inch thick pieces or same sized cubes, facing flat side down. Set aside in a large bowl.  Cut yellow onions into small pieces and mix with potatoes.
2.  Heat olive oil (med to med-hi) in large frying pan (about 10 inches in diameter), making sure its not too hot to brown potatoes (throw a piece first to test).   Pour potato-onion mixture into olive oil and fry until soft to the touch of a fork. Once cooked, remove from olive oil with a slotted spoon and place in large bowl. Drain excess fat and season with salt and pepper.  Save olive oil for future.
3.  Beat eggs until airy. Fold with silicone spatula in bowl with fried potatoes and onions.
4.  Take about 3 tbsp of the olive oil used to fry potatoes and put in 10 inch frying pan (I use non-stick).  Heat (med to med-low) and add seasoned egg-potato-onion mixture.  Spread evenly and cook over med-low for about 10 minutes.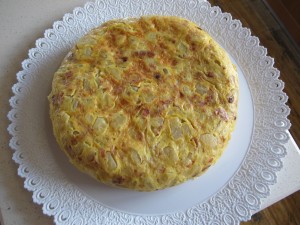 5.  Here is the tricky part!!  Use a spatula to detach the edges of tortilla from frying pan once it is lightly browned and a bit raw egg in the middle.  Using a pot handle mitt to grab the handle of the frying pan and cover with large round shallow dinner plate on top.  Move over to kitchen sink in case some raw egg or oil drips as you turn over.  This has to be done super duper fast to avoid accidents. Place frying pan over med-low heat again, add some oil if needed, and slide tortilla back into frying pan with the help of a spatula.  Cook for about 5-7 more minutes until the egg fully sets.  Remove from pan to a clean plate and serve warm.