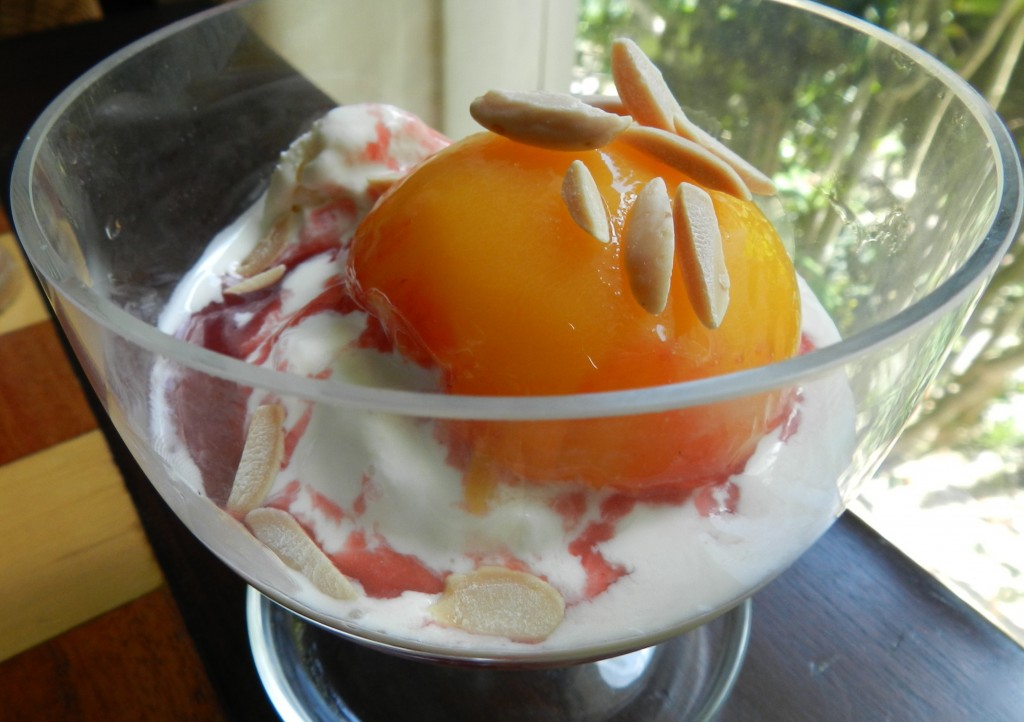 I am pretty sure many of you have heard of (George) Auguste Escoffier. This french chef was often called "the king of chefs and a chef of kings" because he cooked exceptional dishes for royalty both in France and England and was a prominent figure among cooks and gourmands during the early 20th century.  He is recognized for simplifying and making traditional french cooking methods and techniques more popular worldwide. In addition, Escoffier was a culinary writer and is credited to elevating the profession of chef to a respected status by establishing an organized discipline system for running a commercial kitchen, among other things.
During his tenure at the Savoy Hotel in London, he created  the Peach Melba dessert in honor of Australian opera singer Nellie Melba (this was her stage name) in 1893 as well as the Melba toast in 1897.  It is said the name came up during conversation with hotel manager Cesar Ritz.  Later on, after a dispute with the hotel owner, they both left the Savoy and went back to France.  Ritz established the Paris Ritz and Escoffier ran the kitchen of the hotel's restaurant.  A few years later, they started the Carlton Hotel in London (hence the name Ritz-Carlton that we know today). Currently, there is the Ecole Ritz-Escoffier Cooking School located in the Paris Ritz.  I must confess, that I have near the top of my bucket list a deep desire of going to this culinary school… someday, at least to take a one day course.  As a curious note, Chef Escoffier died on my birthday, February 12, of 1935 in Monte Carlo at the age of 88.
Peach Melba is an easy dessert alternative, especially if you have last minute guests.  I usually have these ingredients available in my fridge and pantry and they can be found in any grocery store. Color meant a lot to Escoffier in the food presentation and decorations and I certainly love the color contrasts and the combination of flavors in Peach Melba!  Bon Appetit!
Peach Melba
Ingredients
Raspberry Sauce
1/2 cup raspberry jam
1 cup of frozen or fresh raspberries
Canned Peaches, halved
Vanilla Ice Cream
slivered roasted almonds
fresh mint
Procedure
1.  To prepare the raspberry sauce, place raspberry jam and raspberries in a blender and liquify.  Pass through a strainer to remove seeds. Set aside. You can prepare this a few days ahead of time.
2.  To assemble Peach Melba dessert, in a small glass or ice cream bowl, place one large scoop of vanilla ice cream, then top with one peach half, pour some raspberry sauce over it and sprinkle with the slivered almonds.  Garnish with some fresh mint et voila!  The raspberry sauce is enough for about 6-8 servings, depending on how generous you are.