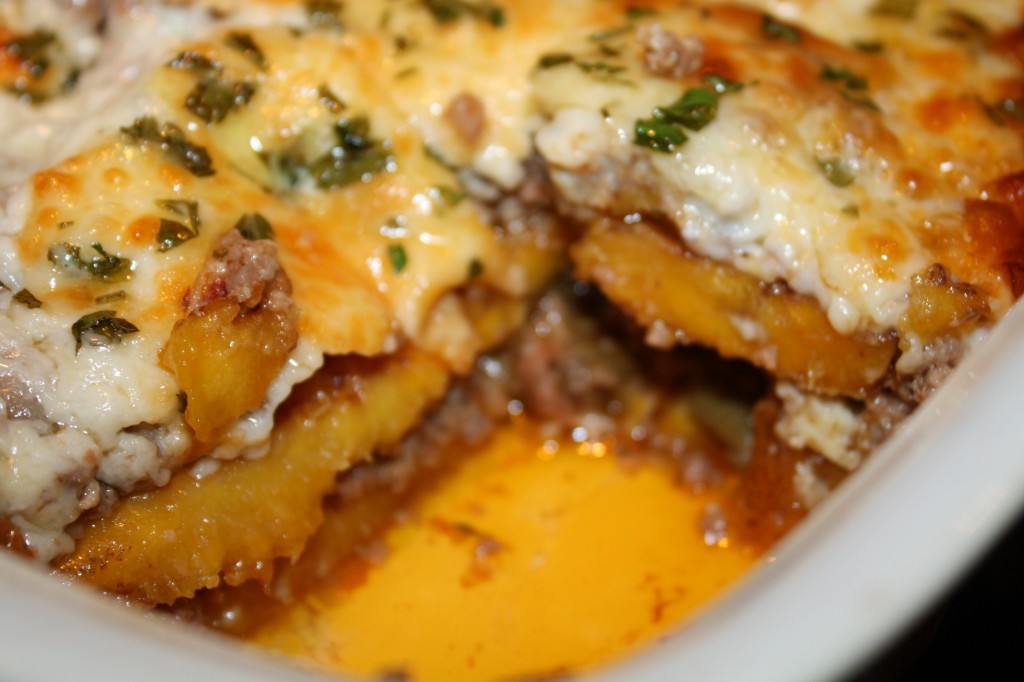 I want to introduce to you the "Caribbean Lasagna"!  Tiers of fried ripe sweet plantain strips, picadillo (cuban style ground beef) and mozzarella that is baked until golden brown.  The mix of sweet and savory is absolutely perfect! A great alternative for boat trips, picnics, feeding large groups and easy make ahead meals.  It goes perfect with basic white rice and your choice of salad.  I must mention that the plantains have to be so ripe that they should be soft to the touch and more black spots than yellow on its outer skin, that way you can be sure they are as sweet as can be! Nowadays, you can easily find frozen ripe plantains or fresh ones at latin or specialty food markets if you don't live in a tropical climate.  The beaten eggs are included to keep it all together and for easy serving.  Some people like to add green beans between layers but that is up to you and your tastes.  Another important tip:  if you are going to prepare it ahead of time, pour the beaten eggs and cover with mozzarella and parsley just before baking or bake then reheat the next day.
Enjoy!
Piñón de Plátano Maduro (Sweet Plantain Lasagna)
Ingredients
6 cups Picadillo (make 2 recipes, save left overs for taco night)
36 strips of ripe plantains cut lenghtwise (about 9 plantains) or a large box of frozen fried ripe plantains (amarillos-maduros)
4 eggs (beaten)
2-3 cups of shredded mozzarella and cheddar cheeses mix
about 1 tbsp of finely chopped italian parsley
Procedure
1.  Make Picadillo (cuban style ground beef).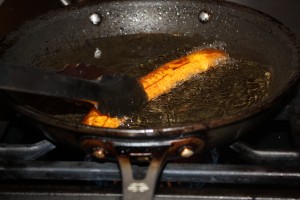 2.  Fry slices of ripe plantains, if using fresh or place frozen plantains in microwave.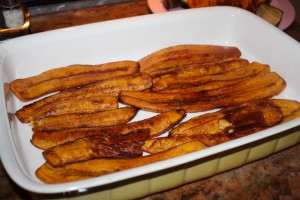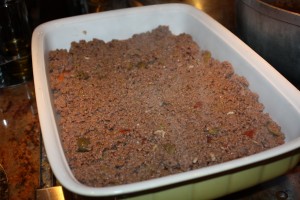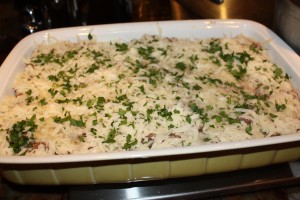 3.  Cover bottom of 13×9 inch baking dish with one layer of fried very ripe plantains, add layer ground beef (3 cups). Then another layer of plantains and another layer of ground beef (3 more cups).  Finally, put third layer of plantains, pour beaten eggs evenly over Piñon and finish with cheese mix. Sprinkle with finely chopped italian parsley.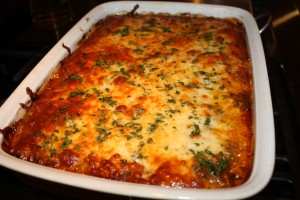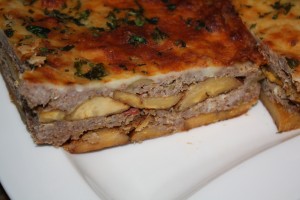 4.  Cook in pre-heated oven (375ºF) until cheese is melted and lightly browned.  Serve with your choice of rice and/or salad.