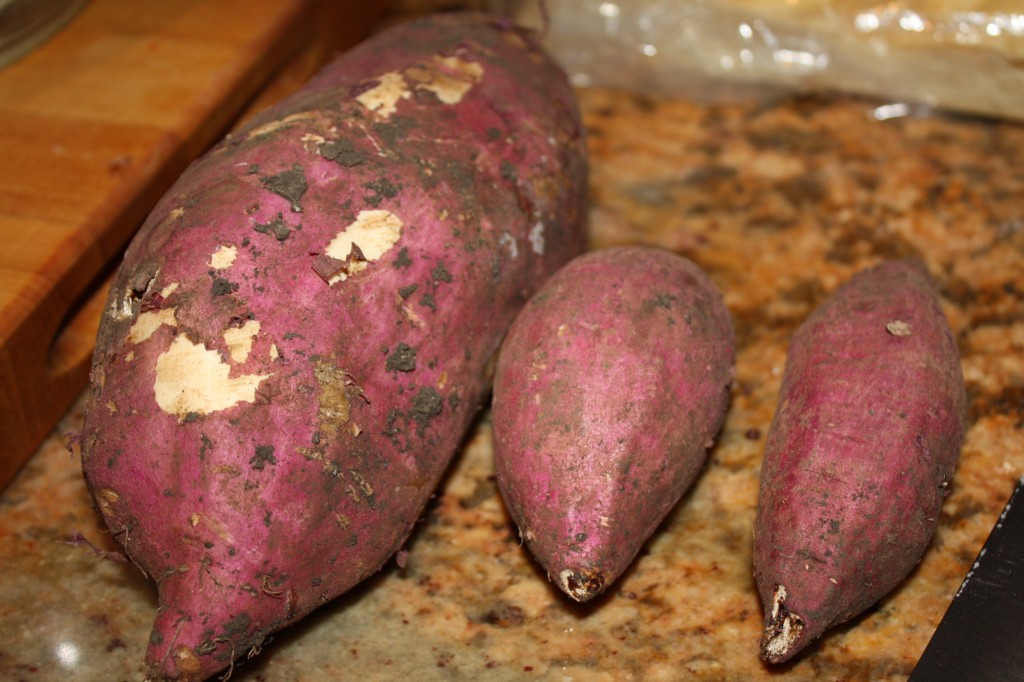 Sweet Potatoes are a delicious and nutritious alternative that give some traditional potato recipes a twist.  When I got my sweet potatoes (batata, boniato, camote, kumara) in my organic/natural food weekly delivery box,  I was a bit confused at first.  In the past, I had seen my mother prepare the orange-flesh variety for Thanksgiving dinners, you know, the puréed sweet potatoes with the butter, brown sugar and cinnamon and topped with marshmallows.  However, this variety had a purple skin and light yellow flesh so I set out to discover what was the difference between these tubers that were both called sweet potato.
During my research, I found out that they are both varieties from the same family that range in flesh color from orange to light yellow.  They all are starchy and have their characteristic sweet taste (some are more intense than others). Actually, they are not botanically related to the potato. Sweet potato varieties (more than 200! check out this website from a vendor in North Carolina) originate in the tropical regions of South America.  The orange fleshed sweet potatoes variety is sometimes mistakenly called yam in the United States and Canada (that's why the Department of Agriculture requires that canned "yams" also be labeled sweet potato).  True yam (ñame), is a rough skinned root vegetable with a yellow-purple flesh spectrum with its origins in Africa.  That being said, sweet potatoes have great nutritional value and are very versatile in cooking.  It can be used to make sweet as well as savory dishes. It is rich in dietary fiber, betacarontene (vitamin A), simple starches and has become very popular in the United States.  In addition, its a staple dish in South America, Caribbean, Philippines, New Zealand and Asia.  In some places they make "dulce de batata"  or candied sweet potato.
My family loves home made simple mashed potatoes, so I decided to experiment by giving this dish new life by using the sweet potatoes at hand.   I am pleased to report to you, that they loved them!  The sweetness was highlighted with the infused cinnamon taste and they were firm with a creamy texture.  You see, with a little creativity (and some reading) I provided my family with variety, nutrition and new flavors that night! You can do it too!
Enjoy!
Mashed Sweet Potatoes
Ingredients
about 3 cups cubed purple skinned-light yellow flesh sweet potatoes (enough to yield 3 cups when mashed with all the ingredients)
1/2 cup low fat milk
4 tbsp butter
generous pinch nutmeg
1 cinnamon stick
Procedure
1.  Peel mashed potatoes and cube.  Boil them in about 6 cups of water with cinnamon stick, until cooked and tender. Drain in colander and throw away cinnamon stick.
2. Mash with a potato masher or ricer.  Add milk, butter and nutmeg and continue to mash.
3.  Serve immediately or keep in a double boiler over low heat for serving later.