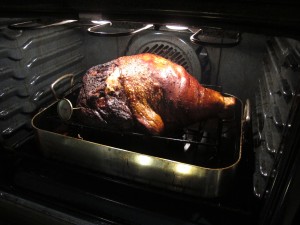 Pernil is the most popular meat served during the holiday season in Puerto Rico.  It is usually the picnic cut, or front ham of the pork, but if you can't find it you may use a rear ham with skin.  It can be cooked "al caldero" (stovetop), en "caja china" or roasted in the oven. However, all good pernil's have in common are a good blend of seasonings.  Here are some tips on how to make a mean Pernil.
Seasoning
In a mortar and pestle or "pilón", mash garlic cloves with some salt.  Chop generous amounts of fresh oregano and thyme and mix with the garlic in a bowl.  Add fresh ground pepper and coarse sea salt with Annatto Oil (oil infused with annatto, "achiote") to make a moist blend of herbs and spices.  If you wish you may add lemon zest to the blend. With your hands rub the seasoning all over the piece of meat, under the skin where possible and every nook and cranny.  Place piece of ham on the rack of a large roasting pan and refrigerate overnight or for a few hours.
Cooking
Pre-heat oven 350ºF.  Roast (uncovered) for about 20-22 minutes per pound.  A thermometer reading from the center of the meat should be at 170ºF when ready.  To serve, separate the crispy crust (cuerito), slice the meat and place in a serving plate and pieces of "cuerito" on top with a side of Arroz con Gandules.
¡Feliz Navidad!