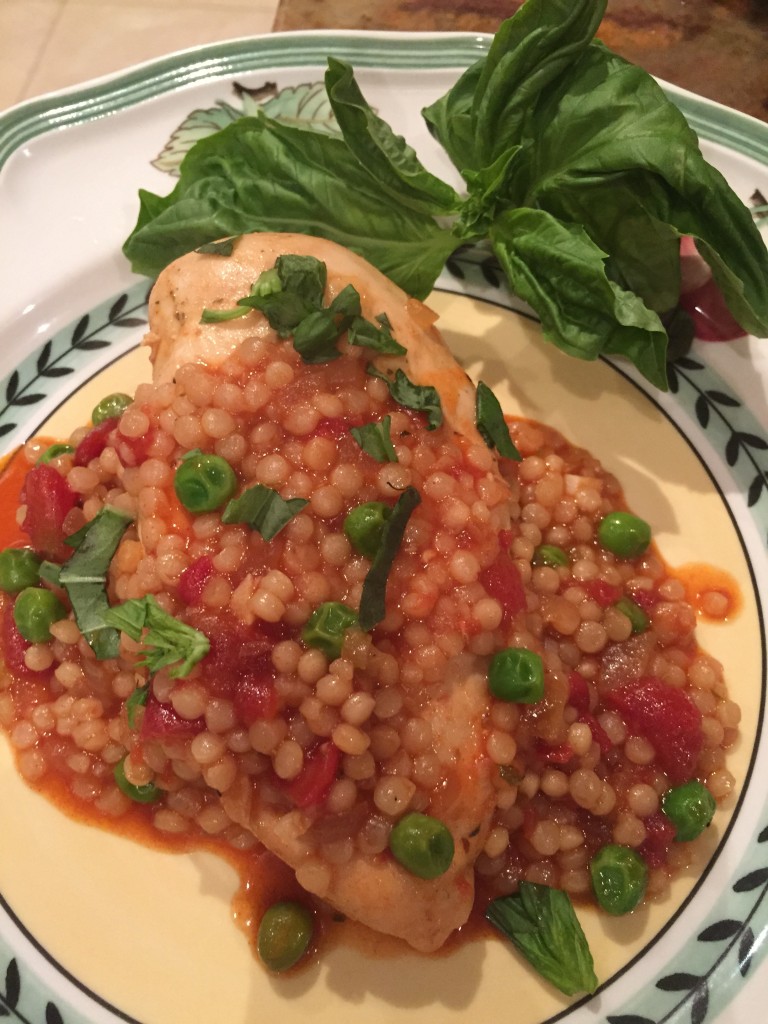 One-pot dishes are excellent alternatives for weeknight meals.  You can do prepping before you head out in the morning and assemble when you get home later in the day.  I'm a big fan of Israeli Cous Cous and found this recipe in a Martha Stewart Living Magazine about 7 years ago, which I have adapted a little to my taste.  The best quality of Israeli Cous Cous is that it absorbs the flavors of the liquid and gives texture to some dishes that can otherwise be bland and boring.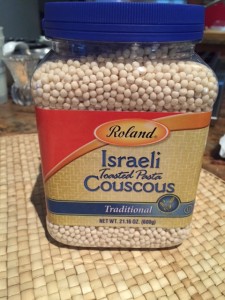 Israeli Cous Cous, in Israel known as Ben Gurion Rice or Ptitim, is a toasted pasta shaped in pearls or little balls.  Its origins date back to the time when the country was going through a period of austerity (1949-1959) and Prime Minister David Ben Gurion asked a food company to come up with a wheat-based rice shaped substitute, hence the name Ben Gurion Rice.  The same product, which is made of hard wheat and roasted in the oven, is called Ptitim or Israeli Cous Cous when it has the round shape.  Today, Israeli Cous Cous is very popular among israeli children and now it comes in different shapes.  It is usually cooked with tomato paste or sautéed with onions.  In the United States, many chefs have included it in their menus as a delicacy.
I don't remember when was the first time I tried Israeli Cous Cous, but I'm always vigilant for it when I visit the supermarket to make salads at home, as a filler for "Pimientos Rellenos" or to make this recipe which everyone at home adores.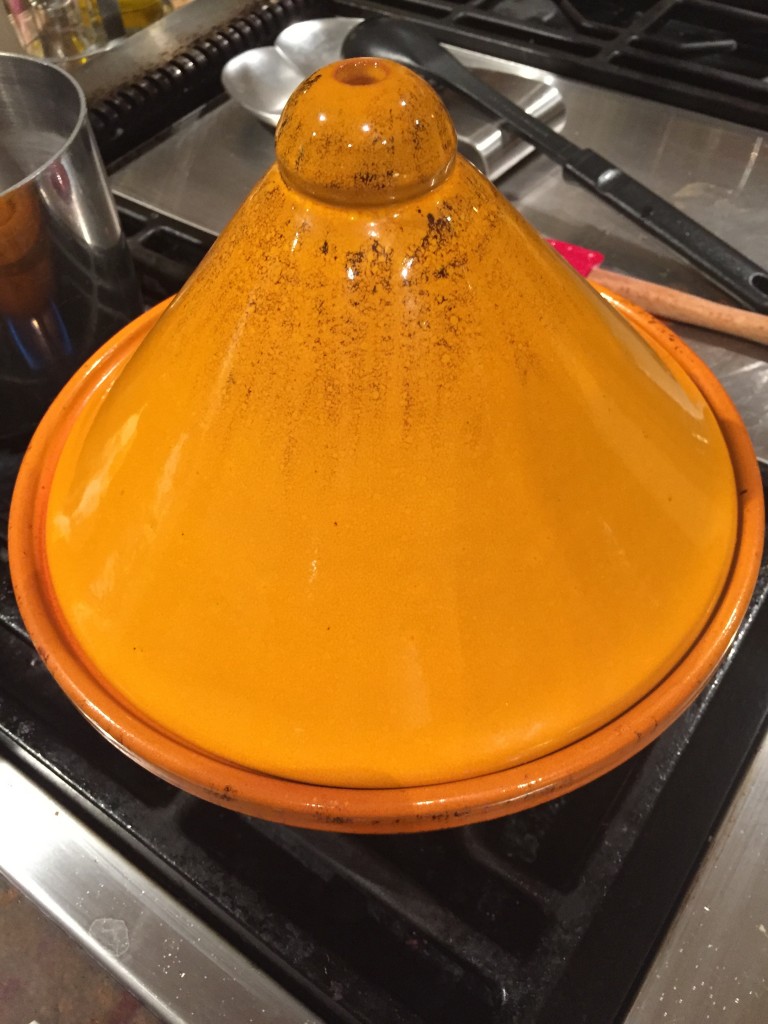 Many years ago, I bought a tagine, a clay pot typical of North Africa, at a nearby Marshall's store and it is where I prepare this recipe most of the time.  I love the tender quality it gives the chicken acting sort of like a slow cooker and distributing the heat evenly.  The cone shaped cover is designed to allow the condensation of the juices to flow back into the bottom pot, permitting the flavors to blend well and the chicken to be moist.
If a tagine is not available, a large flat bottomed,  skillet with a lid works well.
Spice up your weeknight menu and try something new!  Be foodieventurous!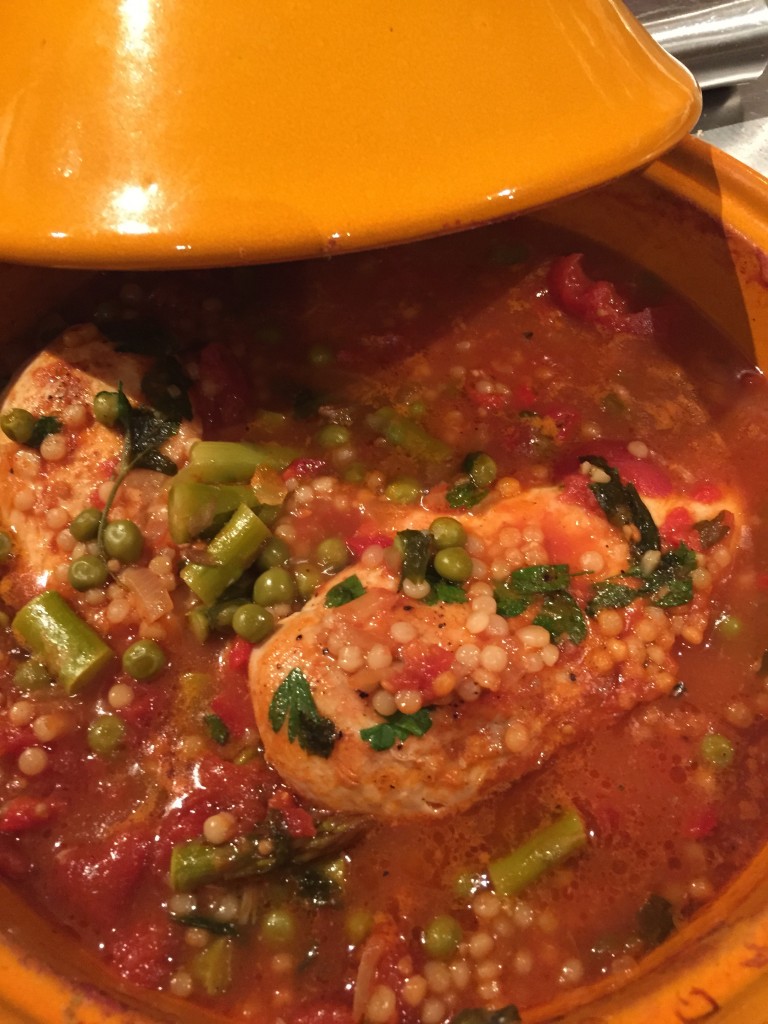 Chicken and Israeli Couscous with Tomatoes
Ingredients
3 tbsp extra virgin olive oil
4 chicken (skinless) breasts, seasoned with sea salt, pepper and dried oregano
1/2 medium yellow onion, finely chopped
3 garlic cloves, minced
12 grape tomatoes
about 3.5 ounces pureed canned red sweet peppers (pimientos morrones)
4 strips of lemon peel
pinch of saffron threads
1/2 cup of dry white wine
1 1/2 cups of chicken stock
1 cup of israeli cous cous
1 cup of frozen peas
fresh parsley to garnish
Procedure
1.  Heat oil in a large skillet over medium-high heat. Cook chicken, smooth side down, until browned, 3 to 5 minutes. Flip, and cook for 2 minutes more. Transfer to a plate, reserving drippings in skillet.
2.  Reduce heat to medium, add onion, and cook, stirring frequently, for 3 minutes. Stir in tomatoes, garlic, lemon peel, pureed pimentos and saffron, and cook, stirring frequently, until tomatoes begin to break down, 2 to 3 minutes.
3.  Return chicken to skillet. Add wine, and cook for about 4 minutes. Add stock, salt, and couscous, and stir. Reduce heat to medium-low, cover, and cook, stirring occasionally, until couscous is tender and chicken is cooked through, 12 to 14 minutes. Check if you need more liquid so that it doesn't dry up. Stir in peas, and cook until heated through, about 1 minute. Serve immediately.