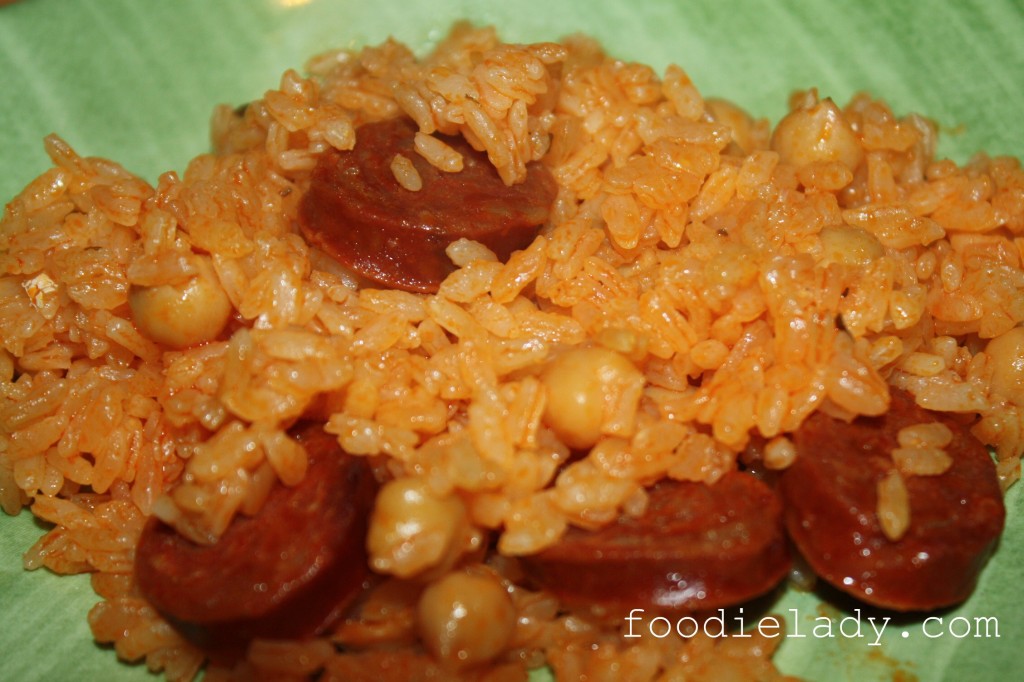 One of my favorite combinations is Garbanzo (Chickpeas) and Chorizo. The flavors just go so well together.  I like them sautéed with some garlic and onions, stewed with tomatoes or in stewed rice like in this recipe.  Make sure you use cured Spanish Style Chorizo which has Spanish Sweet Paprika that gives its distinctive color. Do not use raw sausages for this dish, that is another recipe…
Enjoy!
Arroz con Garbanzos y Chorizos (Rice with Chickpeas and Spanish Chorizo)
Ingredients
2 tbsp vegetable oil
1 1/2 cups of sliced Spanish style chorizo (dried)
8 ounces of canned garbanzos (chickpeas) drained
1/3 cup chopped yellow onions
1 fresh garlic
1 tsp fine sea salt
1/2 tsp dried oregano
2 tbsp tomato sauce
3 cups of medium grain rice
4 cups chicken stock (hot)
2/3 cups dry white wine
Procedure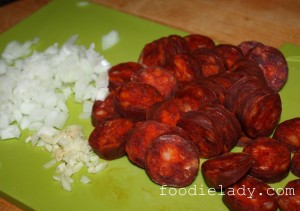 1. In a medium heavy bottom saucepan, chefs pan or "caldero", heat oil over medium-high heat.  Sautée chorizos for about 3 minutes.  Add chickpeas and saute for about 2 minutes. Add onions and continue to sautée for about 2 more minutes.  Add garlic and sautée for about 1 more minute.  Add oregano, salt, white wine and tomato sauce and let simmer a little, about 2 minutes.
2.  Add rice and stir until it is completely covered with the chickpeas-chorizo mixture.  Add hot broth and stir.  Let cook uncovered.
3.  Once the liquid has evaporated, bring the heat to low, stir with a slotted spoon or fork, cover and cook for approximately 15 more minutes or until rice is fully cooked.  Sprinkle with some fresh parsley if you like.