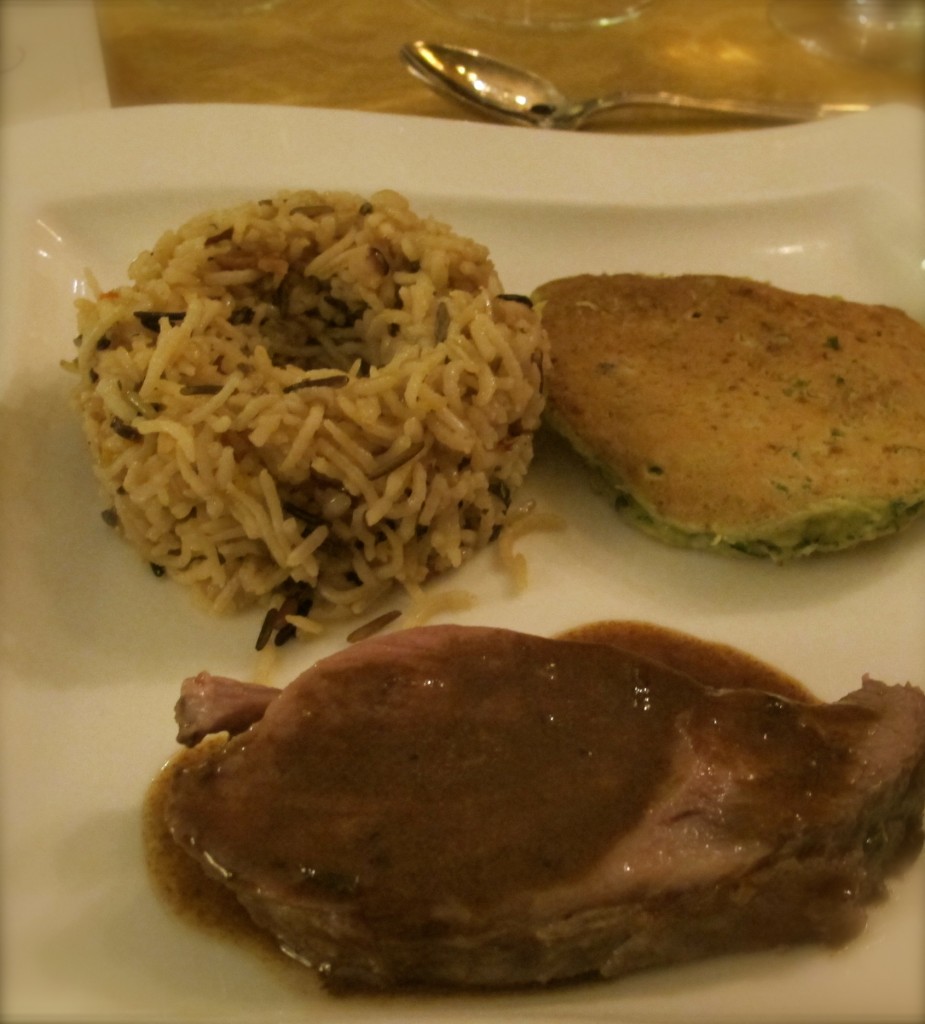 Emilio and I don't go out to celebrate Valentine's Day. Period.  Once, many years ago, on a trip to Miami that coincided with the date, we went out with some friends and it was a total nightmare. It's difficult to sit down, relax and enjoy a nice meal and expect good service on such a commercialized occasion. People get squeezed into small spaces and usually a mediocre prix fixe menu is offered to have as many seatings as possible. My birthday is so close to the aforementioned celebration that we often do something for my birthday, on the 12th of February, and bypass Valentine's Day altogether.  This year, for my birthday, since it was a special one- the big 40- we went to have dinner at Bodegas Compostela with my immediate family. However, for Valentine's day, we tried something different.  We invited a small group of foodie friends to have supper at our home, sans children. Each couple had their own task and I must point out; no one disappointed.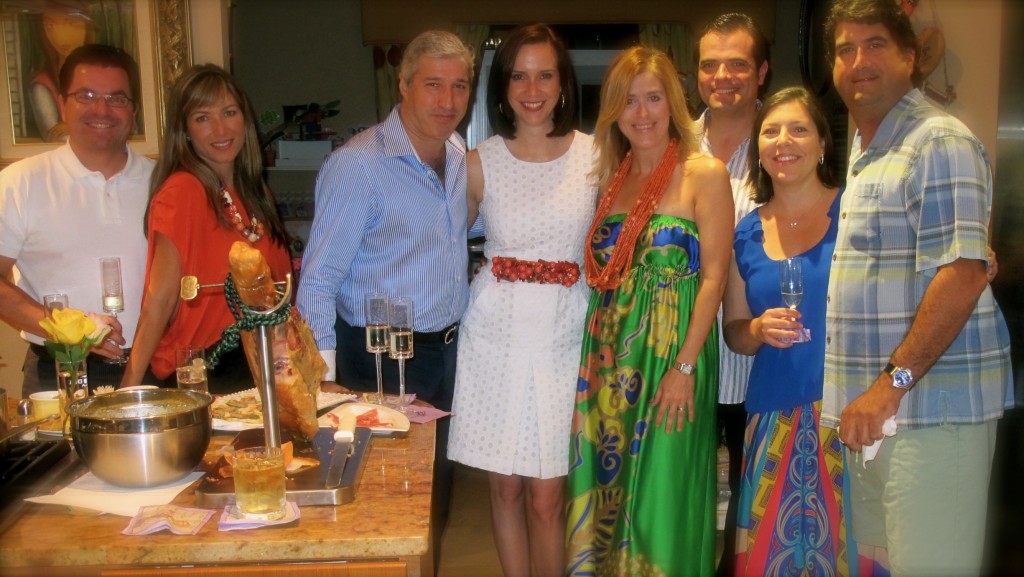 Upon arrival, our guests were greeted with a chilled glass of Ruinart Blanc de Blancs Champagne (sold at Mendez & Co. in Puerto Rico).  Blanc de Blancs is a champagne made exclusively form white grapes.  Up to date, it is one of the finest champagne I have tried, although I must mention its high price tag limits its consumption only to special occasions. This elegant champagne went down with so much ease and had a fabulous finishing taste.  We kept the hors d'oeuvres simple and snacked on a leg of Jamón Serrano (a big hit!), smoked gouda, chorizo Cantimpalo, queso Manchego, green olives stuffed with pimentos, escargots with herbs and bleu cheese and refreshing canapés layered with baby spinach, truffled paté, roasted almonds and honey.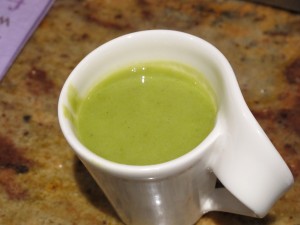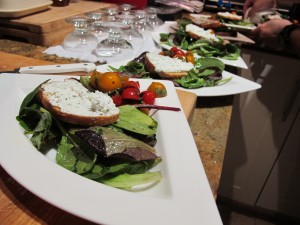 Meanwhile, our first "chef", Fede, was doing his magic assisted by his wife Claudia, and started to create our meal's appetizers.  Of course, as it always happens, we were all crammed in our kitchen engaged in spirited conversation. Fede, whom in his younger years had a short stint at Ben Hur Restaurant in Condado (closed years ago) before heading to the US to do his master's degree, is a great cook and gourmand.  He prepared a succulent green pea soup with apples and curry and a baby greens salad tossed in homemade balsamic vinaigrette accompanied with marinated yellow and red grape tomatoes and herbed goat cheese toasts.  The soup, which we served in a demitasse and savored while standing in the kitchen, had just the right amount of sweet and spicy as well as a vibrant green color that caught everyone's eye.  The salad, we enjoyed at the dinner table along with our second wine tasting, a Clos Pissarra, El Sol Blanc, a crisp, well rounded (with a hint of wood and pear) and simply amazing white wine from the Priorat region in Spain made with 100% Grenache blanc grapes in small batches. This wine will arrive soon to Puerto Rico and I encourage you to go grab a few of these bottles for it is a superb wine! (La Bodega de Méndez)  Certainly, what made this tasting even more special was that the producer of this wine, Master Sommelier Emmanuel Kemiji, happened to be sitting to my right at the dinner table and shared with us his knowledge, anecdotes and good sense of humor throughout the evening.  We've had the pleasure to get to know Emmanuel because he recently married my friend Alexandra, a charming, smart and witty lady.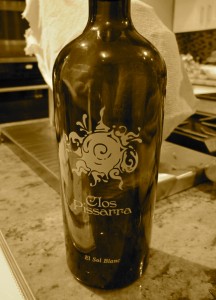 Right after the salad,  our "pastry chef" for that evening Salvador, served a succulent homemade Raspberry-Chambord Sorbet (actually a hybrid between a sorbet and a granita), garnished with mint leaves to pave the way for our main course. Earlier,  I had prepared a version of my Rice Pilaf recipe (I mixed wild rice and basmati) and had popped in the oven, just before our guests arrived, two legs of lamb which I had previously rubbed in butter, fresh rosemary and seasonings the night before.  (I admit I was a bit scared because this was the first time I would cook leg of lamb.) In addition, to accompany the main dish, Fede prepared delicious zucchini pancakes which were one of the meal's favorites among my fellow diners.  Moist, savory and very creative!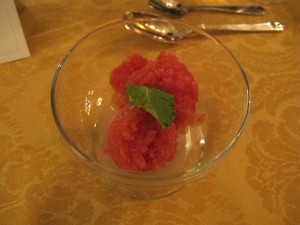 Once the lamb was ready, Emilio cut the meat cross grain in smaller pieces and I proceeded to make the sauce with the leg of lamb drippings.  After removing the excess fat, I added red wine, beef broth, dijon mustard and at the end (just before reaching desired consistency) cold butter to create a velvety, savory but gentle sauce.  The main course was accompanied with a full bodied red, also produced by Emmanuel, but in his California vineyards (Miura Vineyards).  This luscious red called Antiqus, Gary's Syrah 2006, complemented the lamb perfectly.  On a curious note, the bottle was designed by renowned puerto rican artist Luis Hernández Cruz.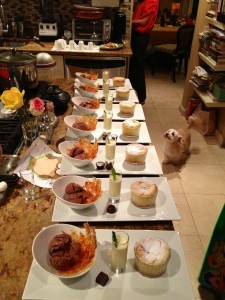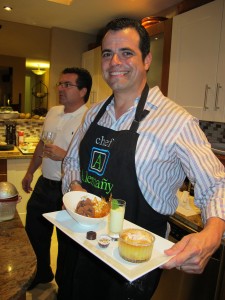 Last but not least, the climax of the culinary experience was the dessert.  When Salvador and his wife Gisela started assembling the dessert, our jaws dropped in amazement of the detail and intricate design involved in the process.  I am terrible at food presentation, so their efforts inspired and motivated me to do better next time I get a chance to cook for a crowd. I must tell you, when they arrived to my house, an assortment of crates and boxes were aligned in our children's playroom which is right next to our kitchen.  He had kindly requested during the morning that I make some space for the dessert in my fridge.  Little did I know how elaborate and delicious our dinner would conclude! All of this can be easily understood by learning a little about their background. It's simple, Salvador is an architect and Gisela is classically trained soprano (who coincidentally sang a medley of Danzas at our wedding reception 15 years ago).  While the almond and Grand Marnier soufflés where in the oven, white bowls were lined with a previously done caramel sphere and filled with a scoop of homemade chocolate-hazelnut ice cream then topped with a little dab of whipped cream and crowned with a delicate edible candied strawberry flower he had ordered online.  Arranged in the middle of the plate was a shot glass of Créme Anglaise  to pour inside of the hot soufflé. In addition, Salvador added Loiza Dark artisanal puerto rican chocolates, one for the men, two for us ladies. Nice touch! As if that wasn't enough, we accompanied the dessert with a subtle sweet wine from Alsace, Albert Mann Selection de Grains Nobles, 1994 which gave our feast the perfect ending.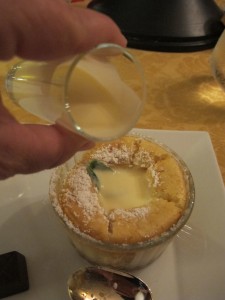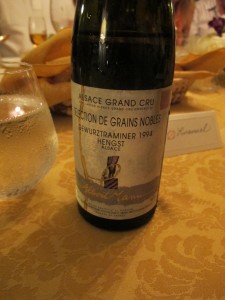 Once again, good food, superb wines, great conversation and excellent company… what more can I ask for?  Well, afterwards the guys played a round of pool while us girls chatted until almost midnight. I think I could get used to gatherings like these a little more often and not only for Valentine's day celebrations!
Roasted Leg of Lamb with Rosemary
Ingredients
Rub
1 stick of butter
8 cloves of garlic, mashed into a paste
2 tbsp of coarsely chopped fresh rosemary
2 tsp thyme
about 1 tbsp of fine sea
pepper to taste
2 boneless legs of lamb (tied or in oven proof mesh) take out excess of fat if it hasn't already be done at butcher shop
extra virgin olive oil to drizzle before roasting
Sauce
drippings of roasted leg of lamb
beef broth
red wine
dijon mustard
butter
Procedure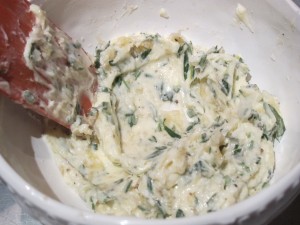 1.  The night before, let butter get to room temperature and mix with a fork with all ingredients to make the rub.  Divide into two and rub legs of lamb.  Place in tray and cover.  Refrigerate.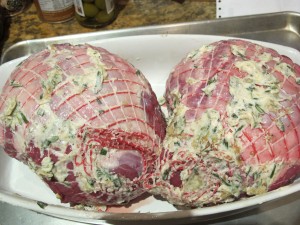 2.  Pre heat oven at 350 F. Place leg of lamb in a roasting pan with a rack and drizzle with some extra-virgin olive oil.  If you don't have the rack then place it on a well oiled roasting pan in middle of the oven.  Cook for 1  1/2- 1 3/4 hours or until desired doneness. Thermometer should read about 140 degrees F for med-rare.
3.  Transfer to cutting board and let stand for about 15 minutes.  Temperature will rise a few more degrees.
4.  Meanwhile, prepare sauce.  Take out excess fat from drippings of the leg of lamb.  Transfer drippings and juices to a small saucepan and add some beef broth, red wine and dijon mustard.  Stir with a small whisk over med heat until sauce thickens.  Once you have almost reached desired consistency, add some cold butter and continue to stir until melted and fully incorporated.
5.  Cut meat cross grain, remove any excess fat or ligaments and serve with some of the sauce over it.