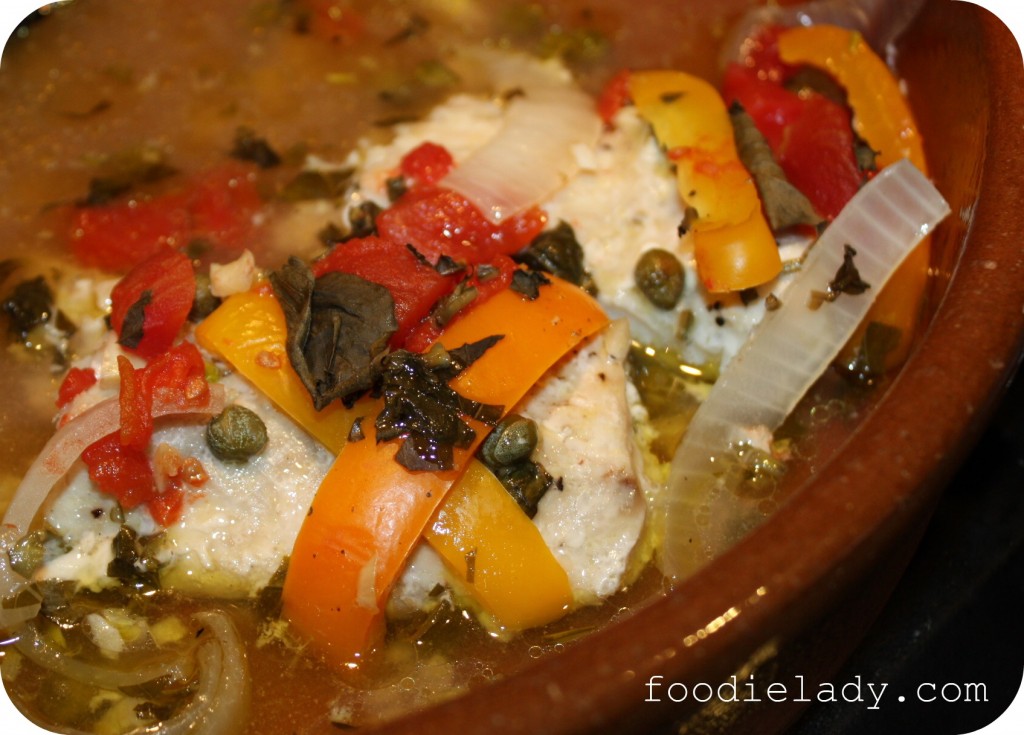 Many of you know I have been a "fishing widow"  for the past 13 years of my life.  Wait a minute…I am not complaining!  I recognize that through my husband's love affair with fishing, I have had the chance to travel and fish with him in places like Venezuela, Madeira, Mexico, Dominican Republic, USA and of course, Puerto Rico. Through the sport, I have met wonderful people, seen beautiful places and established new friendships. However, the thing I like the most about his fishing, is that we often have fresh fish on our table!!!!!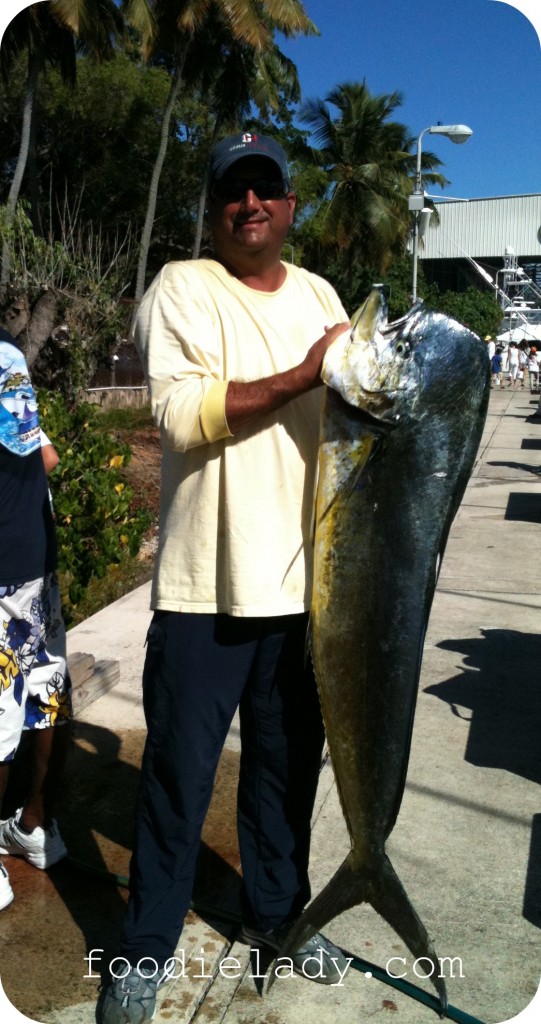 Last October, he came home with a huge fillet of Dorado.  Wheter you call this fish Dorado (in Spanish speaking countries because of their bright predominantly yellow color while they are alive in the water), Mahi-mahi (which means "very strong" in Hawaiian) or Dolphin Fish (they are not related to the Dolphin family which are mammals), these surface dwelling fish are abundant in temperate tropical and sub-tropical waters of the Atlantic coast of Florida, Caribbean Sea, West coast of North and South America, South East Asia, Gulf of Mexico, Pacific coast of Costa Rica and Hawaii.  The males have prominent foreheads and the females are smaller with round heads.  Its amazing to watch them swim and how their striking yellow, blue and green colors suddenly turn gray once the fish is dead or comes out of the water.  Their skin is soft (no scales), the meat is easy to fillet and white with a mild flavor and they are considered premium quality.  Experienced fishermen, like my hubby, know that Dorados are mostly found around debris, buoys, floating wood and sargasso weed lines (floating seaweed which holds a complete ecosystem of its own) and in 120-240 ft. deep open ocean waters near the edge of a reef.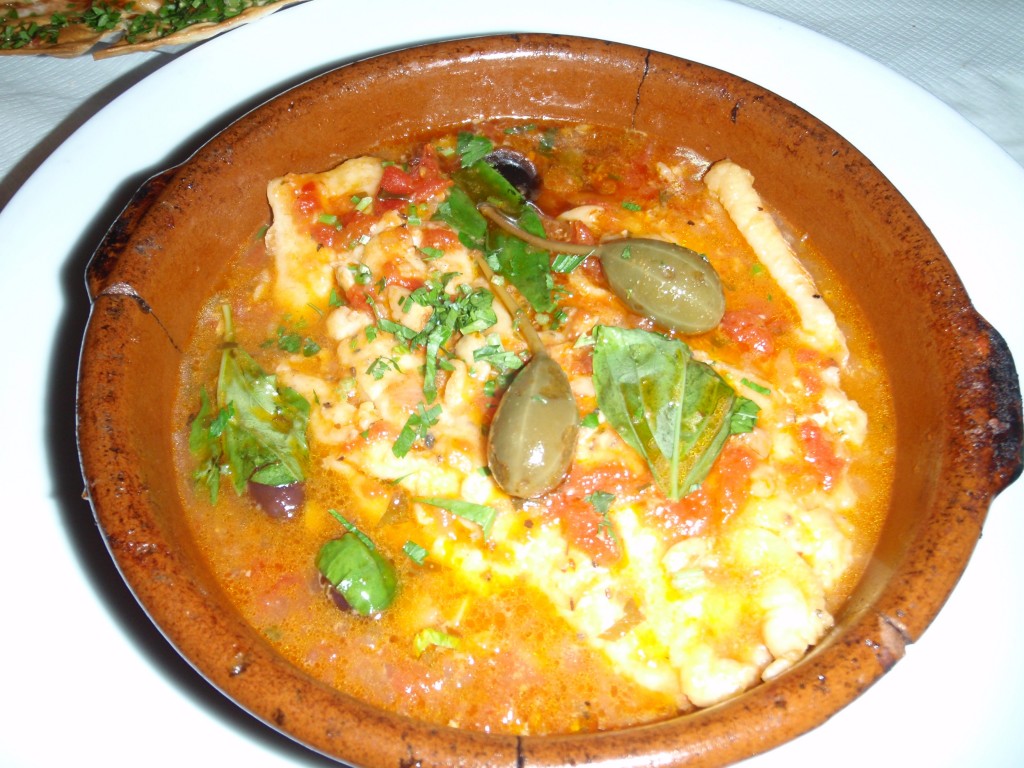 On a recent trip to New York City (May 2010), I went to have dinner at one of my favorite restaurants, Trattoria del'arte (their burrata, lobster pizza, veal milanese and OMG!!! their extra virgin olive oil is out of this world!), and I ordered the Claypot Red Snapper Livornese, baked with capers and plum tomatoes.  It was amazing!!!!  So I impovised and prepared the Dorado in a similar fashion of how I remembered the succulent Red Snapper I had tried in NYC and the results were heavenly! The main differences where that my sauce had less tomatoes, less spicy (the original version had some sort of hot pepper that looked like a green olive and I can tell you from experience, was very hot!!!!! but I like spicy food) and the Dorado fish fillet was thicker.
As a curious note, I remember I went to Livorno, on my first trip to Italy (when MY fascination with this country blossomed), as a 15 year old (summer 1988) on the Dawn Princess Cruise with my family. The cruise started in Venice, Italy and ended in Lisbon, Portugal. Livorno is a port city in the Tuscan Region of Italy (West) and their cooking style is mostly characterized by seafood seasoned with capers, olives, onions and tomatoes. Seafood stews are also very popular livornese dishes.
I don't know if there is Dorado (Mahi-mahi) in the Mediterranean Sea, but here is my version of the dish.
Enjoy!
Dorado Livornese (Mahi-mahi)
Ingredients
for every pound of Mahi-Mahi (Dorado), add the following ingredients
scant 1/4 cup extra-virgin olive oil
1 tbsp of kosher or coarse sea salt
pepper to taste
1/2 medium onion sliced
1/4 of a red bell pepper, sliced
1/4 of a yellow or green pepper, sliced
2 tbsp of capers
10 manzanilla or black pitted olives
3 garlic cloves, minced
1/2 cup of white wine
two plum tomatoes coarsely chopped, about 1/2 cup of chopped canned tomatoes, drained or about 1 dozen of grape tomatoes
1/2 tsp thyme
red pepper flakes- optional
handful of fresh basil or flat leaf parsley, coarsely chopped (leave some for sprinkling before serving)
Procedure
1.  Pre-heat oven 400º F, for at least 30 minutes.
2.  Season Dorado/Mahi-mahi fillets with salt, pepper and lay on a clay pot or oven proof (ceramic, cast iron or glass) dish.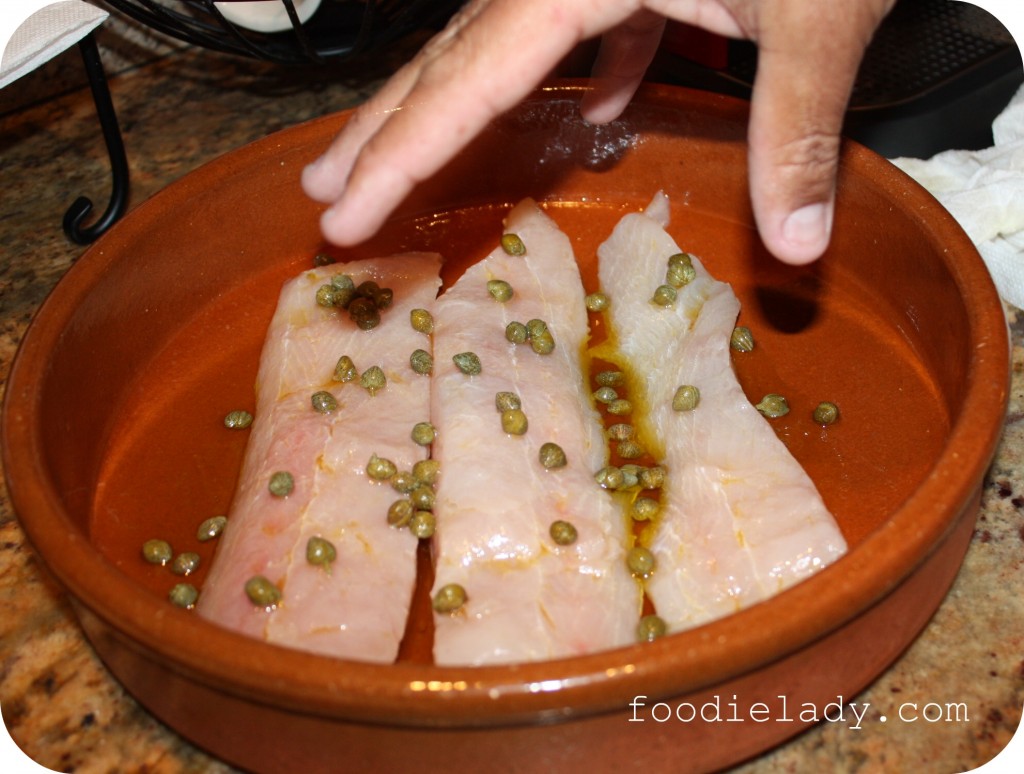 3.  Drizzle with the extra-virgin olive oil and distribute the capers evenly over the fish fillets.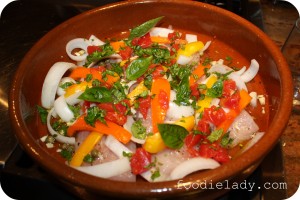 4.  Meanwhile, briefly saute onions, peppers, tomatoes, olives, thyme, red pepper flakes (optional) and garlic with a little bit of olive oil in a saute pan for about 2 minutes over medium heat.  Pour over fish fillets.
5.  Pour white wine and add coarsely chopped herbs on top.
6. Lower heat to 350º F and bake for approximately 25-30 minutes (less time if fillet is thin) until fish is cooked and breaks apart with a fork. Baste fish fillet with juices half way through baking. Sprinkle with some more fresh herbs and serve immediately.