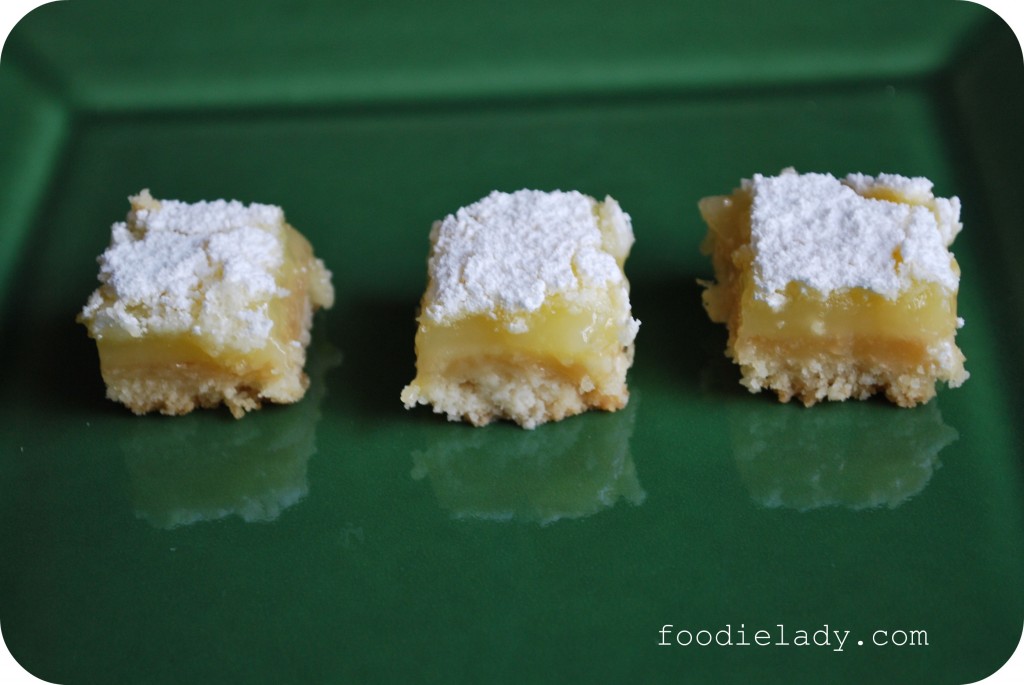 Lemon Squares, sometimes called in Puerto Rico Delicadas de Limón, are definitely a popular sweet-tangy treat.  I like to make them as tokens of appreciation, for a family gathering or as a get well present.  The recipe I share with you in this post has been the result of years of testing and trying different recipes. I like this crust because to me, it has the perfect shortbread texture and flavor.  Also, leaves an amazing aroma in my kitchen while its being baked. The lemon custard is also flawless with a creamy consistency and tart savor. I must say everybody but my son (he doesn't like lemon desserts very much) loves them.  Let me advise you, that they are totally addictive.  Make sure you let it cool down completely before cutting into squares.
Enjoy!
Delicadas de Limón (Lemon Squares)
Ingredients
Shortbread Crust
1 cup (2 sticks) unsalted butter, room temperature, plus more for buttering pan
1/2 cup granulated sugar
2 cups unbleached all- purpose flour
1 tsp pure vanilla extract
1/4 tsp of salt
Filling
2 cups of granulated sugar
4 large eggs, room temperature
2/3 cup of fresh squeezed lemon juice (about 3-4), yellow lemons
2 tbsp of grated lemon zest, about 2 large
1/4 cup all purpose flour
Confectioner's sugar for sprinkling at the end
Procedure
1. Preheat oven 350ºF.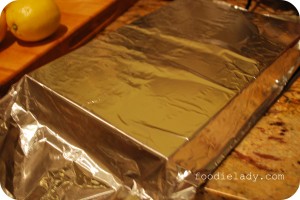 2.  Turn over a 9×13 inch rectangular metal pan and cover with aluminum foil (shiny side up) to fit snugly. Remove shaped foil.  Place baking pan right side up and carefully line with the foil.  Lightly butter the foil paper.
3.  Make shortbread dough.  With paddle attachment of stand-up electric mixer, cream butter with sugar. Then add flour, salt and vanilla extract.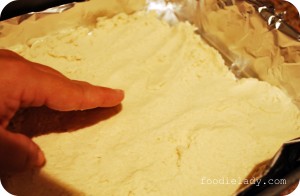 4.  Place dough in the middle of the lined pan and spread outwards with your fingers until you have covered the whole area evenly.  Bake at 350ºF for 20 minutes or until lightly golden.
5.  Meanwhile, beat the eggs with the sugar, with whisk attachment.  Add flour lemon juice and lemon zest to make the lemon filling.  Set aside.
6.  Once the shortbread crust is ready, take out of the oven and let cool a little (about 15 minutes).  Bring oven temperature to 300ºF.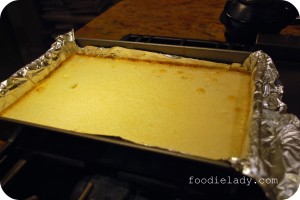 7.  Pour lemon filling over the shortbread crust and bake for 25-30 minutes, just until its set and not jiggly.  Let cool completely.  Sprinkle with confectioner's sugar and cut with a sharp knife into 1×1 inch squares to serve.  Refrigerate.