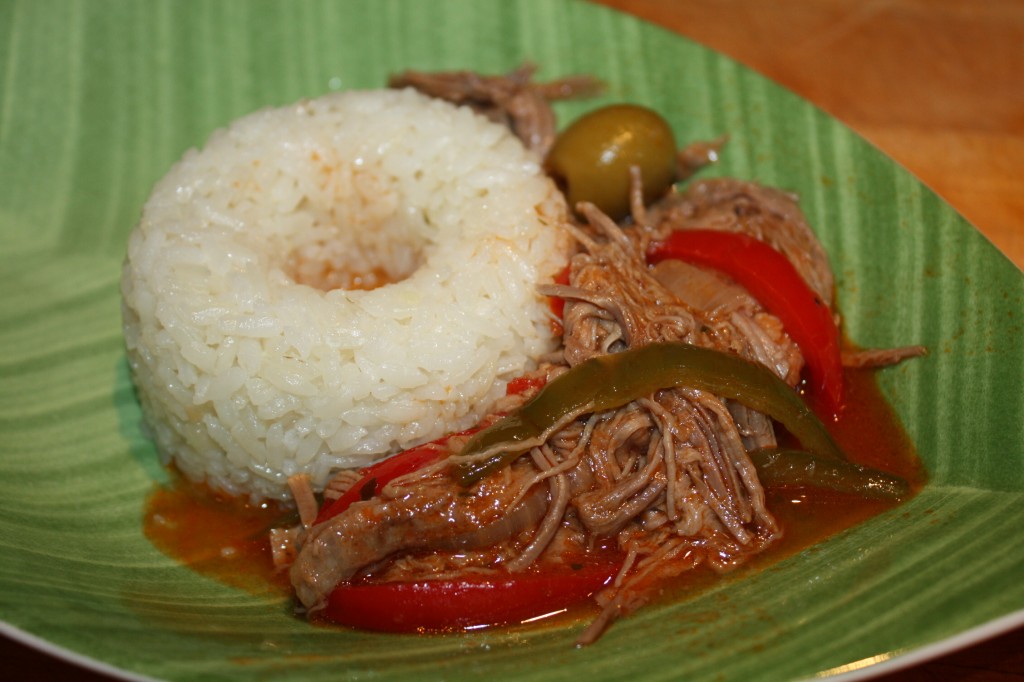 Ropa Vieja, which means "old clothes" in Spanish, is one of the recipes people ask me for the most.  Years ago, I used to have at hand index cards printed out with my recipes for Risotto Milanese, Mascarpone Cream Sauce, Marinara Sauce and Ropa Vieja, so I didn't have to write the recipes over and over again. Throughout the years, I have modified these and other recipes, here and there, and you have the final results in this blog. But to me, recipes are in constant evolution and the cook is free to improvise and change how he/she likes.  My recipes are meant to be guidelines for novice as well as experienced cooks and I love to hear your comments and suggestions on how you improved or changed the recipe according to your tastes, dietary needs or the ingredients you have available.  I am a home cook, not a professional chef, so most of the recipes I post are simple and can probably be done by anyone that can read and follow the steps.  Also, I try to be as specific with measurements, steps and procedures as I can, but I might make some mistakes while writing the recipe.  Feel free to send me the corrections or questions you have as a comment in the bottom of each recipe for the benefit of other readers.
I have mentioned in other posts in this blog, that I have reduced my red meat consumption greatly over the last couple of years. There is no political, medical or philosophical reason why, I just don't like to eat much of it.  However, my husband and son are red meat lovers, so I cook it for them once in a while. Ropa Vieja is full of flavor and color which is always appetizing to me, so I make the exception and have some of it when I cook it at home.  For this specific dish, I use flank steak (vacío in Argentina), meat from the belly or abdomen of the cattle. (FYI, I am including a chart of cuts of beef). This meat, also called bavette in France, is a bit tough since it comes from a part of the steer that is well exercised . Other cuts from this part of the animal, like skirt (churrasco, entraña) and flap steaks (sometimes also called vacio as well and very similar to flank steak) are also cheap cuts and are best when marinated and cooked under extremely high heat and left pink inside, like Mexican Arrachera, mexican style barbequed flank steak.  You can also cook by a wet or moist method to tenderize meat, like Ropa Vieja, and always should be cut across the grain to ensure tenderness.
In my version of this recipe, I cut the steak cross grain in strips of about 3 inches thick each and poach in water with bouquet garni for about 45 minutes so that it becomes tender to shred with a fork and is infused with flavor.  Then, I add the shredded beef to a skillet with the sofrito and finally add beef broth to cook in low heat for about 30 minutes. I recommend that once you have finished making the Ropa Vieja you cover it and let it stand for at least 30 more minutes to allow flavors to settle.  If you ask me, it tastes better the next day!  My son loves Ropa Vieja so much, that he always asks me to save some for him to take as "lunch from home" to school the next day.  This Cuban specialty, makes a great filling for mashed potato casserole (tambor de papas), burritos, tacos, empanadas argentinas or empanada gallega.  Also, delicious to serve as an appetizer over tostones or to fill a mofongo or relleno de papa. However, the traditional way to eat Ropa Vieja is with basic white rice or with rice with black beans.
So, for my 101st post on Foodielady.com and the launch of the site's new design, I share with you my recipe for Ropa Vieja!
Enjoy!
Click here for large angus beef cuts poster link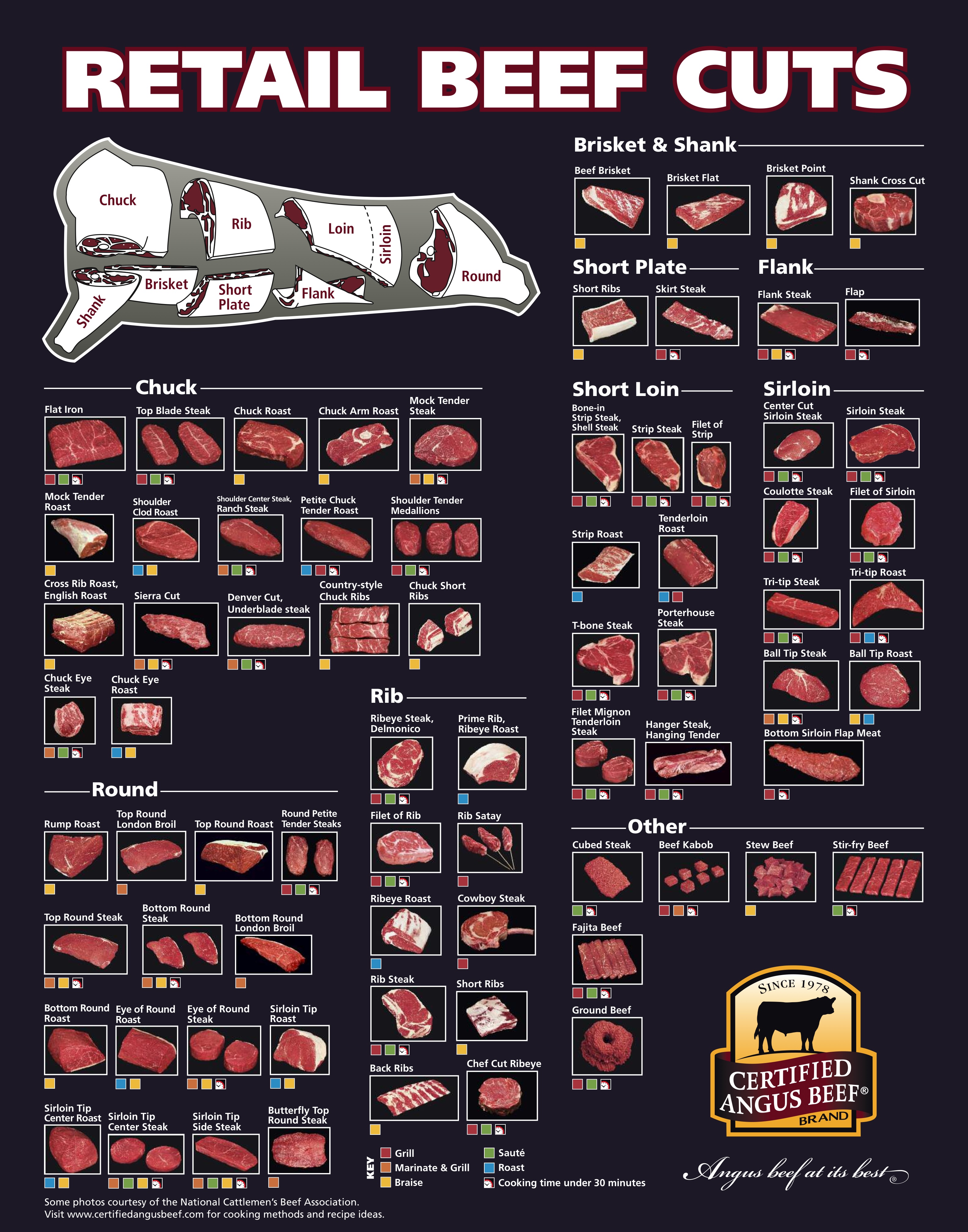 Ropa Vieja
Ingredients
2 1/2 pounds of flank steak (cut cross grain in strips of about 3 inch thick)
(6 cups of water with bouquet garni or with salt-bay leaves-onions-extra virgin olive oil- garlic, this will make approximately 5 cups of beef broth from which you will use 2 cups. Save the rest and freeze to use in the future.)
2 tbsp extra virgin olive oil
1/2 onion thinly sliced
1/3 of a large red bell pepper (slices)
1/3 of a large green bell pepper (slices)
2 cloves of garlic- remove germ- minced
4 bay leaves
1/4 cup of dry white wine
2  homemade recaito cubes (about 3 tbsp of storebought)
12 manazanilla olives
1 tbsp fine sea salt
pepper to taste
8 ounce can of tomato sauce
2 cups of beef broth
Procedure
1.  In a med-large pot, place beef in 6 cups of water, bouquet garni (or a mix of onions, garlic and bay leaves), salt and olive oil.  Cook for about 45 minutes.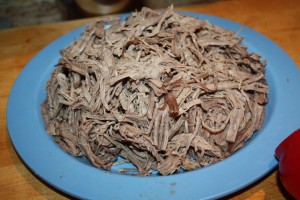 2.  Remove beef from pot, place on a large dish and set aside to cool a bit.  Whenever its cool enough for you to touch without burning, shred by pulling apart with a large fork.  Set aside and save beef stock for later in the recipe.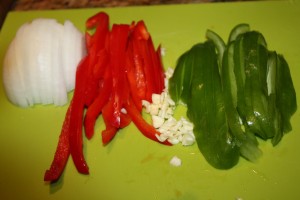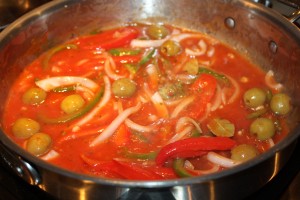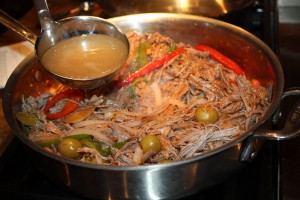 3.  Meanwhile, in a large skillet, heat extra virgin olive oil and sauté onion, peppers and garlic until translucent.  Add salt, pepper, olives, recaito and bay leaves. Sauté for a few more minutes.  Add white wine and tomato sauce and let simmer for a couple of minutes.  Add shredded beef and stir until incorporated.  Add 2 cups of the reserved beef stock and let simmer uncovered for about 25 minutes, stirring occasionally so that it doesn't stick to the bottom of pan.  Add more stock if necessary.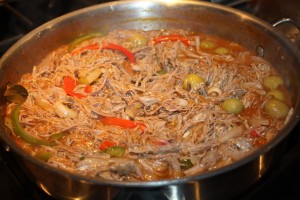 4.  Turn heat off, cover and let rest for about 30 minutes. Serve with basic white rice recipe or with rice with black beans.