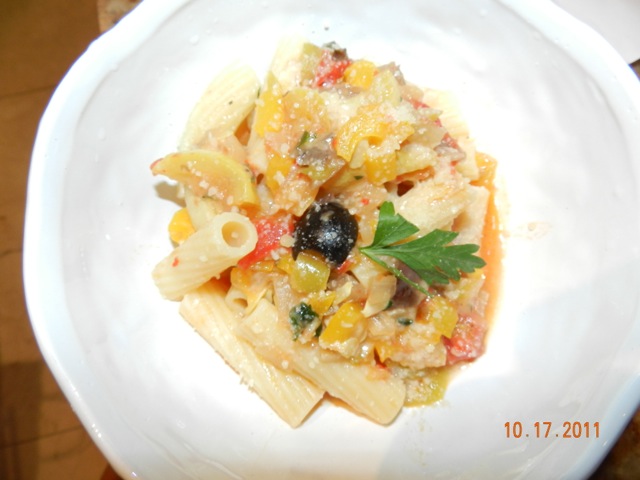 Over the past few years, I've made it a habit to have Meatless Mondays.  It started with just me and now the whole family has joined in.  My husband, an enthusiastic carnivore, complained at first, but now has hopped on the wagon.
As I have mentioned before in other posts, this was a gradual change I decided to make in my life about four years ago by reducing my meat consumption in general.  As I got interested in the subject and started reading about the impact unsustainable red meat production practices have on the environment, I decided to make eating considerable less meat a permanent part of my life. Ironically, my father owned a meat and food processing plant for many years during my upbringing.  At the time, we were not as aware of the impact meat production has on our water supply, the environment and consequently, our health. From the reliable research and evidence that we NOW have about wellness and our environmental footprint on Earth, my common sense and altruistic values tell me to do my part with Meatless Mondays.  I have a long way to go when it comes to sticking to healthier habits, but this is one I have been able to willingly do without feeling its a huge sacrifice.  I just don't miss eating meat.
Going meatless for one or two days a week has some benefits.  Reputable studies have shown that it decreases the risk of cancer, heart disease, type 2 diabetes, obesity and prolongs life.  Eating less meat improves your diet because as a result you eat more veggies, fruit and legumes which increases your fiber intake and lowers saturated fats and cholesterol. In addition, you reduce your carbon footprint, minimize water usage and help reduce fossil fuel dependence. "The United Nations' Food and Agriculture Organization estimates the meat industry generates nearly one-fifth of the man-made greenhouse gas emissions that are accelerating climate change worldwide which is far more than transportation. The water needs of livestock are tremendous, far above those of vegetables or grains. An estimated 1,800 to 2,500 gallons of water go into a single pound of beef. " (Source Meatlessmonday.com)
So I am what people call a "flexitarian" or semi-vegetarian, I only eat meat sparingly, in small quantities and/or as a complement to a dish (bacon bites, Ja!), not the main attraction. I occasionally have some Ropa Vieja, Ossobuco or Picadillo which I love! Sometimes, I might have some Spanish Chorizo in a Paella, bbq chicken, Prosciutto or Brown Sugar Pork Tenderloin, but as I mentioned before, only on occasion as the exception and not the rule.  I still cook delicious meat dishes for my family and friends without a problem.
Through this change in my diet, I have discovered new ingredients and flavors. Vegetables, grains and legumes are a big part of my diet. I also eat eggs, dairy, nuts, fish (look for wild caught label) and seafood and sometimes I include some organic poultry, beef or pork. My suggestion is that you look for quality instead of quantity. Balance is key. Focus on fresh and organic whenever possible and don't forget to have plenty of water and fiber. At first this takes some planning, but eventually becomes part of your routine.
Meat is a central part of the Western Diet and I'm not advocating that it is totally eliminated.  Nevertheless, I invite you to start your Meatless Mondays tradition and give it a try as an incentive to add variety to your weeknight menu and contribute to your health and our planet.
That being said, one of my favorite Meatless Monday recipes is Penne Pasta with Ratatouille.
Ratatouille is a dish that has its origins in the ancient Occitan region (south of France, Cataluña and parts of Italy.)  A version of this dish in Cataluña is called xamfaina and in Mallorca tombet. However, today, Ratatouille (full name is ratatouille niçoise) is mostly known as a traditional dish from Provençe made of stewed vegetables.
"The secret of a good ratatouille is to cook the vegetables separately so each will taste truly of itself."
—Joël Robuchon, The Complete Robuchon
This recipe of Ratatouille is adapted from renowned French Chef Jacques Pepin.  I think he is one of the first Celebrity Chefs I heard from in my teens in the 1980's along with Julia Child and Wolfgang Puck.  I had a layover in North Carolina last fall (Oct. 2011) and as I was flipping through the 13 channels available in the quaint victorian bed and breakfast I stayed in, I saw Monsieur Pepin make his version of Ratatouille.  He has a show on PBS called More Fast Food My Way. It is similar to Rachel Ray's 30 Minute Meals, but with a more country kitchen and suave french tone of voice. He made it look so easy and tasty I had to write it down and give it a try back home.  The results were amazing and sooo easy to make.  My whole family loves the taste of my Ratatouille with Whole Wheat Penne Pasta, which I make often at home on Meatless Mondays.
This is a recipe even Anton Ego would approve! (This last comment is for those of you who watched Ratatouille the Disney movie, one of my favorite animated pictures of all time!)
Ratatouille
Ingredients
2 cups onions, chopped
5 garlic cloves, crushed
2 cups, japanese eggplants with skin (the small ones)
1 green zucchini, about one cup, cubed
1 yellow zucchini, about one cup, cubed
1 cubanel pepper, finely chopped (pimiento de cocinar or 1/2 green bell pepper)
1, 15 ounce can diced tomatoes
1 yellow bell pepper, chopped
salt
pepper
extra- virgin olive oil
fresh parsley, basil
For penne pasta dish: approx. 4 cups of ratatouille, kalamata olives, more salt and pepper to taste, grated parmigiano reggiano, more olive oil,  one ladle of pasta liquid and fresh basil leaves for garnish.
Procedure
1.  In a large skillet, add about 3 tbsp of extra virgin olive oil over medium heat.  Set up a large bowl next to the stove.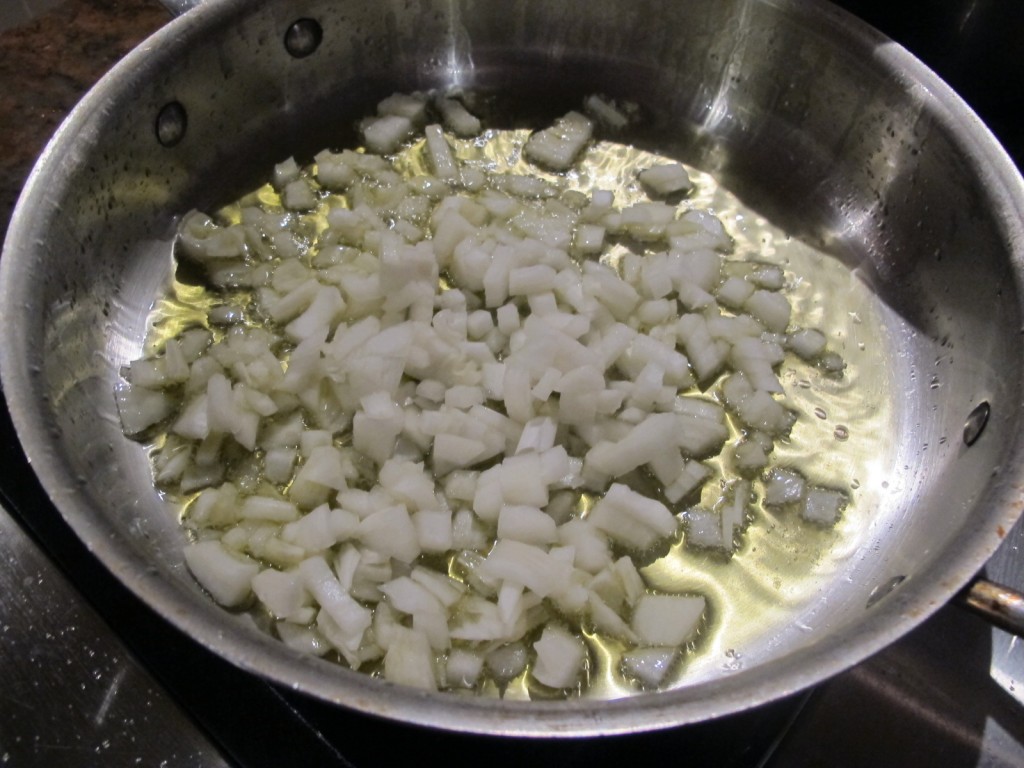 2.  Add onions and sauté for about 3 minutes until soft and translucent.  Remove from pan and place in bowl.
3.  Add cubanel and yellow peppers with garlic and sauté for about 2 minutes. Do not let garlic brown. Remove from pan and place in bowl.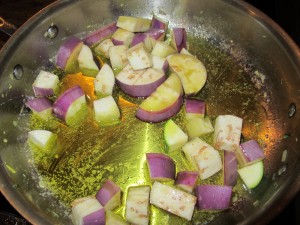 4.  Add eggplant and cook until soft.  Take out of pan and place in bowl.
5.  Add zucchini, green and yellow. Cook until soft and place in bowl with other ingredients.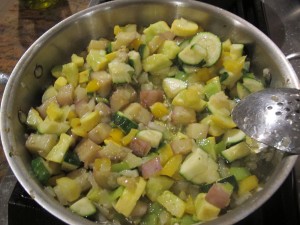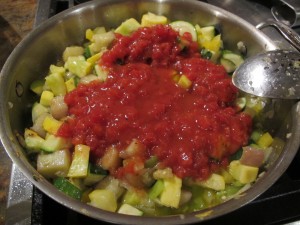 6.  Bring heat to med-low and place back all ingredients already cooked to skillet, add tomatoes, salt, pepper and about 2 more tbsp of extra-virgin olive oil. Stir, cover and cook in low heat to let it simmer for about 30 minutes checking and stirring several times in the process.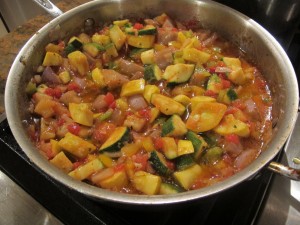 7.  Once ready, add good quality extra-virgin olive oil, about 2 tbsp, and fresh parsley and basil.  Stir and let sit for a few minutes, covered. Serve as a side dish.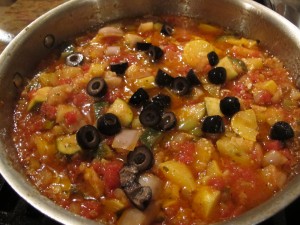 8. If serving with pasta, cook tubular pasta and save some pasta water.  Add kalamata olives to prepared ratatouille, salt and pepper to taste, pasta water, some grated fresh parmigiano reggiano and more fresh herbs for garnish.