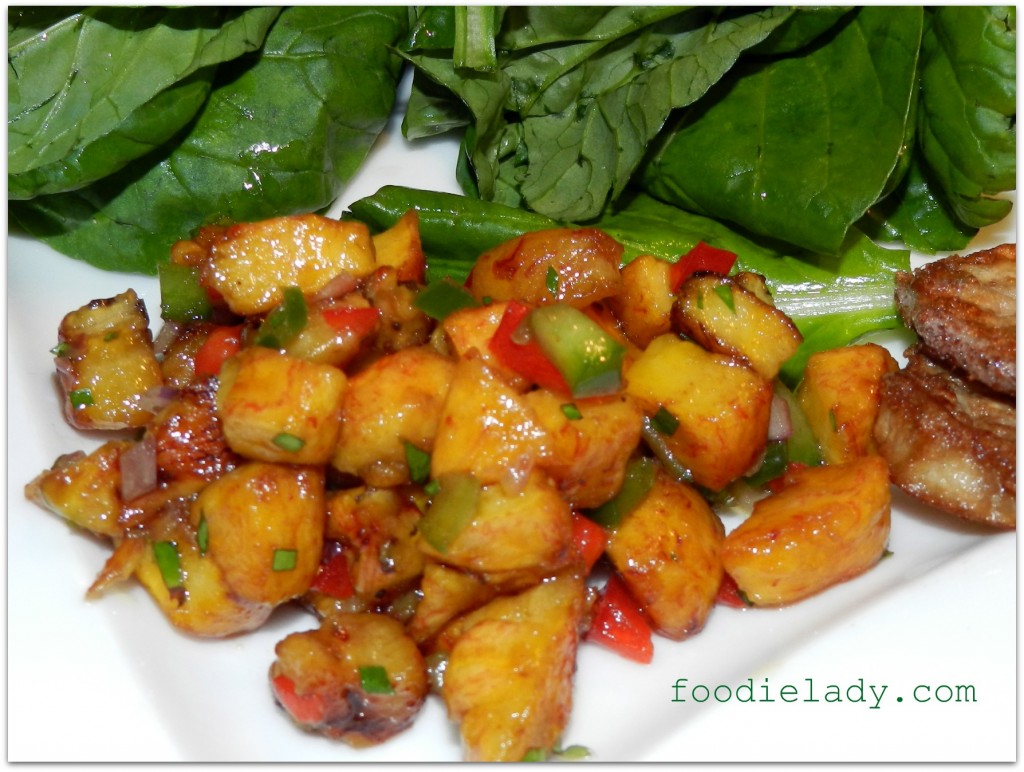 Some people call ripe plantains amarillos other call them plátano maduro. Regardless of how you call it, you should know how to make this salad! It is very easy and refreshing.  I simply serve with mesclum salad or baby greens and warm goat cheese toasts. Also, is a great side dish to Arroz con Pollo. Double or triple the amounts and make it ahead of time for a buffet meal if you are expecting a large group of people.  Delcious with turkey or pork.  You don't have to worry about it because it tastes great when served at room temperature.  I use ripe plantains, yellow in color, that have just started get black spots on skin. I don't use over ripe plantains because they won't hold their shape and the salad won't look as nice. The peppers add crunch and go wonderfully with the tenderness and sweetness of the ripe plantain.  You are going to love this!!!
Enjoy!
Ensalada de Amarillos (Ripe Plantain Salad)
Ingredients
3 ripe plantains
2 tbsp finely chopped red onion
2 tbsp finely chopped green bell pepper, or cubanel
2 tbsp finely chopped red bell pepper
2 leaves of fresh culantro or recao finely chopped (you may try cilantro if you can't find recao)
1/4 tsp salt
1 tbsp balsamic vinegar
1/4 cup extra virgin olive oil
vegetable oil for frying
Procedure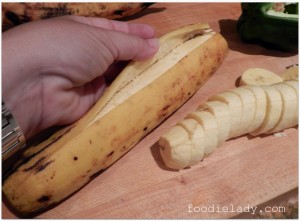 1.  Peel ripe plantains and cut them into 1/2 inch slices.
2.  Meanwhile,  in a skillet or frying pan, heat vegetable oil in med-hi.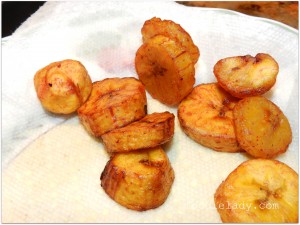 3.  Fry the pieces of plantain until golden brown.  Set aside in a plate with some paper towel or over a tray with a wire rack to drain excess fat.
4.  Finely chop peppers, onions, recao/culantro and set aside.
5.  Dice fried ripe plantains.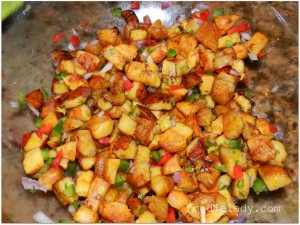 6.  Mix all ingredients in a bowl and serve as a side dish to your favorite meal.  Keeps in the fridge about 1 week.