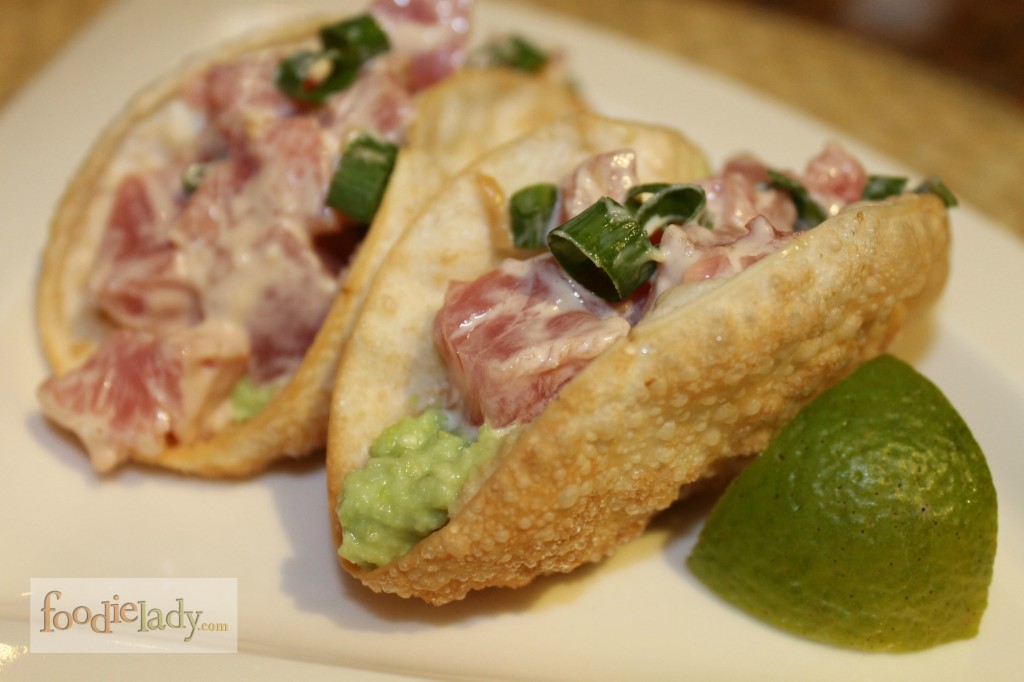 On August 13, 2013, Foodielady had the chance to experience, front row, a cooking demonstration by Chef Rory Dunaway, executive chef of Encanto Restaurant in Dorado Beach, a Ritz Carlton Reserve in Puerto Rico.  Mrs. Marilí de la Puebla, in charge of public relations, was kind enough to invite me as one of the members of the local press/digital media/bloggers to sample Encanto's asian inspired new evening menu.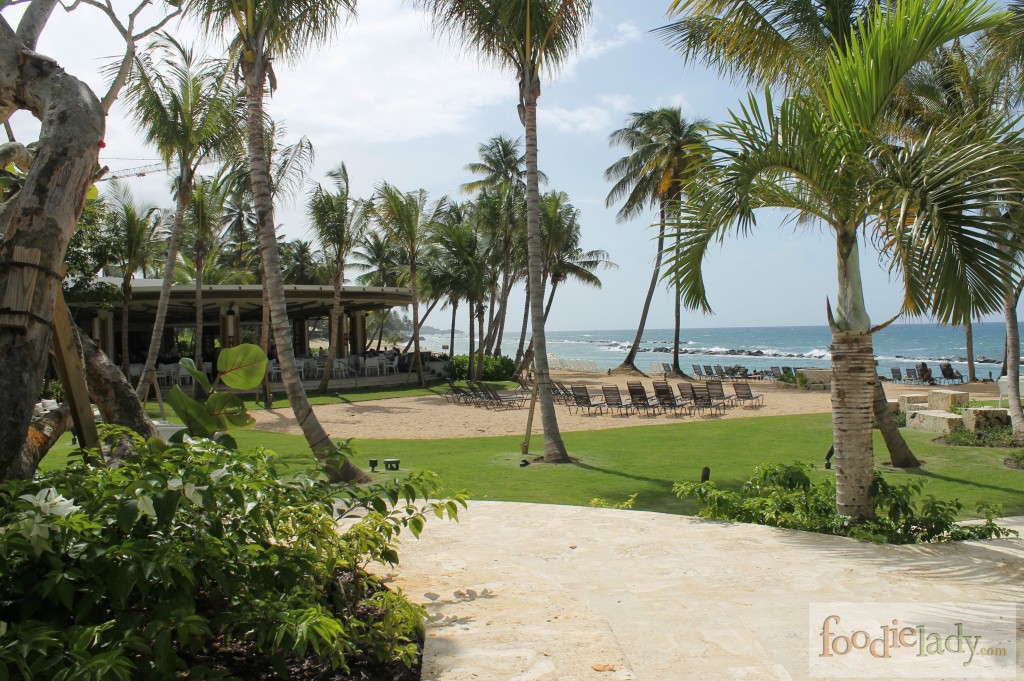 When I arrived to the resort, my eye started to wonder and notice all the changes in design and architecture on the property. I had not visited Dorado Beach in over a year and was impressed with the new areas that were already open to the hotel patrons and club members and their guests.  There is a new entrance, the original main building has been modified (the emblematic Surf Room is still there) and there is a new club members pool/beach area. Dorado Beach has always been part of my life one way or another and I have witnessed its ups and downs for over 3 decades.  Certainly, now it's up again and shining with all its splendor, aspiring to become one of the top luxury resorts in the world.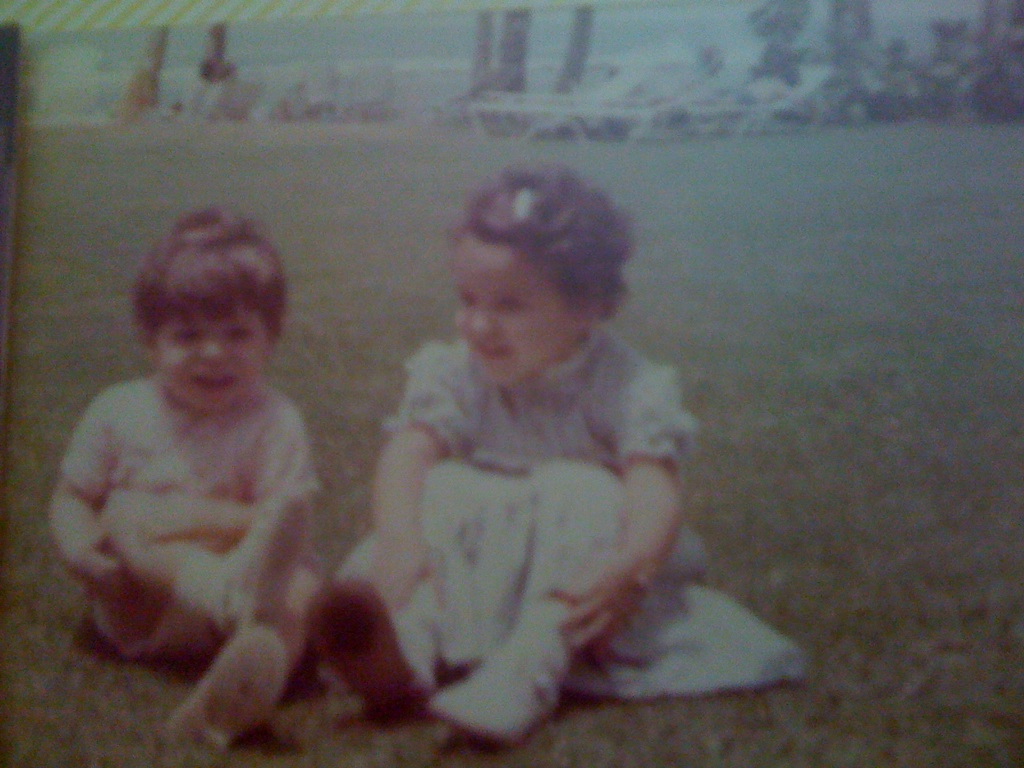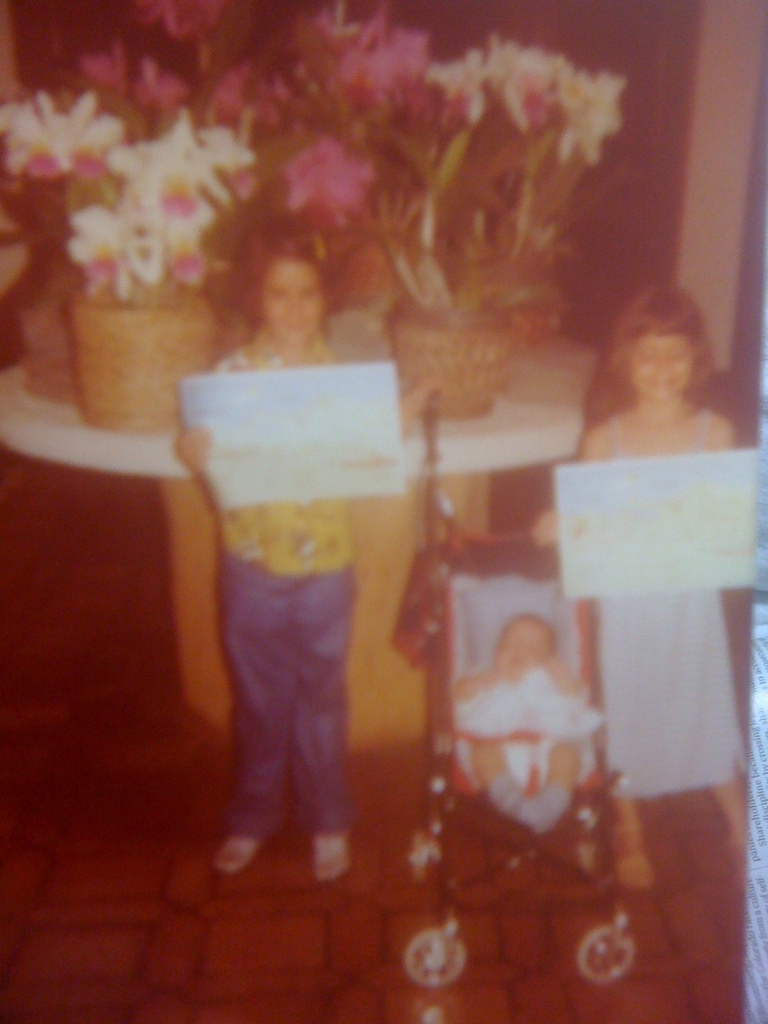 When I was young, for over a decade in the 70's and 80's, we would always spend the week of my parent's anniversary (July 4th) in one of the beachfront villas.  Later on in life, as the residential area was developed in the 90's, Emilio and I frequented the beach club since my in-laws and some close friends moved to one of the new neighborhoods inside the resort.  Dorado Beach has a privileged location in the northern part of the island with a man made reef (from mid 20th century) that protects the beach, proximity to San Juan and natural beauty to enjoy outdoor sports like golf.  The beach villas are nestled between the landscape and I found the new beach club pool and beach area where Encanto Restaurant is located to be both beautiful and relaxing.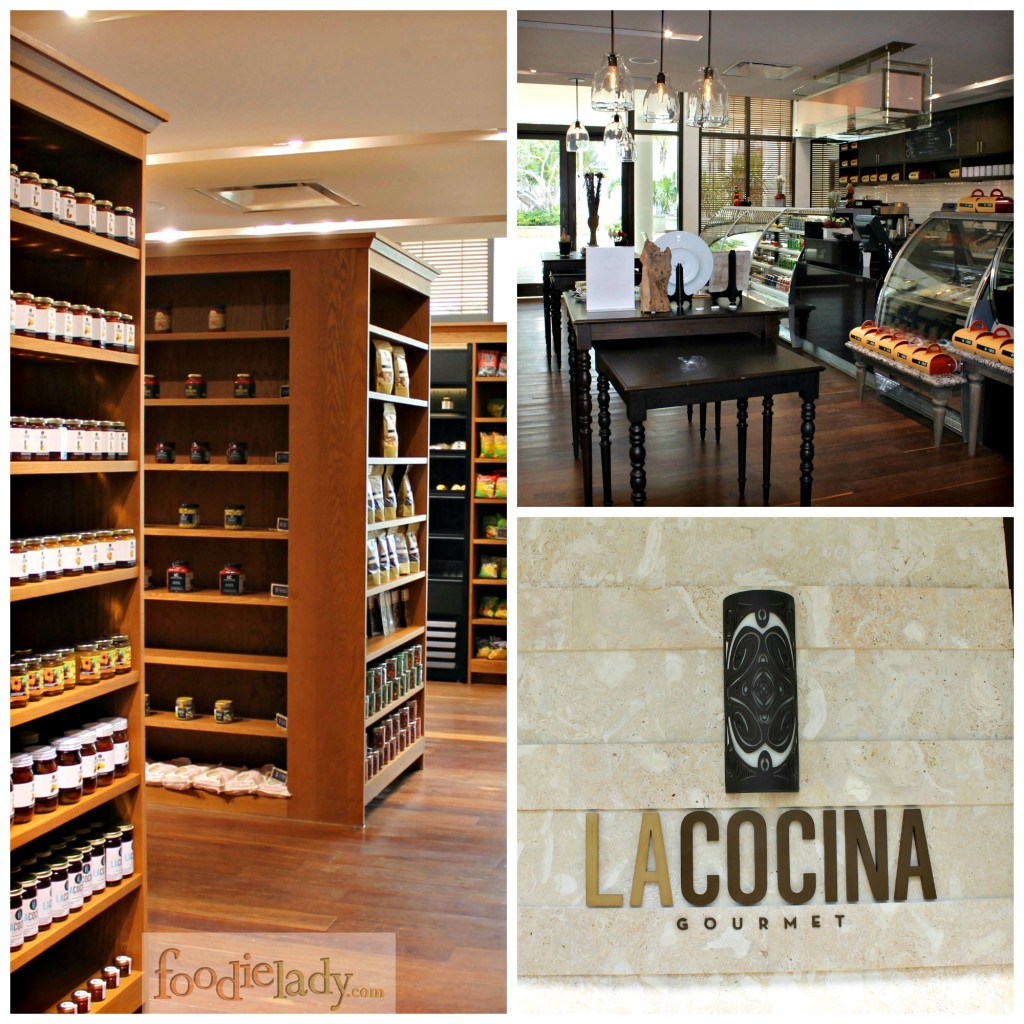 Upon my entrance to La Cocina Gourmet, a small gourmet shop found at the beach club, I was ecstatic to see at the end of the room a small kitchen stadium for cooking classes, wine tastings and private dining events.  Chef Dunaway immediately came out to greet us and engaged in entertaining conversation.  Once most of the guests arrived, we sat around the hi-tech kitchen area with induction cook top (creates heat through friction of magnets faster than gas) and commercial quality cookware among others.  Immediately, he started exhibiting the way to prepare the sample menu and giving us cooking tips we could all use back home.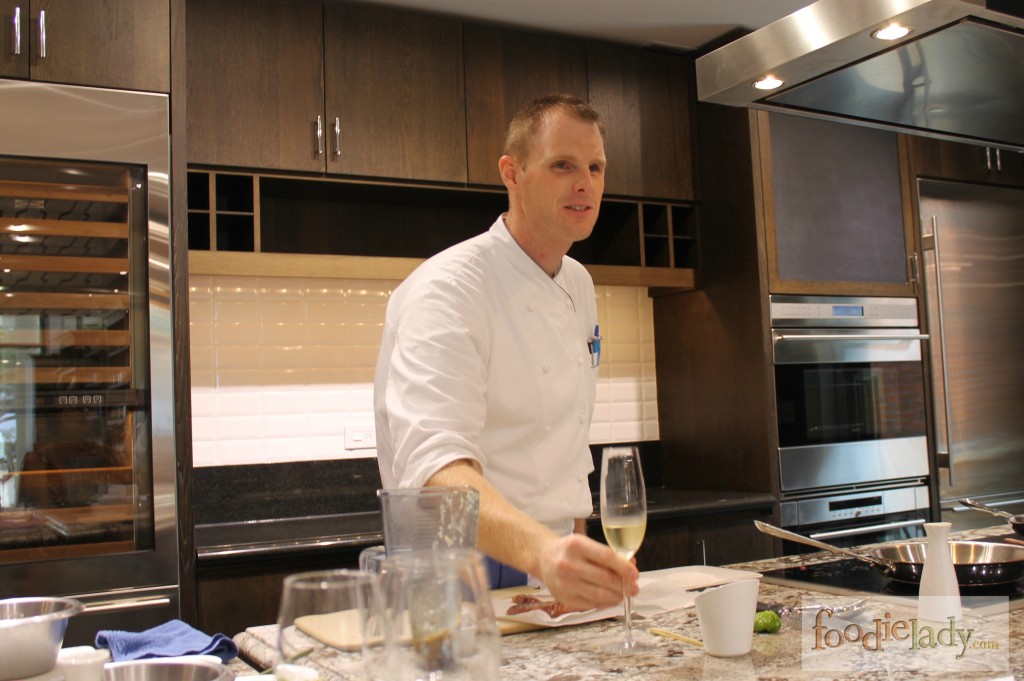 Chef Dunaway struck me as a very enthusiastic and charismatic young man who loves his job and to entertain others with his culinary creations.  He has been with the Ritz Carlton hotel chain for over a decade and started his career as a young apprentice near his hometown in Panama City, Florida.  He roomed with a vietnamese family in Florida at an early point in his career and his previous stint was at the Ritz Carlton Hotel in Can-Cun, Mexico which makes so much sense once you try this menu; a blend of asian and mexican ingredients and condiments which, to me, yields excellent results.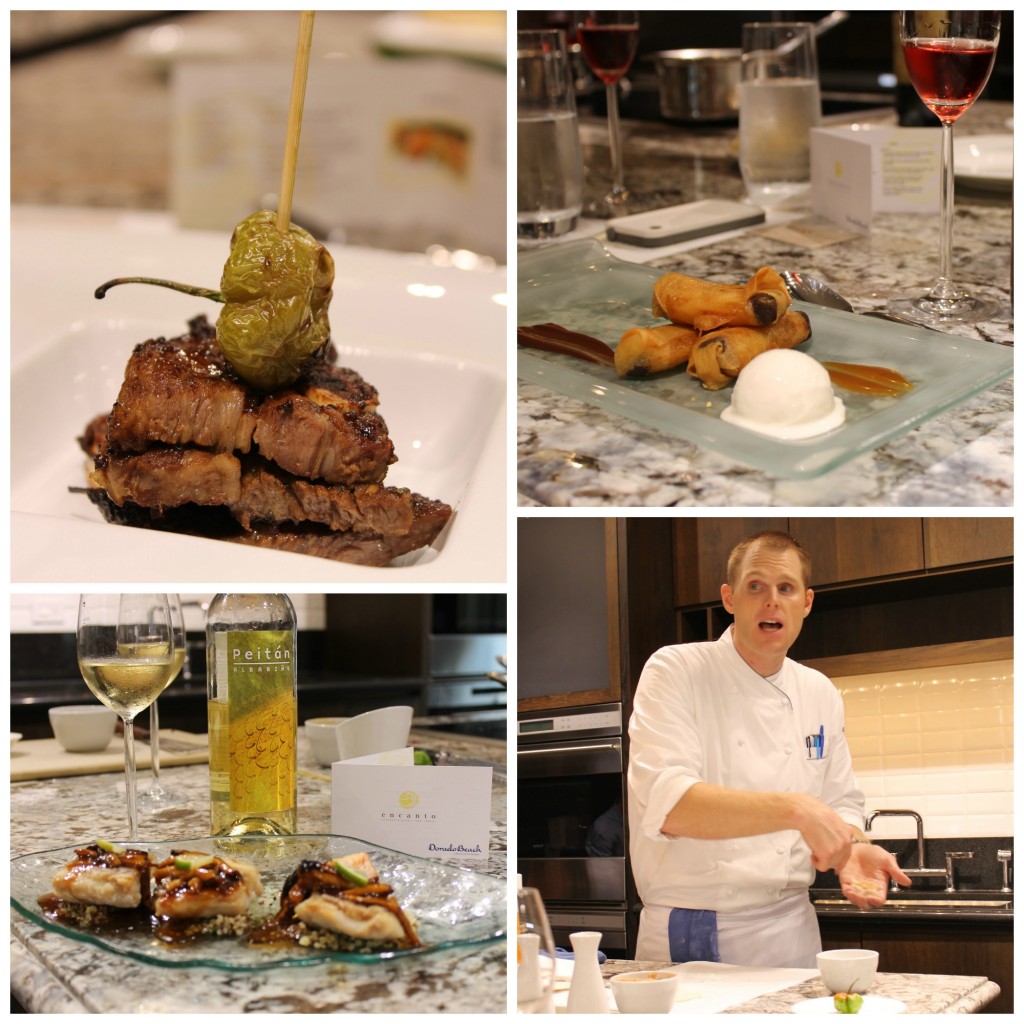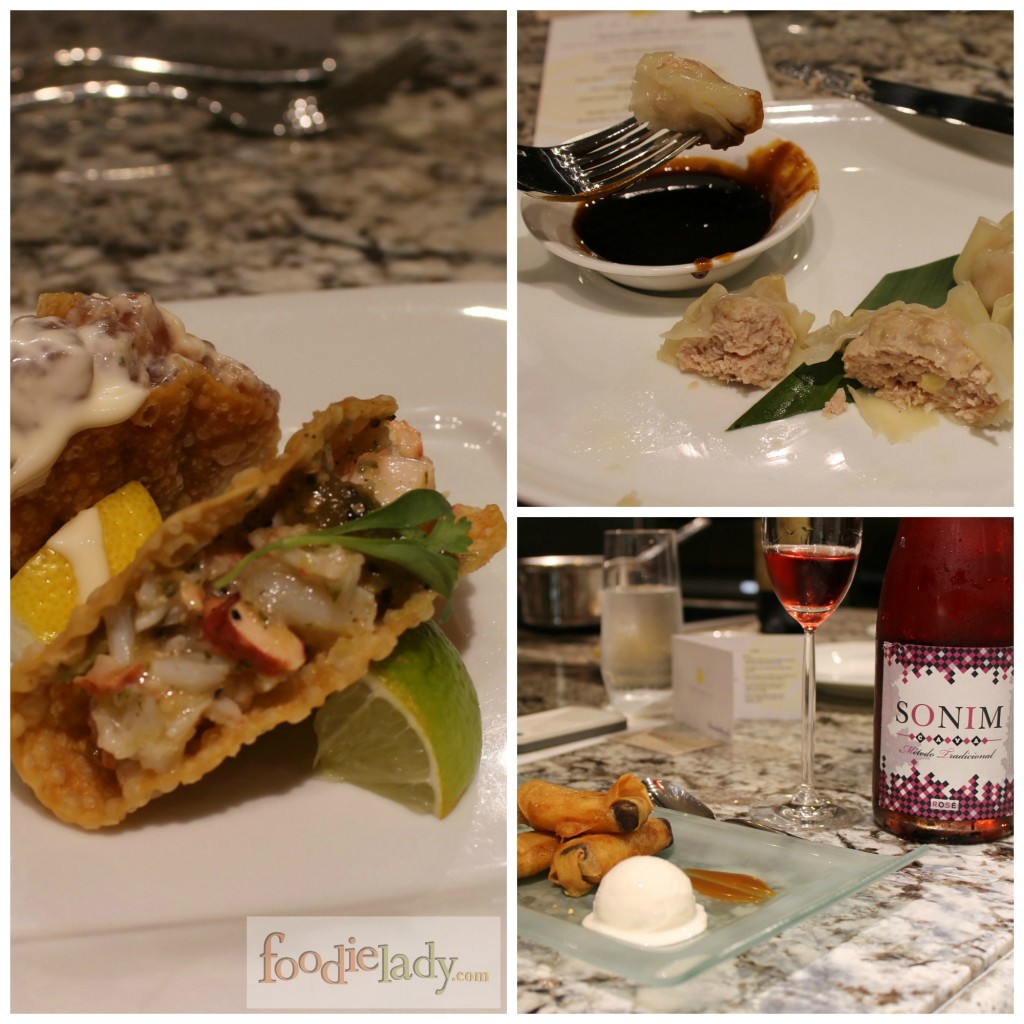 The menu included, these asian tacos with two fillings, fresh tuna and lobster.  My other favorites were the delicious chicken dumplings, the red snapper filet with quinoa and the banana chocolate spring roll dessert.  In addition, each course was paired with a selection of wines from Aficionado Wine and Spirits.  Mr. Manuel Gonzalez and sommelier Jorge Sosa, enlightened us about each wine and I must say they were all superb.  My personal favorites were the Peitán Albariño, Obalo Rioja and the Sonim Rosé Sparkling Wine.  Encanto Restaurant has a beautiful ocean front location which seems perfect for a romantic sunset dinner as well as a family gathering.  Chef Dunaway also told me he will incorporate in the menu a light fare dim sum style selection of entrees which is very innovative and unique considering  the current limited dim sum offering in the Puerto Rican restaurant scene.  As we left the resort, we were given goodie bags with products form La Cocina that included Puerto Rican pique (hot sauce) and mango jam.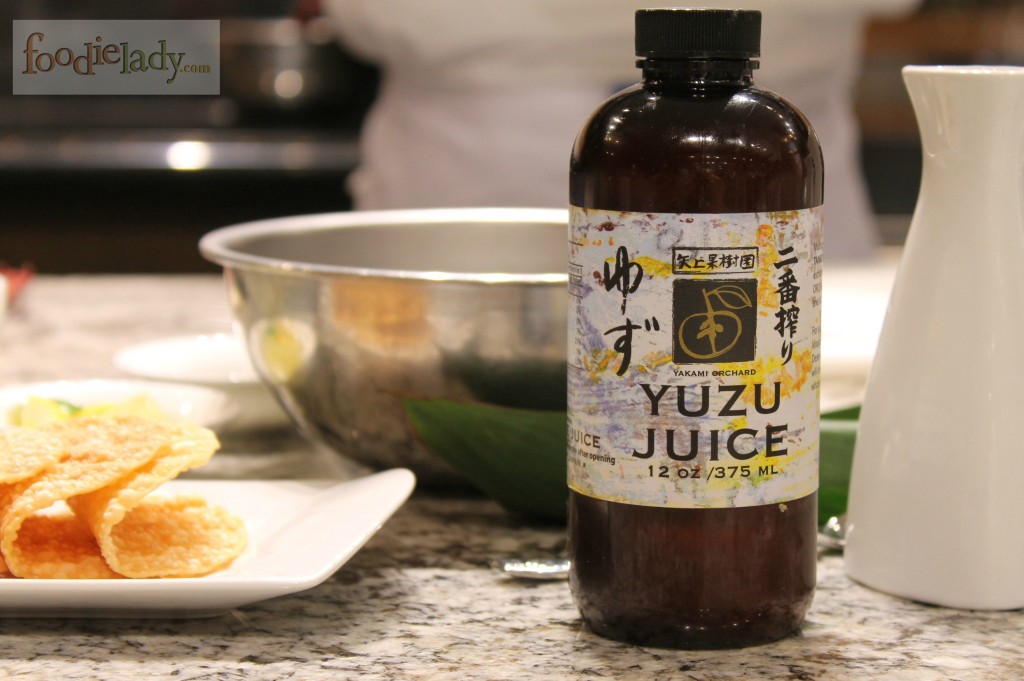 It was hard for me to find all of the ingredients, but I took the liberty of substituting with other asian condiments/sauces that are more readily available to the home cook. Here is my version of Chef Rory Dunaway's Asian Tuna Tacos.  I added the word "Dorados" for obvious reasons- the shell is fried, golden and crispy and their inspiration came from the city of Dorado, Puerto Rico. Give it a try, it's not as complicated as it might sound.  Trust me, you are going to loooove this twist on tacos!
Asian Tuna Tacos Dorados
yields about 10 tacos
Ingredients
8 ounces good quality tuna, cut in small cubes
vegetable oil for frying
about 10 round small dumpling skins (white or yellow)
about 1/2 cup of mayonaise
about 1 tbsp gyoza dipping sauce (tamari and vinegar) (Chef Dunaway used Yuzu juice but I couldn't find it in the Asian market in PR)
1 green onion, chopped (Chef Dunaway used micro cilantro)
Edamame Pureé
about 1 cup of shelled edamame (soy beans) blanched and pureed with a drizzle of good quality sesame oil, salt and water.  I added a pinch of wasabi powder.
Lime wedges to serve the tacos standing up
Procedure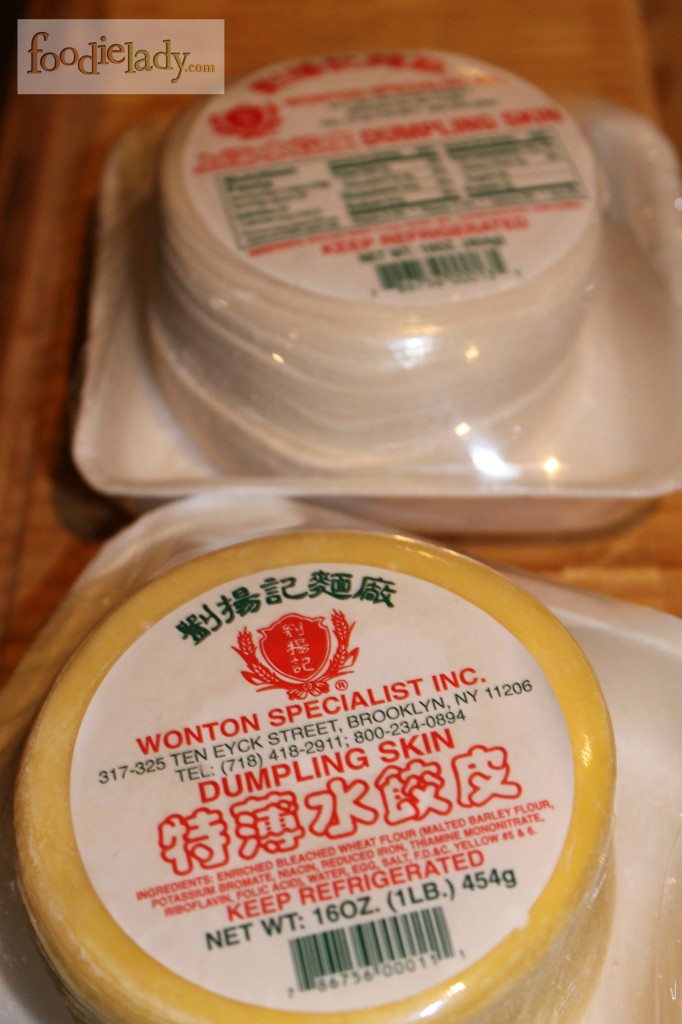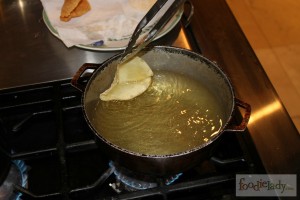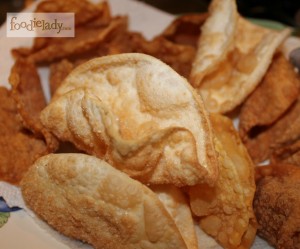 1.  First, make asian taco shells by heating frying oil on a small heavy bottom pan.  Fry dumpling skins by holding one side out of the oil to give its taco shape.  Once one side is golden switch and fry the other side shaping with the tongs and separating the middle. The chef mentioned there are kitchen gadgets you use to shape the tacos while frying, but I din't have them so I used this technique and it worked pretty well. Set aside on a paper towel lined plate or if you have one, on a wire rack. Let cool for immediate use or save on an airtight container.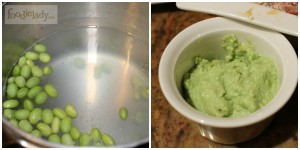 2.  To make edamame puree, blanch shelled edamame by putting in boiling water for about 2-3 minutes.  Then place in blender to puree with a drizzle of good quality sesame oil, wasabi powder, salt and add water until creamy consistency. It will resemble guacamole.  Set aside.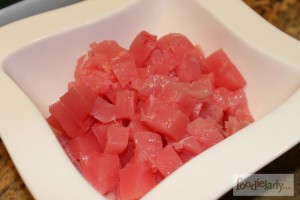 3.  Cut fresh tuna into small cubes.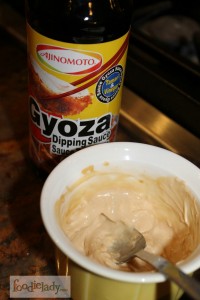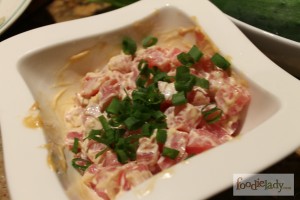 4.  Prepare Asian Mayo with mayonaise and gyoza dipping sauce.  Combine with tuna and add green onions.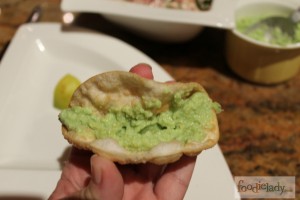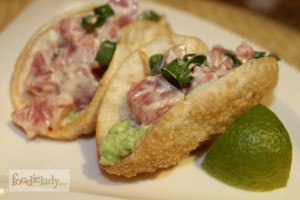 3. To assemble, fill asian taco shell with a spread of the edamame puree.  On top, add the tuna mixture and garnish with some more green onions or micro cilantro. Place on a nice plate with a lime wedge to help the taco stand up.
Enjoy!