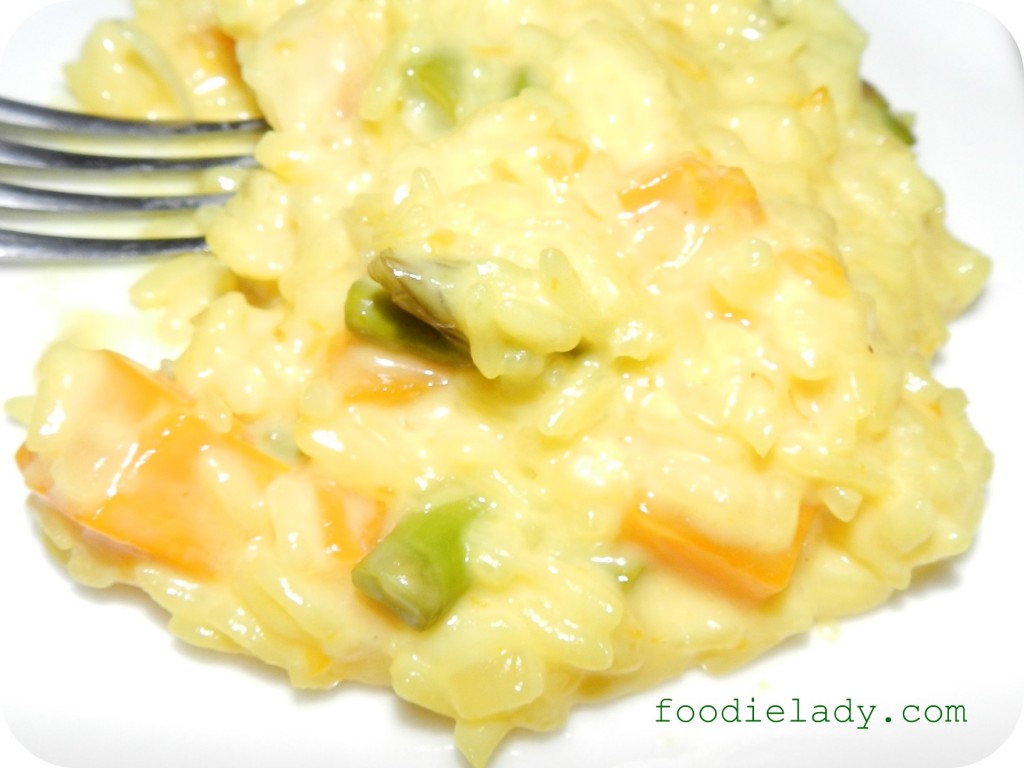 During the beginning of the summer I received an e-mail from a social club we belong to promoting a culinary event called the Caparra Iron Chef. Participating members of Caparra Country Club would become the main attraction cooking for the judges and public in attendance during that night and compete among 4 different categories:  rice/pasta with seafood, rice/pasta with meat/poultry/game, rice/pasta with vegetables and finally desserts.  Rightfully so, I called immediately to sign up for the rice/vegetables category and enlisted as sous chef my husband Emilio.
The whole preparation process was a lot of fun for us!  Sous Chef "Emile" and I had Chef Coats made with our names embroidered and practiced our recipe on Sundays to feed family and friends, (they were grateful to be our tasters and guinea pigs, Ja!).  We also printed out our recipe to hand out to the public at the event.
The night before the occasion, we measured dry ingredients and chopped veggies placing them in zip lock bags to decrease margin of error and assure uniformity. You see, most of the competitors were cooking in large paella pans, but as you can imagine, cooking generous amounts of risotto cannot be done in one batch.  So Emilio and I cooked simultaneously in two large chef's pans to yield enough risotto to feed a large group of people. As an additional treat for the guests, we brought in arancini made from this recipe which we fried on site and I must admit was more popular among the attendees than the risotto itself!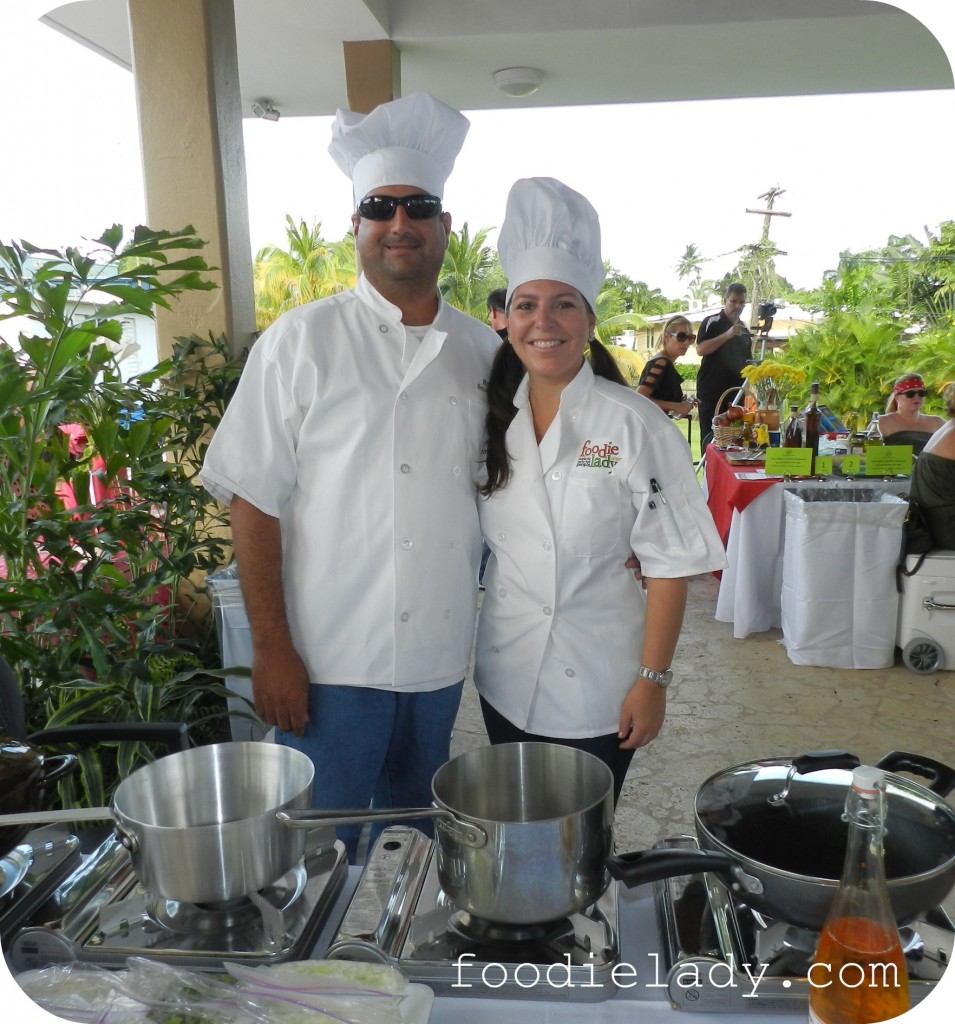 Truly, it was a night to remember!  All of the competitors, some old friends, others new ones, had a total blast!  Businessmen, doctors, bankers, lawyers, homemakers, engineers, people from all walks of life, were among the participants.  The teams were very diverse in composition as well as cooking styles.  Some teams were husband and wife like us, others father and son, best friends, in-laws etc. There were Chinese, German, Puertorrican, Spanish, Italian influences in the different rices/pastas that were cooked that night.  One thing was for sure, an atmosphere of camaraderie and teamwork prevailed throughout the whole event.  Every team (we were 17 teams!) brought in their own set of creativity, flavors, culinary influences and cooking techniques that made us different from each another. Nontheless, there was one common ingredient among all of us: the love of cooking.
Absolutely, we were all winners that night!  Over 400 cooking fans, relatives and active members of the club sampled our creations along with an assortment of wines courtesy from local wine distributor Vinos Seleccion, Inc. We were honored to have renowned Chefs José Melendez from Caparra Country Club's Bana Restaurant, Entrepreneur and Personal Chef Enrique Piñeiro and Chef José Abreu from José José Restaurant as judges giving us their comments and suggestions.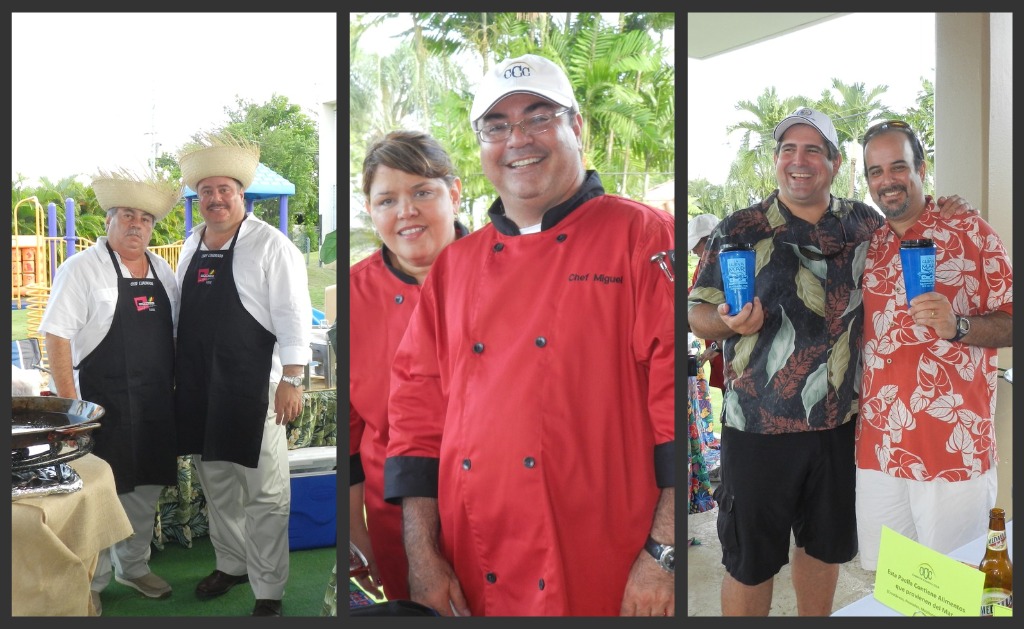 Our team was the first to finish cooking.  Once the judges sampled our risotto, I went over to listen to their comments.  They liked our technique, using wooden spoons so that we wouldn't break the rice grain and using hot broth in the cooking process. (For more information on risottos visit my post of Risotto alla Milanese). In addition, they  liked the overall flavor, creamy consistency and found the rice to be al dente and at its ideal point.  Their main suggestion was that they would have added what they called "a kick" to it at the end like a sprinkle of fresh basil or a drizzle of truffle oil.  In general, we were pleased with the result and at the end of a long tiring day were acknowledged by winning our category.  Amazing!
I wish to congratulate Eileen and Jocky for organizing this event.  Everybody had fun and it all ran smoothly.
This recipe is not for those who are watching their calorie intake!  Ja!  Without a doubt, it's a treat for your taste buds!
Buon Appetito!
Pumpkin and Asparagus Risotto
Ingredients
4 tbsp butter (divided in half)
generous pinch of saffron threads
1/2 white onion finely chopped (I like vidalia or sweet)
1 cup arborio rice
1/2 cup of dry white wine
½ cup of pumpkin, small cubes
½ cup of fresh asparagus, cut in small pieces
3 cups of chicken stock (approximately) low sodium and organic if you find it, hot
1/4 cup heavy cream
1/4 cup grated Parmegiano-Reggiano cheese
Salt, approx.  1 tsp
Pepper to taste
Procedure:
1.  Add saffron threads to white wine (room temperature) to allow the saffron to bloom at least an hour before starting to make risotto. If you don't have an hour, warm the wine to shorten blooming time.  (FYI Saffron is a water soluble spice and will release its color on water soluble liquids only.)
2.  Heat a heavy bottomed deep sauté or chefs pan over medium heat.
3.  Add half the butter to the sauté pan and reserve the rest for the end of the recipe. Do not brown the butter.
4.  Add the onion to the hot butter and sauteé over medium heat until translucent.
5.  Add arborio rice and sauté briefly until the hard amylase center of the rice is visible (white dot).
6.  Add white wine/saffron mixture to the pan and cook until most of the wine is absorbed.
7.  Add pumpkin and asparagus, then start adding the hot chicken stock approximately one cup at a time. I heat it, not boiling, in a sauce pan next to the risotto pan. Only add enough stock at one time to barely cover rice grains.  Stir slowly until the liquid is mostly absorbed.  Continue adding stock until the rice has reached the desired consistency. You might not need it all. Unlike regular rice, the risotto should still have a center that is slightly firm to the tongue.
8.  When rice is almost done, add heavy cream, stir and allow to become absorbed.
9.  Remove pan from heat, add in the remaining butter, parmesan cheese and season to taste with salt and fresh ground pepper. Let rest for about 5minutes covered. Serve immediately.